Something of Substance Book Review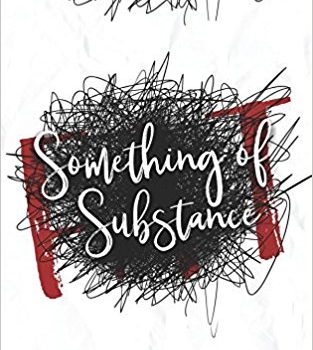 In Something of Substance, seventeen-year-old Grace Michaels is determined to be thin, even if she dies trying.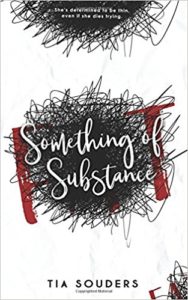 About Something of Substance
Seventeen-year-old Grace Michaels is determined to be thin, even if she dies trying.
Part of the in-crowd at Providence High, she is steps away from being asked out by the most desired guy at school, winning a prom queen nomination, and her parents' approval. If she can just get skinny enough, be pretty enough, and popular enough.
But Grace is thin on the outside and fat on the inside. No amount of weight-loss ever seems enough. Convinced the melting pounds will solve her problems, every pound lost brings her closer to her goals. But flesh and bone can only hide the weight of her secret for so long.
My Thoughts
This was an extremely powerful and touching book for me. I remember still to this day how difficult high school was and how I struggled with body image and eating disorders. I remember skipping meals and the sense of control it gave me as other areas of my life were spiraling out of my control. I remember how as a teenager, your body and its size were discussed every day – look at her hips, her bum and how big her arms are and so on. Looking back, I can see where my unhealthy relationship with food and body image began and I am sure so can many young women and adults.
This book focuses on Grace who once was just slightly overweight but as many women can attest to, this is unacceptable by society. She does everything and anything she can to lose the weight which even involves going to "fat camp" (how I detest that name!). When she finally loses the weight, she becomes part of the in crowd and has the attention she's always wanted from her peers but not from her family. Like so many of us have realized, when we achieve that goal it can sometimes not be enough, for example – I have lost forty pounds so therefore I can lose another ten.
Grace's life becomes out of control (her relationship with her parents, her sister and her social life) and the only way she can control any aspect of it is through starving herself.  As she begins to starve herself more and more, she could only hide her behaviour for so long before a terrible accident sheds light on the severity of her mental and physical health and her relationships with her family members and friends. It is then that everyone must face the truth about the impact their verbal and nonverbal actions had on Grace and her mental and physical health.
This is a very powerful novel that is a must read for all young girls and even adults. It hits on so many emotions and perceptions that we deal with on a daily basis. It is raw and honest with how Grace feels and how she reacts in the only way she knows how to. It addresses feelings of failure, social acceptance and social hierarchy in school, relationships and communication. As women, many of us may find parts of our younger selves in Grace and I am sure many young adults will see aspects of their day-to-day in how Grace feels and reacts. It brings an extremely important topic that many would like to ignore into the forefront. I can honestly say that this is a book that I wish I had been able to read in my teens to help save myself from years of poor self image and unhealthy relationship with food.
You can purchase a copy of this book on Amazon.
Rating: 5/5

About the Author
Tia Souders is the author of bestselling women's fiction novel Waiting On Hope and the upcoming award-winning young adult novel Better Than This (formerly titled Freedom Road). When she isn't writing, she's likely renovating their century home. She's a wine-loving, coffeeholic with a sweet tooth and resides on a farm in rural Ohio with her husband and children.
Disclosure: I received a copy of this book in order to facilitate this review. All opinions expressed are my own.