Squishmallows: The Softest and Cutest Plush and Pillow In the World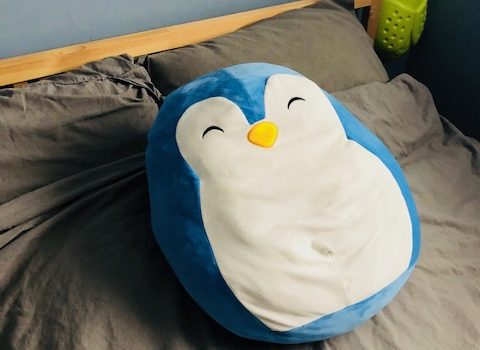 I am a texture person, I love to touch and feel everything from clothes, blankets, pillows and plush toys. There is no better feeling in the world then curling up on the couch or in bed with a blanket and pillow that is soft, cuddly and warms you up from the inside out. My kids have learned to appreciate the same thing – how can you resist the embrace of a soft plush?
Enter Squishmallows – adorable plush friends that can double as a pillow (and that you will definitely be wanting to steal from your child when they are not looking – which I have no shame in saying that I did several times!).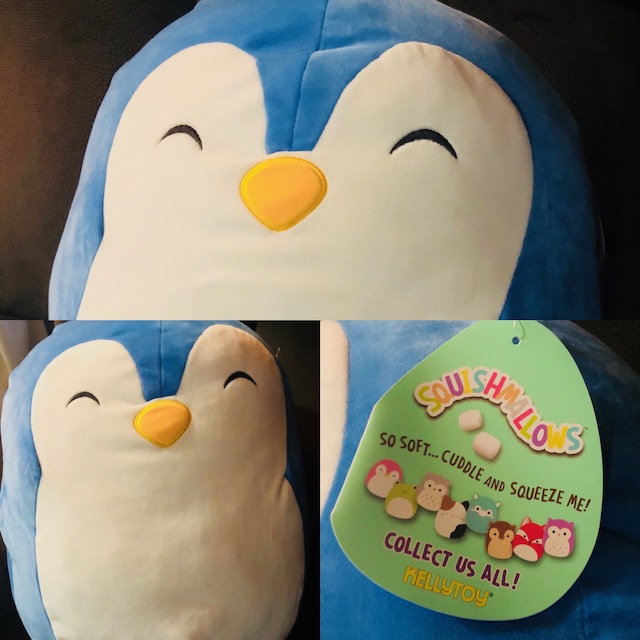 Squishmallows are Japanese inspired plush toys that come in a wide selection of characters that your child can choose from. Each character has a unique background that you can learn more about on their website as you choose your character or on the packaging itself when it arrives (their individual profiles will just melt your heart on the website). They come in a variety of sizes ranging from clips on to 8″, 13″, 16″ and even 20″.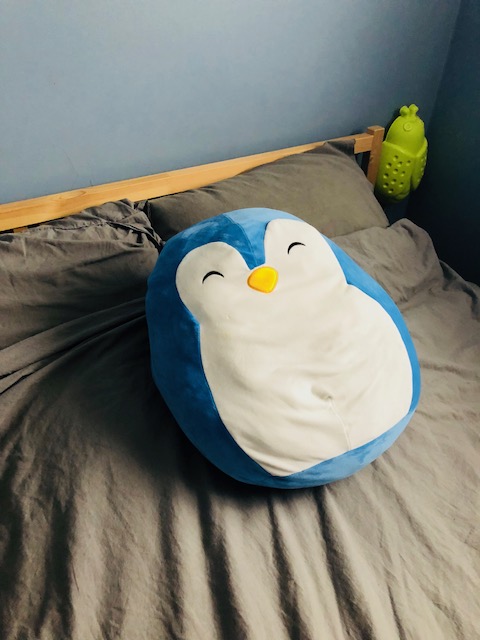 We chose Puff, the blue Penguin, as our newest friend to come live with us. His profile told us he is a techy penguin who loves the internet and is always searching for the newest thing. He loves to build and code, not to mention loves extra marshmallows in his cocoa. He is also a bit silly – making him the perfect companion for our youngest as their personalities definitely jive and not to mention that adorable face of Puffs!
Nothing could have prepared us for just how soft the plush truly is. Puff was the perfect size to cuddle and carry around during the day but he also made the best pillow to relax with while watching television (not going to lie – I did steal him several times when my youngest wasn't looking as you can tell from above!). I found myself just running my hands over the surface of the plush many times, it is the best feeling ever.
Even better? The plush is washable! So no worries about picking up germs, getting dirty and all of those other things that kids are famous for. Puff never lost shape, regardless if he was used as a pillow all night or carried around during the day.
Looking to have a special new cuddle plush for a child in your life? Squishmallows come in a wide range of products that will make excellent stocking stuffers and gifts for any child during the holidays.
Make sure to visit their website and to follow them on Twitter, Facebook and Instagram to keep up to date with the newest plushes and more!
Disclosure: I received the above mentioned product in order to facilitate this review. All opinions expressed are my own.