Summer Battles with Zing HyperStrike and Zax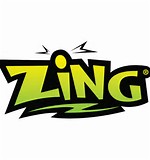 My kids love to run around, make noise and compete with each other. Summer months can be spent chasing each other and battling for the top spot of champion in a variety of games. The hardest part? Trying to think of new ways to keep both an eight and a fifteen year old entertained!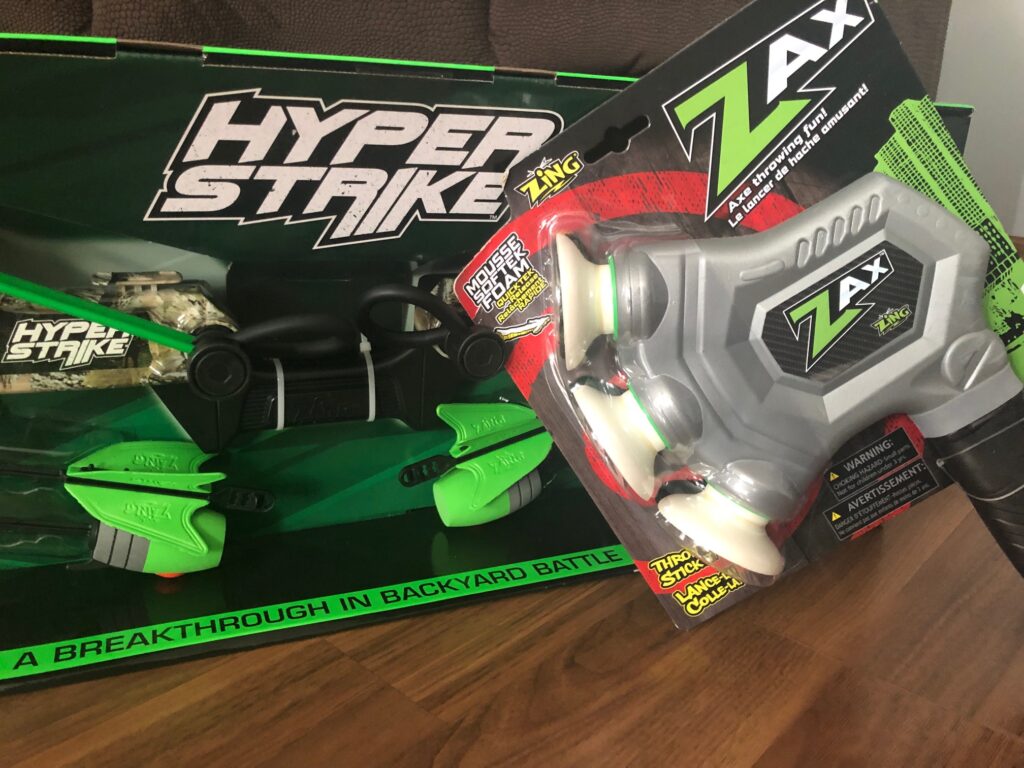 Zax is a soft, foam suction cupped axe that you can use to compete in axe throwing competitions (or if you are like me, to catch your husband off guard when he is walking around the corner!!).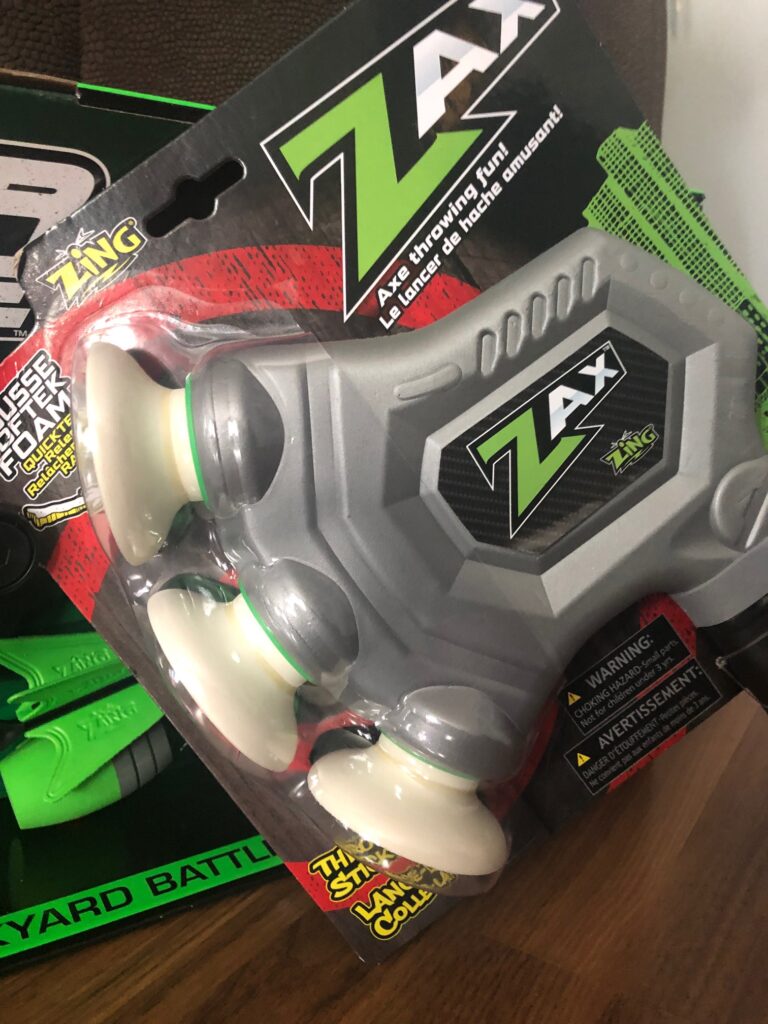 The suction cups work great on any flat surface either inside or outside. For convenience, we tested the Zax out in our living room first. There is definitely a trick to how you flick the axe, so don't get discouraged on your first few throws! Our first throws were unsuccessful and would bounce off the walls, but once you got used to the way that you had to flick your wrist when throwing it, it easily stuck to the wall. Important to note, it did not damage the paint at all – which I was a tad bit worried about at first.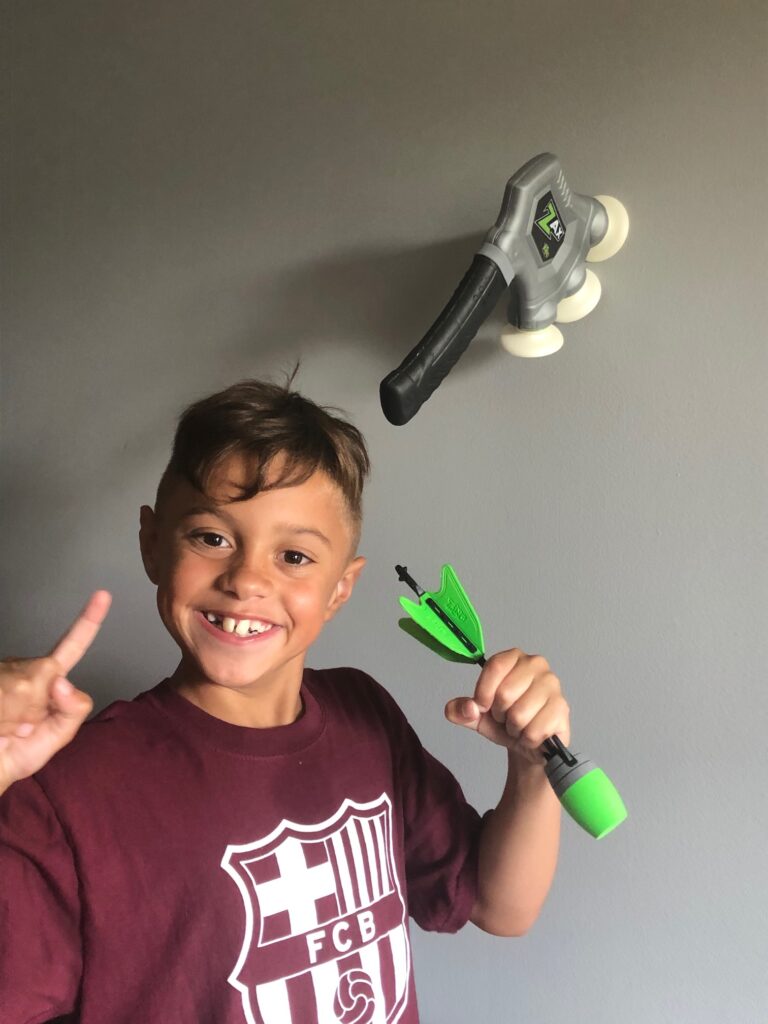 Our youngest was by far the champion in the competition. He picked up the skills the quickest and loved throwing the axe (although there were a few throws that ended up at his brother that I am not quite were as accidental as he made them out to be!). He perfected the flick and underhand throw but none of us were good at the two handed throws.
Zax come in a variety of colours and can be purchased at Walmart and Target in the US and Mastermind Toys, Canadian Tire, Indigo and Toys R Us in Canada.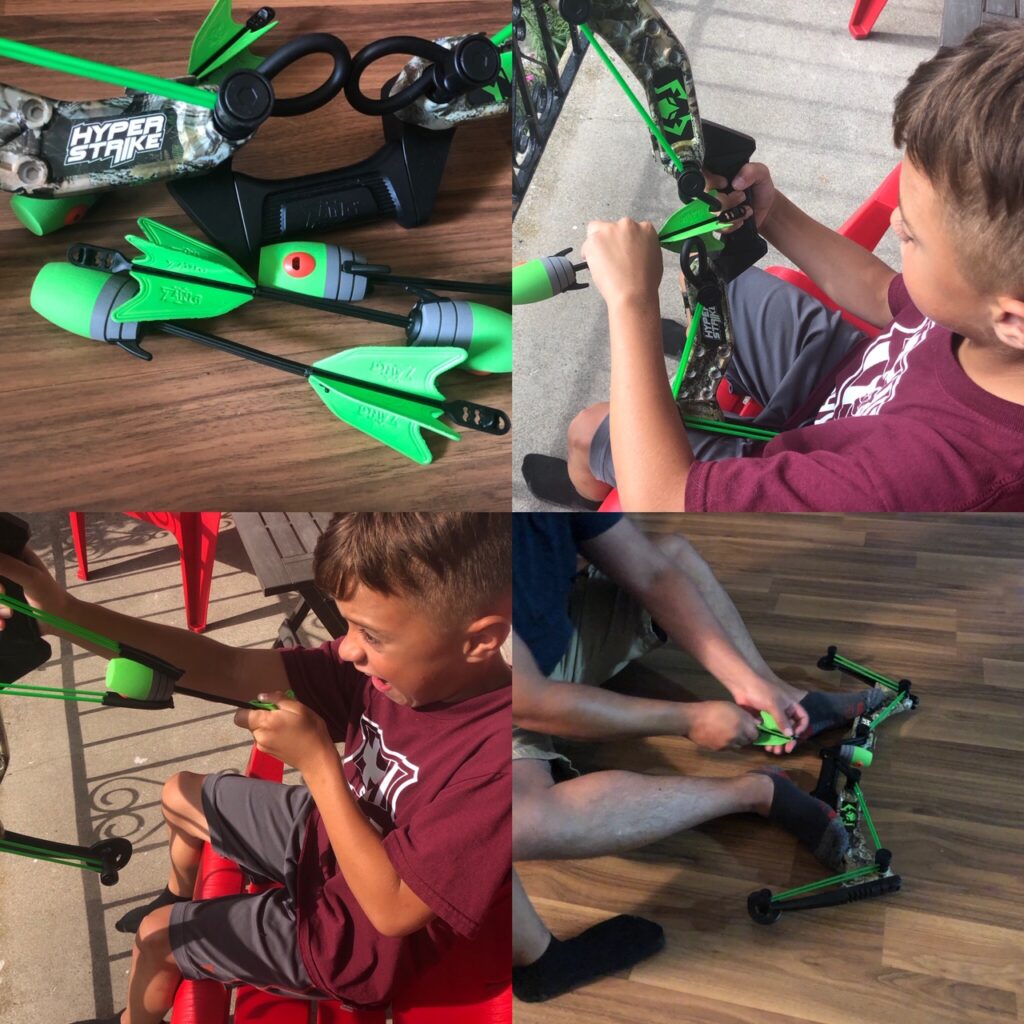 The HyperStrike is a high performance bow and arrow that can shoot over 250 feet due to its the bungee cord design. The arrows are made out of soft form and are easy to use. It is designed for ages fourteen and up, and while it was definitely easier for our eldest (and my husband to use), after a few tries our eight year old had no problem loading the arrows.
There are many ways to play with the HyperStrike and the Zing website has some great ideas to get you started, such as: attack and defend, capture the flag, elimination and battle royal. My husband came up with the idea to use his feet to hold the bow in place and would shoot the arrows across the floor in our house at targets (this was a huge hit in our home), along with our youngest shooting arrows off the porch at various targets in the front yard. The arrows come out very fast and make a very loud noise, which my boys and hubby loved but I have to admit the noise sounds terrifying. You expect the arrow to be coming at you a lot faster than it does with the noise it makes.
Both the HyperStrike and Zax will make for hours of fun for your children outside as they battle to be the champions of the summer!
Make sure to follow Zing on Facebook, Twitter and Instagram for all the latest news, toys and more.
Disclosure: I received the above mentioned products in order to facilitate this review. All opinions expressed are my own.