Survivors of the Holocaust: True Stories of Six Extraordinary Children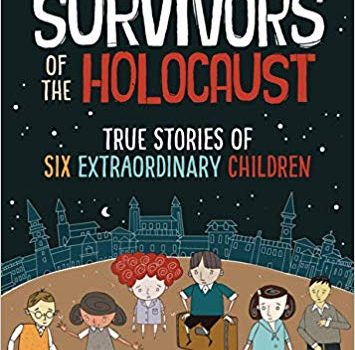 Between 1933 and 1945, Adolf Hitler and the Nazi party were responsible for the persecution of millions of Jews across Europe.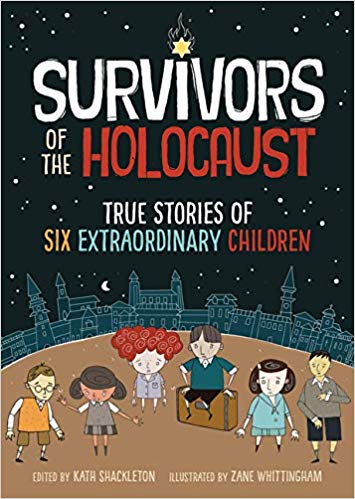 About Survivors of the Holocaust: True Stories of Six Extraordinary Children
This extraordinary graphic novel tells the true stories of six Jewish children and young people who survived the Holocaust. From suffering the horrors of Auschwitz, to hiding from Nazi soldiers in war-torn Paris, to sheltering from the Blitz in England, each true story is a powerful testament to the survivors' courage. These remarkable testimonials serve as a reminder never to allow such a tragedy to happen again.
Our Thoughts
This is an incredibly important story for children, teens and adults to read, read again and read one more time. The stories that are told will touch your heart and stay with you, a reminder of what happens when we let hate and fear rule our actions.
We learn the history of six Jewish children and how they survived the horrors of the war. First we learn about Heinz and his family who managed to just escape out of Germany in time before the war broke out, only to be sent to an interment camp in Great Britain (this was something I was not aware that even happened, so this was eye opening for me). Then we hear the story of Trude – a young girl who shares her view of a child living during the war and watching her family being rounded up and murdered. She was sent to Great Britain to escape the horrors but they followed in her heart and mind, never truly leaving her. She knew her Father was murdered in the concentration camps but she never found the proof that her Mother was murdered as well. Next, we have Ruth's story whose Mother fought hard to keep her family together and managed to escape Europe before the war broke out. The moment they landed on British soil, war was declared with Germany. Then we learned about Martin who was marched into Poland by the German soldiers, forced out of his home at night. He survives only by the kindness of strangers that take him in. Next we learn the heart breaking story of Suzanne, who was saved from the Nazi soldiers by a neighbour to then face devastating conditions working on a rural farm in hiding. Finally, we hear the story of Arek who survived the ghettos and Auschwitz. Each story is powerful and overwhelming.
This is an extremely powerful book told through the honest eyes of children. It is full of raw emotions and honesty that will make you cry. The horrors they saw and endured are unspeakable but need to be spoken. No child should have ever seen, heard or gone through what they did and we need to ensure this never happens again.
It is told in a comic book style with strips of illustrations and text boxes that help keep the messaging simple and to the point. At the end of the book, is a what happened next where we learned what happened to each of the children in the future. While this gives hope, it is also a reminder of how much was lost during the war – whole families lost in a moment, history taken away and a future denied.
This is such an important book that children need to read and learn about. They need to know how this happened and why we need to fight to ensure it never happens again. This is a definite must read for children, young adults and adults.
You can purchase a copy of this book on Amazon.
About the Author
Kath Shackleton is a producer and animator at the animation studio Fettle. She is based in Yorkshire, UK.
Disclosure: I received a copy of this book in order to facilitate this review. All opinions expressed are my own.