The 5-Minute Recharge Book Review
We know the formula for living a good life but why are we still struggling? Learn techniques to help improve, inspire and refresh with The 5-Minute Recharge.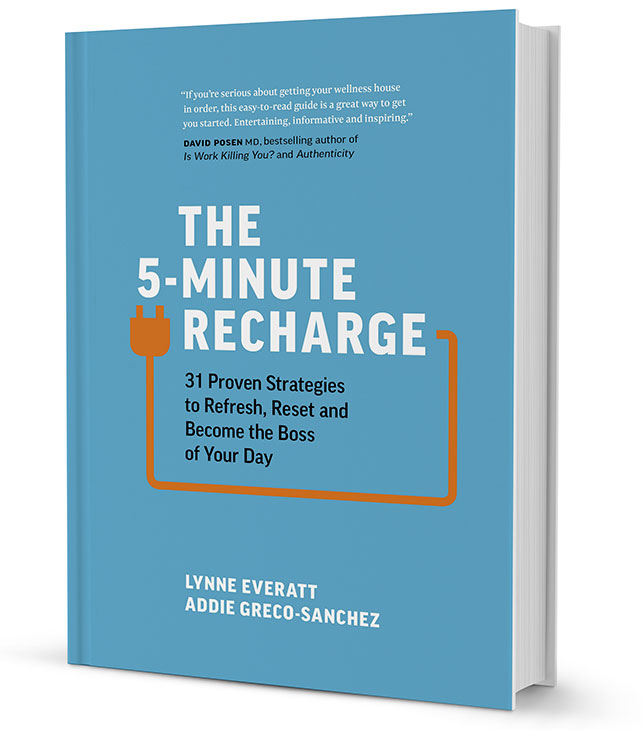 About The 5-Minute Recharge
Researchers have discovered the formula for living a good life, so why is depression still the world's leading disability and anxiety the most common mental health disorder in North America? Most people don't know what will truly make them happy, and far too few make proven wellness practices a part of their lives.
To cope with all the stresses we encounter, we need to actively care for ourselves, which includes heeding our ancient programming that demands that we move our bodies, connect face-to-face and get enough sleep. Science has proven that you have the power, through your habitual ways of thinking and behaving, to renovate the space inside your head, making it brighter, more resilient, and a more enjoyable place to hang out.
The 5-Minute Recharge contains 31 proven techniques to help you thrive at work and in life. They are backed by research and include additional resources to enrich your understanding of wellness and inspire you to care for yourself.
My Thoughts
I think we can all admit that many times we feel overwhelmed, overworked and overstimulated. Life is so busy that it can be hard to unwind, relax our minds and emotions. This has so many negative consequences for our physical, mental and social well being. We know that in order to be happy we need to find that balance but we become lost somewhere in achieving this.
I loved how thoughtful and intimate this book was. It wasn't a book that pointed out your failures, made you feel shameful and not too sure if you want to try the changes. Instead it uses humour, quotes, experiences to give you that personal connection in order to better your personal wellness. They encourage you to become a part of the journey instead of being a passive reader, you should do each of the exercises included in the chapters – they will really get you thinking and focusing on you. The book is not overbearing or difficult to read which everyone can appreciate. That being said – take your time reading each section, participate fully and allow the time for you to reconnect with you.
I know we can feel a lot of guilt around taking time to care for ourselves but with the evidence presented in this book, the easy exercises and healthy, manageable behaviours presented – you can take care of yourself, you will not feel guilty about doing so and it will make you a better person for doing so. At the end of the day, in order for us to function fully and be the best version we can be, we need to feel happy and balanced. This book helps us accomplish this in easy, manageable steps. A fantastic resource for all adults feeling overwhelmed and looking for better balance.
You can purchase a copy of this book here.
About the Authors
Lynne Everatt is a recovering MBA, LinkedIn Top Voice in management and culture, and nominee for the Stephen Leacock Medal for Humour for her first book, E-Mails from the Edge, a novel with the theme of workplace mental health. E-mails also appeared in The Globe and Mail as a Careers column. An ardent advocate for mental health through physical fitness, Lynne is a certified personal trainer who has completed two sweaty half-marathons and a marathon six minutes and twenty-three seconds of stand-up at the Absolute Comedy Club. She served for three years as President of the Board of Directors of the women's shelter Interim Place where she met and became friends with co-author Addie Greco-Sanchez.
Addie Greco-Sanchez is the founder and President of AGS Rehab, a leader in disability management and assessment services since 1999 that has grown into a successful company with a head office in the Greater Toronto Area and a large network of professionals across Canada. Selected as one of PROFIT/Chatelaine's top 100 Female Entrepreneurs, Addie is a passionate and expert advocate for mental health in the workplace, and frequent speaker on the topic of how companies can safeguard employees' psychological health.
Disclosure: I received a copy of this book in order to facilitate this review. All opinions expressed are my own.