Susie Mast's Amish life in Lancaster County has been shaped by events beyond her control, from the deaths of close family to remaining a friend to the love of her life.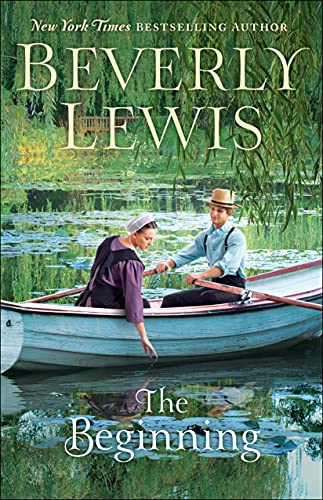 About The Beginning
"I wish there was something I could do," Cousin Verena said, her voice cracking.
"But what?" Susie whispered, wiping her eyes. "The boy I've always loved thinks of me as his sister . . . and always has."
Susie Mast's Amish life in Lancaster County has been shaped by events beyond her control, with the tragic deaths of her Dat and close-in-age brother casting long shadows. Now twenty-two, Susie remains unmarried despite her longtime affection for friend Obie Yoder.
Unfortunately, her concerns are soon multiplied due to her mother's worsening health and her younger sister's urgent desire for answers about her adoption. Once again, Susie faces the possibility of loss. Will long-held family secrets and missed opportunities dim Susie's hopes for the future? Or is what seems like the end only the beginning?
My Thoughts
Susie is a beautiful person inside and outside – she has been dealt with very difficult life events including the death of her Father and her close brother. While hurting, she consistently puts her faith in God, and continues to live a good life, caring for others around her. She is just a genuinely good person, who cares about the welfare of others around her and is constantly caring for others, especially her Mother.
She has been in love with a young man who is her best friend for what feels like forever but both are just too shy to say how they feel. Susie doesn't feel that he returns her feelings and wants him to be happy, as he is her best friend. As her Mother's health continues to decline, Susie is faced with the possibilities of further loss – her family, her home and her even her future. She has some very important decisions to make but it feels almost impossible to know even where to start. She seems to have a few 'guardian angels' looking out for her and helping guide her future, without her ever realizing.
I loved this simple, yet beautiful story. Susie is a wonderful, kind, caring young woman who deserves so much. I also grew to cherish her sister, Britta, and loved the story that has started to evolve with her. Susie is a selfless person, who deserves so much but she is not the type to put herself first. She needs those in her life to put her first (even if this isn't what she feels they are doing) in order for her to recognize the feelings in her heart and where she wants her life to go. The Beginning is a beautiful story of healing, forgiveness and finding the start of our stories right back at where we first started our journey.
You can purchase a copy of this book on Amazon.
Rating: 4.5/5
About the Author
Beverly Lewis, born in the heart of Pennsylvania Dutch country, has more than 17 million books in print. Her stories have been published in 12 languages and have regularly appeared on numerous bestseller lists, including the New York Times and USA Today. Beverly and her husband, David, live in Colorado, where they enjoy hiking, biking, making music, and spending time with their family. Visit www.beverlylewis.com to learn more.
Disclosure: I received a copy of this book in order to facilitate this review. All opinions expressed are my own.