The Case of the Pinched Stradivarius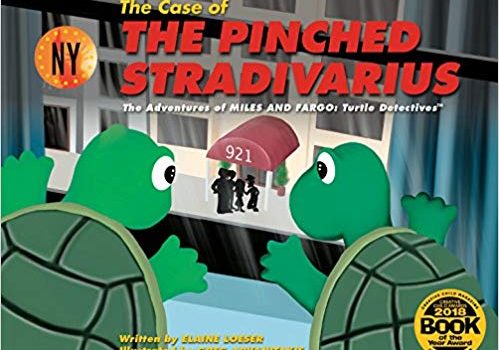 In The Case of the Pinched Stradivarius,  two bickering turtles manage to solve a very real crime without ever leaving their tank.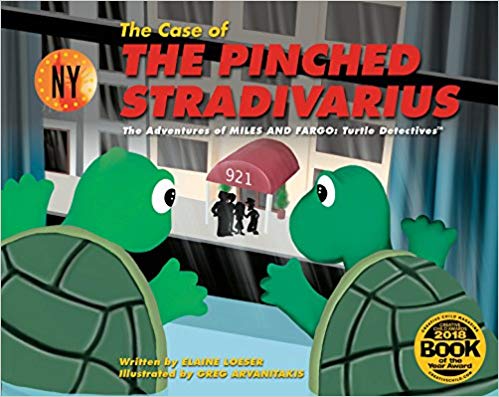 About The Case of the Pinched Stradivarius
From their aquarium in the window of an apartment in a New York high-rise, two bickering turtles manage to solve a very real crime without ever leaving their tank. They are pets, limited to swimming and fighting over the right to sit on the one rock in their tank. One day, while looking out the window, they see a crime committed: a little girl's violin is stolen by a bad man who grabs it and runs away. The turtles are the only witnesses, and because they are turtles, nobody can hear them call for help. This is the story of how they manage to solve the crime and bring the thief to justice and thus become: Miles and Fargo, turtle detectives.
Our Thoughts
This adorably illustrated children's book follows the tale of two inspiring and curious turtles in New York. They adore their Mom but are annoyed and a little confused by their two dog siblings. They watch the world around them, both inside and outside, from the comfort of their tank. One of these days, they witnessed the robbery of a very special violin, a Stradivarius, from a young girl. They know exactly who the thief was but what they couldn't do? Tell anyone! They tried to explain it to their Mom but she doesn't speak turtle (of course). When they try to enlist the help of their furry siblings, they learn that dogs sometimes aren't the best listeners!
They do manage to trick their furry siblings into helping them solve the mystery with the easiest trick in the book to get a dog to listen – treats! While super creative and really the true heroes behind the story, it is their dog siblings that get all the credit at the end of the story for solving the crime.
This was a well written children's book that was engaging and full of humour. You can't help laugh at Miles and Fargo and fall in love with them. The same goes for their furry siblings, we laughed out loud at the bichon part not taking orders because we have a bichon and it is true they are definitely not good at following orders (she is the queen bee in our house!). The illustrations helped to bring the story to life. What I liked the most was that in front of each sentence had a picture of the character who was speaking, it helped to make us feel as though we were a part of the story. This is a great story from start to finish that all children will enjoy.
You can purchase a copy of this book on Amazon.
Rating: 5/5

About the Author
ELAINE LOESER is a fiction writer, reformed lawyer, and enthusiastic Chicagoan. While living in Los Angeles, she wrote for the long-running NBC drama Law & Order, as well as other television dramas. She taught television writing at the University of Michigan. She is the owner (the accurate, but not preferred term) of two 21-year-old red-eared slider turtles who inspired the events in this book. They were brought home one day from downtown L.A. by her husband, Jerry, for whom this was and still is, standard operating procedure. This story is ripped from the headlines. The events depicted here are fictional, and not based on any actual people. The animals, however, are very real indeed. These are their stories.
About the Illustrator
GREG ARVANITAKIS started drawing at a young age, mostly on the walls in his house. His first illustrated book was completed while in second grade. It won an award and placed in a state-wide young author s contest. Thirty some years later, he illustrated this book. In between, he grew up drawing pictures, going to school for art and design, and becoming an art director. When not drawing pictures, Greg spends time with his wife and two children, who have been excited about and supportive of this project as well as valuable critics. They provide creative inspiration for him on a daily basis. Sincere thanks go to David Robson and Suzie Isaacs of Ampersand, Inc. for their input and assistance; Elaine Loeser for this wonderful story and opportunity; Lauren B. for introducing Greg to Elaine in the first place; and Mom, who always bought crayons, markers, colored pencils and paper for drawing.
Disclosure: We received a digital copy of this book in order to facilitate this review. All opinions expressed are our own.