The Dragon King Book Review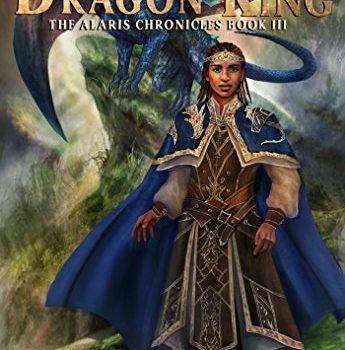 In The Dragon King, evil is spreading across the Western Continent. One by one, kingdom, king, and wizard are falling under its influence.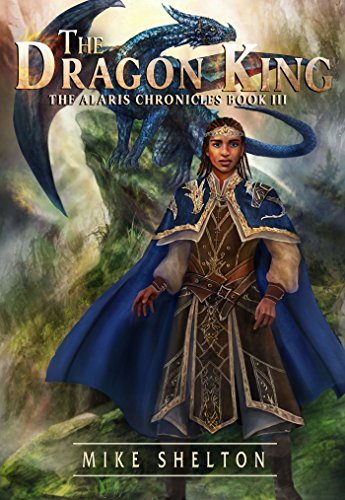 About The Dragon King
Evil is spreading across the Western Continent. One by one, kingdom, king, and wizard are falling under its influence.
Dragon King Bakari, Battlemaster Alli, and High Wizard Roland are now powerful leaders in their own right. Differing missions and responsibilities have separated them; Bakari flies north to find the last Dragon Rider, Alli goes south to find the source of the evil, and Roland, leader of the Citadel, finds himself stuck in the magic stream without his body.
The Dragon King and his riders always emerge in times of great need – but will their powers be enough? Or will they succumb to the temptations of evil? Each wizard and Rider will be tested – not all of them will pass.
My Thoughts
The Alaris Chronicles series comes to a stunning conclusion in the third book in this series by Mike Shelton.
In this novel, the evil that had begun to spread in the first two novels begins to become overpowering. The darkness and evil magic is everywhere our young heroes turn. Friends become foes and slowly the trust that had been built up between leaders is questioned. Our heroes, though great in their own magic are continuously tested in their strength, their faith and hope. It becomes quickly clear within the first few chapters, that great sacrifices must be taken in order for good to overcome evil.
The Dragon King was fast paced, exciting and full of even more adventure! Our heroes, while so young, are full of faith, strength and courage. You are drawn into their amazing personalities and faith in good triumphing over the evil that is quietly trying to take over the land. In this novel, Bakari and Roland make huge sacrifices to aid in their cause and it left me on the edge of my seat. I was not expecting quite a few of the plot turns in this book!
The Dragon King is an excellent, well written novel for young adults and adults alike. You will love the fast pace and adventure filled plot. A definite must read!
You can purchase a copy of this book on Amazon.
Rating: 5/5
About the Author
Mike has recently released the first book in a new YA/Teen fantasy series – The Alaris Chronicles, following his 2016 trilogy of The Cremelino Prophecy. Please join his mailing list at www.MichaelSheltonBooks.com to continue to get information on these stories and any future publications.
Mike was born in California and has lived in multiple states from the west coast to the east coast. He cannot remember a time when he wasn't reading a book. At school, home, on vacation, at work at lunch time, and yes even a few pages in the car (at times when he just couldn't put that great book down). Though he has read all sorts of genres he has always been drawn to fantasy. It is his way of escaping to a simpler time filled with magic, wonders and heroics of young men and women.
Other than reading, Mike has always enjoyed the outdoors. From the beaches in Southern California to the warm waters of North Carolina. From the waterfalls in the Northwest to the Rocky Mountains in Utah. Mike has appreciated the beauty that God provides for us. He also enjoys hiking, discovering nature, playing a little basketball or volleyball, and most recently disc golf. He has a lovely wife who has always supported him, and three beautiful children who have been the center of his life.
Mike began writing stories in elementary school and moved on to larger novels in his early adult years. He has worked in corporate finance for most of his career. That, along with spending time with his wonderful family and obligations at church has made it difficult to find the time to truly dedicate to writing. In the last few years as his children have become older he has returned to doing what he truly enjoys – writing!
Disclosure: I received a digital copy of this book in order to facilitate this review. All opinions expressed are my own.