The Dragon Rider Book Review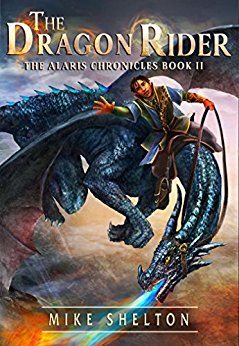 In Book Two, The Dragon Rider, the barrier is down, war is brewing and dragons fill the skies once more.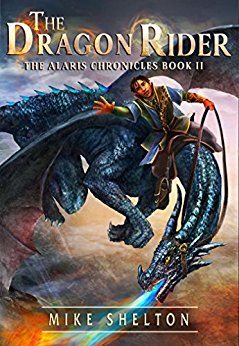 About The Dragon Rider
The barrier is down, war is brewing and dragons fill the skies once more.
Bakari is the first dragon rider in centuries but he alone cannot subdue the growing tensions among the kingdoms around Alaris. He begins a quest to find more dragon riders — the only way to secure peace in the fractured lands around him.
In this second book of the Alaris Chronicles everyone is forced to choose sides in the battle for the governance of Alaris. Roland Tyre seizes control of the Citadel and carefully plays both sides — but his immense charm and considerable wizard powers may prove useless against a deadly and hidden enemy. Battle Wizard Alli Stenos is in the thick of every fight she can find and only wants to secure an end to the violence.
The three young wizards, Bakari, Roland and Alli have become more powerful than many of their elders. But will that be enough to keep Alaris, and the surrounding kingdoms, from descending into all out war?
My Thoughts
The amazing adventure of three young wizards, Bakari, Roland and Alli continues in book two, The Dragon Rider. The second book in this series, is even more exciting than the first novel – with dragons, war, scheming and more. You literally do not want to put this book down in fear of missing what happens next.
The novel opens up with some history from the first novel but to really appreciate this novel, you should read the first in this series, which you can find more information here. After we get a recap of what has led up to this point, we dive into more of Bakari's story. While I originally thought that Roland would emerge as one of the greatest wizards, it is Bakari – our quiet but thoughtful, compassionate and crazy smart wizard who emerges as the leader. It is Bakari who is marked as a leader and a saviour, a role that he does not relish in but accepts with humility. He is the perfect hero and as he searches for the remaining dragon riders to aid him in his quest, we see even more of his heroic qualities.
While he is on his mission, there is still so much going on in Alaris – a war over power that finds Alli and Roland stuck in the middle. Alli finds a new ally, one that neither you as a reader nor even she could imagine coming to her aid. Roland meets his match in an ancient and evil power. It is the evil power that Roland uncovers that helps us to understand the enormous evil that is about to be unleashed on the world. It is also a great bridge into the third book that leaves your craving for more.
The Dragon Rider is an excellent novel for young adults and adults who love a well written science fiction novel. Full of action, suspense and schemes you never see coming. I loved every moment of book two!
You can purchase a copy of this book on Amazon.
Rating: 5/5
About the Author
Mike has recently released the first book in a new YA/Teen fantasy series – The Alaris Chronicles, following his 2016 trilogy of The Cremelino Prophecy. Please join his mailing list at www.MichaelSheltonBooks.com to continue to get information on these stories and any future publications.
Mike was born in California and has lived in multiple states from the west coast to the east coast. He cannot remember a time when he wasn't reading a book. At school, home, on vacation, at work at lunch time, and yes even a few pages in the car (at times when he just couldn't put that great book down). Though he has read all sorts of genres he has always been drawn to fantasy. It is his way of escaping to a simpler time filled with magic, wonders and heroics of young men and women.
Other than reading, Mike has always enjoyed the outdoors. From the beaches in Southern California to the warm waters of North Carolina. From the waterfalls in the Northwest to the Rocky Mountains in Utah. Mike has appreciated the beauty that God provides for us. He also enjoys hiking, discovering nature, playing a little basketball or volleyball, and most recently disc golf. He has a lovely wife who has always supported him, and three beautiful children who have been the center of his life.
Mike began writing stories in elementary school and moved on to larger novels in his early adult years. He has worked in corporate finance for most of his career. That, along with spending time with his wonderful family and obligations at church has made it difficult to find the time to truly dedicate to writing. In the last few years as his children have become older he has returned to doing what he truly enjoys – writing!
Disclosure: I received a digital copy of this book in order to facilitate this review. All opinions expressed are my own.