When two childhood sweethearts find themselves together after years apart, does their romance have a chance to be rekindled now that he's a duke and she's a governess?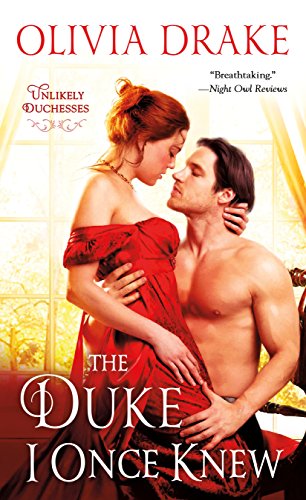 About The Duke I Once Knew
For years, Abigail Linton devoted herself to caring for her parents and her siblings' children. Now, eager to create a life of her own, Abby seizes upon a position as a governess on a neighboring estate. Unfortunately, her absentee employer is Maxwell Bryce, the Duke of Rothwell, the notorious rake who once broke her youthful heart. But since he hasn't set foot on his estate for fifteen years, Abby assumes she'll never have to lay eyes on him ever again.
Then, from out of nowhere, Max appears. He is stunned to come face to face with the girl next door he fell for years ago—before he went away, and she stopped writing to him. . .even though Abby swears that he is the one who left her without a word. Could it be that this spirited, witty spinster has won Max's heart all over again—and that they may have a second chance at love?
My Thoughts
Abby is a special young woman. She is the youngest child in her family – they were not expecting her birth but that did not make her less special in her parents eyes. When her parents fall ill and her siblings out of the house already, it is Abby that cares for her elderly parents. She sacrifices her season, her chance of finding a husband and her own family, in order to care for her parents. While this sounds so odd with her young age, in this time period she would have been viewed as off the shelf!
After the death of her parents, Abby yearns for more. She is tired of being the person her family relies on to care for everyone else, the children, care for their homes – she is sometimes treated more like a cherished staff member than a younger sibling at times! She loves her family and deals with this despite her obvious dislike of the treatment in order to prevent fighting. Against the wishes of her family, she takes the position of governess for the sister of her one true love.
Abby had fallen in love with Max in their teen years and both made promises of marriage and ever lasting love. When he is sent away, they make promises that this departure will not affect their relationship but unfortunately it did. Neither Abby nor Max receive correspondence from each other and this turns their hearts cold to any future love or relationship. Max becomes a non-believer in love and vows to not settle down in any complicated relationship.
When they meet up again, there is years of anger, hurt and disappointment. They argue, lash out and are stubborn to listen to the others side of the story. While you want them to work out their differences, you can also understand why they would be so full of hurt. Their story is one of betrayal, lies and deceit by the people who should have loved them the most.
This is a beautiful story of hope and forgiveness, you keep rooting for Abby and Max throughout the story. You want these two individuals who have hurt long enough, to find happiness and peace (and hopefully together!). A great historical romance read from start to finish.
You can purchase a copy of this book on Amazon.
Rating: 4/5
About the Author
Olivia Drake is the author of the Cinderella Sisterhood series (Seducing the Heiress, NeverTrust a Rogue, Scandal of the Year, If the Slipper Fits, Stroke of Midnight, Abducted by thePrince, Bella and the Beast, His Wicked Wish, and The Scandalous Flirt). She has been amember of Romance Writers of America since 1981, and her novels have won the GoldenHeart Award, Best Historical Romantic Suspense and Best Regency Historical from RomanticTimes. She has also won the prestigious RITA award. She currently resides in Houston, Texas.
Disclosure: I received a digital copy of this book in order to facilitate this review. All opinions expressed are my own.