What does an independent young widow really want? One determined suitor is about to find out!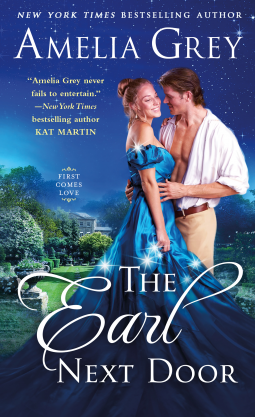 About The Earl Next Door
When Adeline, Dowager Countess of Wake, learns of her husband's sudden death, she realizes she's free. At last, she can do, go, and be as she pleases. Finally, she can have the life she has always dreamed of. She doesn't need, or want, to remarry. Especially not the supremely dashing future Marquis of Marksworth, who makes Adeline yearn for his desire.
Lord Lyonwood, son of a philandering marquis, will not be like his father. He wants to run his estates and watch them flourish—and find a wife who brings love to his life. When he meets spirited and self-reliant Adeline in a case of near-scandalous mistaken identity, Lyon feels he's met his match. But Adeline isn't interested in a marriage proposal. She will only accept becoming his lover—and Lyon finds it hard to refuse. Unless the fire of his passion can melt Adeline's resolve.
My Thoughts
This story features an extremely strong, independent, fierce female character who knows what she wants and goes for it. This can be contrary to the type of female leads we see during this time period. Adeline had a rough past in her first marriage and when her husband died, she realizes she is free and she will never let anyone hold her down again. While this is fantastic in so many ways, it may also hold her back as we soon come to find out. Despite this, I loved her character to bits.
Enter Lyon – the handsome, funny and determined young man from next door. While they get off on the wrong foot, he can't help but be swept away by Adeline. While she may not have been what he had been looking for, her spirit is what hooks him. He loves her independence and willingness to stand up for what is right and for herself.
This was a sweet story of learning to let go of our past and not let it define our future. Adeline was so stuck in her past, that she was losing out on something potentially so amazing. You kept wanting to give her a little shake and some common sense in the right direction. Can they move past their history? Can they build a future together? Or is her past too much for her to bury? This novel is sweet, funny romance that will be perfect for the upcoming summer months.
You can purchase a copy of this book on Amazon.
Rating: 4/5
About the Author
New York Times and USA Today bestselling author AMELIA GREY read her first romance book when she was thirteen and she's been a devoted reader of love stories ever since. Her awards include the Booksellers Best, Aspen Gold, and the Golden Quill. Writing as Gloria Dale Skinner, she won the coveted Romantic Times Award for Love and Laughter and the prestigious Maggie Award. Her books have sold to many countries in Europe, Indonesia, Turkey, Russia, and most recently to Japan. Several of her books have also been featured in Doubleday and Rhapsody Book Clubs. Amelia is the author of over twenty-five books. She's been happily married to her high school sweetheart for over thirty-five years and she lives on the beautiful gulf coast of Northwest Florida.
Disclosure: I received a digital copy of this book in order to facilitate this review. All opinions expressed are my own.