The Golden Dragon Book Review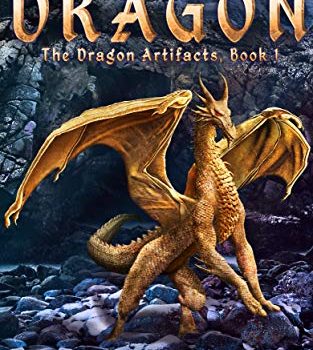 How much wizard power is too much? Find out in The Golden Dragon!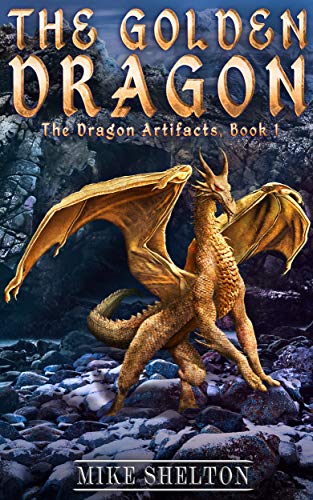 About The Golden Dragon
Roland Tyre, High Wizard of the Citadel, has always wanted to be the most powerful wizard in the land and adored by all.  But there is already someone else that vies for that title – Bakari, the Dragon King; one of his best friends.
While Bakari and the dragon riders race off to find the lost dragon artifacts and the mythical golden dragon, Roland discovers his own magical artifact that gives him the opportunity to increase his own powers and influence in the land.
Can friendships survive greed for power?  And who will emerge as the most powerful wizard in the land?
A grand adventure awaits with powerful wizards, kidnappings, traitors, kingdoms changing hands, and of course dragons and other magical creatures.
Is the Golden Dragon real and if so, who will find him first?
My Thoughts
My favourite characters are back in the new The Dragon Artifacts series, book one The Golden Dragon.
The friends are now comfortably in their new positions, Roland as the High Wizard, Alli as his Battlemaster and Bakari as the Dragon King. Having become attached to the characters in The Alaris Chronicles, I was delighted to see how far these characters have come.
Alli (my personal favourite) is still her fierce, determined and brave self. She cares deeply for her friends and while at times she may struggle with her emotions, she always follows what is right and has high moral standards. In this book at the beginning, she is tied to Roland as his Battlemaster and at times has to parent him to ensure he doesn't push too far with the magical artifacts and harm himself and others. When a surprise visit from a neighbouring city occurs, he sends her to Bakari to uncover the real plot of the visitors. She becomes caught in a web of lies and finds herself literally fighting for her life. My heart broke to see such a strong, brave, intelligent young woman fighting for her life in such a manner and that people can be so cruel.
Roland makes you laugh at times and other times worry. His heart is in the right place but he still isn't mature enough to control all of the power he has been given and tends to make rash decisions. He can be easily drawn in to the power and greed of magic but to be honest, how could anyone really resist? When it comes down to the hardest moments though Roland would use anything and everything he can (including putting himself in harm's way) to help his friends.
Bakari, the Dragon King, has matured greatly in this book. He was always a thoughtful, mature soul but he has become wiser in his new role. It is this kindness and political correctness that may be his downfall. Throughout the novel, he doesn't trust the people who visited Rolland and whom Alli was instructed to follow and watch. He is shown evidence of their betrayal but still wants to hold to his alliance with them and the power of the Dragon King. While he is a good and kind person, not all other people are and this is true about the pair that they are in company with.
The ending blew my mind and left me wanting more. While you are worried throughout the novel that this may come to fruition, you are shocked when it happens to one of the most powerful wizards in the land but you are given glimmers of hope in the ending through a surprise twist and character. I can not wait to read book two in this series as it promises to be just as exciting and full of adventure as his other books.
You can purchase a copy of this book on Amazon.
Rating: 5/5
About the Author
Mike is now on his fourth YA fantasy series. For information on his new releases, book reviews, and other relevant info, please join him at www.MichaelSheltonBooks.com.
Mike was born in California and has lived in multiple states from the west coast to the east coast. He cannot remember a time when he wasn't reading a book. At school, home, on vacation, at work at lunch time, and yes even a few pages in the car (at times when he just couldn't put that great book down). Though he has read all sorts of genres he has always been drawn to fantasy. It is his way of escaping to a simpler time filled with magic, wonders and heroics of young men and women.
Other than reading, Mike has always enjoyed the outdoors. From the beaches in Southern California to the warm waters of North Carolina. From the waterfalls in the Northwest to the Rocky Mountains in Utah. Mike has appreciated the beauty that God provides for us. He also enjoys hiking, discovering nature, playing a little basketball or volleyball, and most recently disc golf. He has a lovely wife who has always supported him, and three beautiful children who have been the center of his life.
Mike began writing stories in elementary school and moved on to larger novels in his early adult years. He has worked in corporate finance for most of his career. That, along with spending time with his wonderful family and obligations at church has made it difficult to find the time to truly dedicate to writing. In the last few years as his children have become older he has returned to doing what he truly enjoys – writing!
Disclosure: I received a digital copy of this book in order to facilitate this review. All opinions expressed are my own.