The Good, the Bad and the Duke Book Review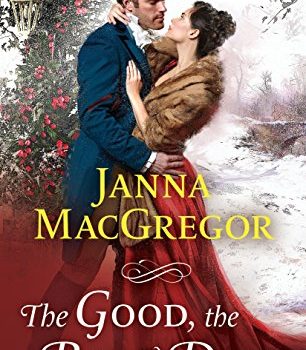 A lady with a noble mission. A duke looking for redemption. A forbidden love that cannot be denied, in The Good, The Bad, and The Duke by Janna MacGregor.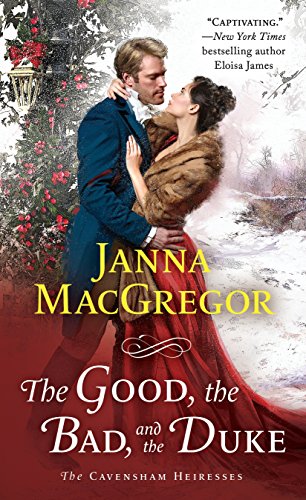 About The Good, the Bad and the Duke
Lady Daphne Hallworth is ready to celebrate the holidays with her family. But when they accidentally leave her home alone, Daphne uses the time to work on her dream—opening a home for unwed mothers. But her quest isn't problem-free: She's in a battle to win the property for the home against her brother's best friend-turned-enemy, Paul Barstowe, Duke of Southart. And that's not all: someone has stolen her personal diary, which holds secrets that could devastate her family. Daphne has always harbored private feelings for the man her family scorns…though perhaps striking a bargain with the handsome Duke will solve both their problems?
Paul, long considered good for nothing, aims to open a hospital to honor his brother and restore his reputation. So when a conflict over the land brings him straight into Daphne's life, they make a deal: He will help her find her diary if Daphne can change her family's opinion of him. But before he can win her family's affection, he has to win hers first. Maybe love was the answer to their family feud all along?
My Thoughts
A beautiful historical romance set in the backdrop of the holiday season but is so much more than a holiday novel.
Lady Daphne may not be married and may be considered to old in society eyes (which is ridiculous when you think of how young she truly is) but she is not a wallflower. She feels forgotten by her family at times and at other times a burden. She is quiet but has a kind and brave heart. Her ultimate goal is to purchase property so that it can be converted into a home for unwed Mothers. She wants to honour a young woman who died and pursue this dream of helping others as she has been given a high place both with her status and her finances in society. The only drawback? Someone else wants the same property – the Duke of Southart. Who also happens to be the man that she has had a huge crush on despite her family despising him. Paul has quite the reputation, some if it earned and some of it unfairly bestowed upon him. He grew up with his Father hating him and only became the Duke by chance when his brother and Father died. His Father made it his life goal to torment Paul, even continuing to do so beyond the grave.
These two are brought together again over the property and Lady Daphne's stolen journal that contains secrets that could destroy her family. We watch as they work through their past pain, open their hearts to each other and truly trust each other with their secrets and pain. You find yourself hoping and praying that they can not only find a way together but to also find forgiveness and acceptance of their relationship from her family.
This is a beautiful story of healing, faith and tied into an well written, suspenseful plot full of twists and turns. I loved every  moment.
You can purchase a copy of this book on Amazon.
Rating: 4.5/5
About the Author
Janna MacGregor was born and raised in the bootheel of Missouri. She credits her darling mom for introducing her to the happily-ever-after world of romance novels. Janna writes stories where compelling and powerful heroines meet and fall in love with their equally matched heroes. She is the mother of triplets and lives in Kansas City with her very own dashing rogue, and two smug, but not surprisingly, perfect pugs. She loves to hear from readers. She is the author of the Cavensham Heiresses series, which includes The Bad Luck Bride, The Bride Who Got Lucky, and The Luck of the Bride.
Disclosure: I received a digital copy of this book in order to facilitate this review. All opinions expressed are my own.