The Great Big Search and Find Activity Book
I am sure by now you are looking for new ways to keep your child engaged and learning. The Great Big Search and Find Activity Book gives you so many options to keep your child having fun during this difficult time.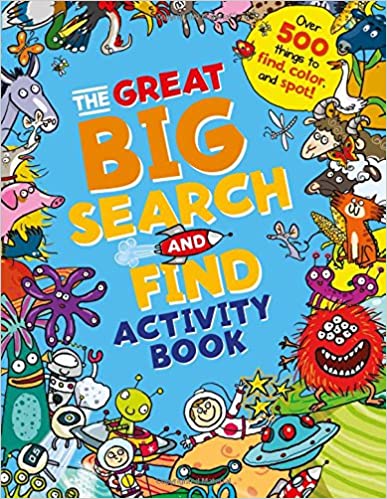 About The Great Big Search and Find Activity Book
This action-packed activity book is full of things to find, amazing scenes to color, and spot-the difference puzzles.
The book features a wide range of topics, from dinosaurs to the solar system, and with fun facts to discover throughout, it is guaranteed to provide hours of entertainment!
Our Thoughts
I am sure that all of you are going through the same struggles we are right now – finding activities to keep your child engaged and busy. Our kids have been home since roughly the second week in March – so almost two months! While the first few weeks were fun, boredom has set in and we have been struggling to come up with new activities that are fun and that we can make last for a good chunk of time.
The Great Big Search and Find Activity book is full of over five hundred activities for your child to do. The book is organized into different sections that include: geography, dinosaurs, ocean, jungle, farm, city life, museums, zoos and even space. In each section, your child will be challenged to spot the differences and find specific items. The book is also full of great facts that help to support learning around a wide range of topics.
Your child can work their way through the book in any order that they feel like, you don't have to go from start to finish. They can skip a few pages in each section – whatever works for them and you! The images were bright and fun, perfect for young children to help gain their interest and encourage them to do more.
This is a great resource for parents and caregivers as we look to find new and exciting ways to keep our children learning and their minds active. While our son could have easily worked on the activities alone, we had a great time completing them together.
You can purchase a copy of this book on Amazon.
About the Author
Joelle Dreidemy has drawn and painted ever since she can remember. After graduating from the prestigious Emile Cohl School she moved to Paris, from where she now illustrates for English, American, French and Korean publishers, as well as teaching at Emile Cohl.
Disclosure: I received a digital copy of this book in order to facilitate this review. All opinions expressed are my own.