There Was a Black Hole that Swallowed the Universe Book Review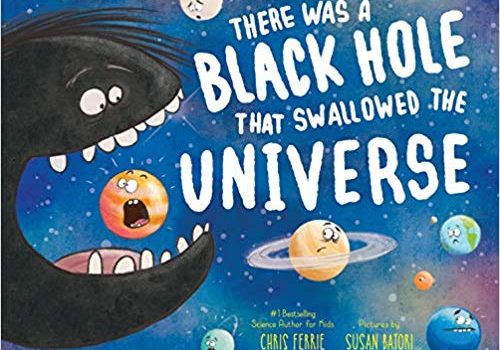 Spark creative conversations about celestial beings with this clever parody from the number one science author for kids.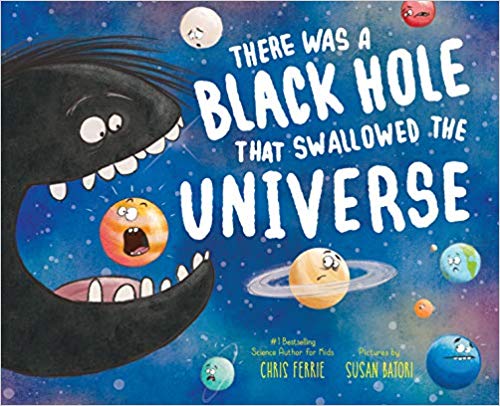 About There Was a Black Hole that Swallowed the Universe
There was a black hole that swallowed the universe.
I don't know why it swallowed the universe―oh well, it couldn't get worse.
There was a black hole that swallowed a galaxy.
It left quite a cavity after swallowing that galaxy.
It swallowed the galaxies that filled universe.
I don't know why it swallowed the universe―oh well, it couldn't get worse.
Using the familiar rhythm of "There Was an Old Lady Who Swallowed a Fly," follow along as the black hole swallows up the universe and everything that exists in it, from the biggest to the smallest pieces of matter. The silly, vibrant artwork is sure to make stargazers of all ages smile.
Our Thoughts
This beautiful rhyming book follows the story of a goofy black hole that goes about first swallowing the universe, then a galaxy and then a star and so on until all there was, was dark.
This is a simple, rhyming book for children that introduces them to some simple concepts (atom, molecules, cells, planets, etc..) with some neat black hole facts at the end of the book. I did have to do look up a few concepts to make sure I was explaining them right to my son (I didn't know what a quark was). It gave us the opportunity and time to learn together, which is the sign of a great book – when you want to learn more about a topic and it sparks an interest. It may have been helpful to have their own glossary at the end of the book to help parents but it wasn't necessary.
What was really neat about this book was that you can also read it backwards. There is a hidden message that you can reveal with a black light from back to front so that you get to read a whole different story (similar concepts). While I didn't have a black light, you can turn your cell phone into a black light using tape and a highlighter and voila! A whole new story full of fun and rhyme.
This is a fantastic read aloud book that will get stuck in your head (yes I was rhyming all about the black hole for the rest of the day). We had so much fun reading the story, appreciating the illustrations (that suited the story so well) as well as learning more afterwards (although I am still not quite sure I understand what a quark is!).
You can purchase a copy of this book on Amazon.
About the Author
Chris Ferrie is a physicist, mathematician and father of four budding young scientists. He obtained his doctorate in Mathematical Physics from the University of Waterloo in Waterloo, Canada and is currently a faculty member at the Centre for Quantum Software and Information in Syndey, Australia. Chris believes it is never too early to introduce children to the wild and wonderful world of science!
Disclosure: I received a copy of this book in order to facilitate this review. All opinions expressed are my own.