Too Blessed to be Stressed for Moms Book Review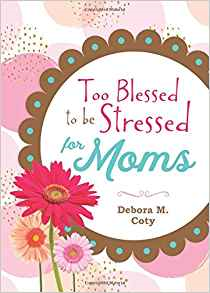 Do you feel like you re drowning in the everyday stress-pool? . . .
Wish you could make busy-ness a business so you d be a millionaire? . . .
Welcome to the maternal order of slightly sagging sisters of the 'hood. The motherhood.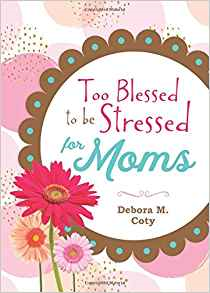 About Too Blessed to be Stressed
With her own offbeat brand of wit and near-wisdom, popular inspirational humorist Debora Coty addresses heart needs of moms drowning in the churning stress-pool of busyness. In her beloved mom-to-mom, grin-provoking style, Coty offers empathy, laughs, real-life stories, practical parenting survival tips, and fresh biblical insights to help you hear Papa God's still, small voice through life s chaos.
Whether you're struggling with stress related to attitude, time-management, guilt trips, patience, or something in between. . .this humor-filled volume will deliver a much-needed smile and equip you with simple-to-implement tips for attaining the peace we all crave the peace that passes all understanding.
My Thoughts
A Mom's job is tough – you never know if you are doing the best job, you constantly question and doubt yourself (not to mention comparing yourself to others) and the never-ending list of things to do. It can be an overwhelming, stressful, underappreciated role but when you look at your children, you realize that there is nothing better in life then the job of a Mom.
When we feel stressed and overworked, it can be easy to overlook the good parts in our life and feel blessed. We tend to focus solely on the things that are worrying us and causing us anxiety. We begin to feel inadequate and judge even ourselves. As a Mom, you are not alone! There is not one Mom who hasn't questioned their ability and their parenting ability at one point.
This book acknowledges those feelings but also reminds us that we are not alone. That we all feel like this at times and the best medicine? Faith, humour and remembering the basics – your kids just need you to love them, to support them and fully be engaged in them. Coty uses her own personal experiences – that not only will have you giggling away but that you can one hundred percent can relate to – to help share her story of hope and guidance. Each chapter has a unique focus and gives us personal examples, tips and quotes to help us get through the hardest times. This was a well written, personal book that I couldn't put down. It was like having a glass of wine and a fantastic conversation with a best friend – you just didn't want it to end! A definite must read for first time Moms and second (third and fourth!) time Moms.
You can purchase a copy of this book on Amazon.
Rating: 5/5
About the Author
Debora M. Coty is a popular humorist, speaker, and award-winning author of numerous inspirational books, including the bestselling Too Blessed to be Stressed line. Deb considers herself a tennis junkie and choco-athlete (meaning she exercises just so she can eat more chocolate). A retired piano teacher and orthopedic occupational therapist, Debora currently lives, loves, and laughs in central Florida with her husband, Chuck, and three grandbuddies and one grandprincess.
You can connect with her on her website, Twitter and Facebook.
The Giveaway!
To celebrate the release of Too Blessed to Be Stressed for Moms and to bless a mom that needs to de-stress, Deb is giving away a "Take a Day for Mom" $75 VISA Cash Card. The card can be used by a mom for a day of pampering or just getting away and enjoying a day to herself. Do you need a day away or know a mom who does? (Is that a trick question?) Then, enter the giveaway and share it with all your friends. (Another little secret… you don't have to prove you are a mom in order to win!)
Book Trailer
Disclosure: I received a digital copy of this book in order to facilitate this review. All opinions expressed are my own.