TruthSeer (The TruthSeer Archives Book 3) Review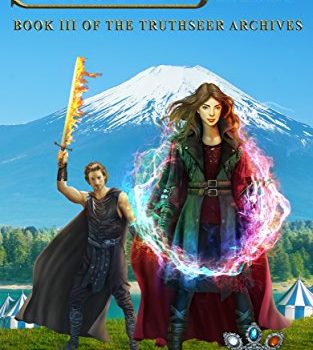 Read this stunning and decisive conclusion to The TruthSeer Archives and find out what truths survive in the end.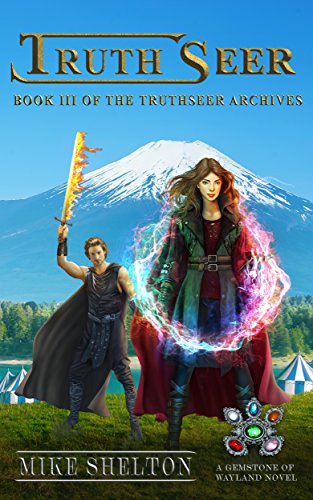 About TruthSeer (The TruthSeer Archives Book 3)
What if you could tell when someone was lying? What if every lie brought you physical pain?
The TruthStone has been a heavy weight for Shaeleen to bear, but she must continue to gather all the stones of power and restore them to their original glory – how, she is not quite sure.
While gathering the first three, she discovered that the evil Shadow Keepers are behind the turmoil in Wayland. And the weight of her mission becomes almost unbearable. At the moment of decision will she find it easier to succumb to the seductive lure of the shadow and become all-powerful?
My Thoughts
The TruthSeer is the amazing finish to this three book series. In this series, Shaeleen has the power to not only know when people are telling the truth (although this power comes in a painful form as when someone tells a lie she feels pain throughout her body) but she has also been charged with gathering all of the stone of power and join them together all in order to stop the evil that is spreading throughout her land. No small feat for such a young girl right? Along the way her brother joins her as her protector and they met royalty and normal youth with incredible powers to help them accomplish their ultimate goal of vanquishing the shadow.
Mike packs a whole lot of action into this one book! Not only does Shaeleen have to gather the last stone but she also has to return and battle the Shadow Keepers in order to save the world. He builds the book up in an exciting adventure that makes you never want to put the book down until the last page. Nothing is quite as it seems or simple for Shaeleen. Despite this, she approaches all challenges with grace, maturity and a little bit of humour (sweets anyone?).
I loved how this book came together and combined all the individuals she has met in the first two books to show how they were interconnected and how all the powers are needed to conquer the Shadow Keepers. While the story is about Shaeleen, we also learn that she can not win all alone – instead she needs the support, guidance and strength of her friends in order to survive.
This is a fantastic book from start to finish – a great read for young adults and adults alike! It is well written and so exciting that you will not want to put it down.
You can purchase a copy of this book on Amazon.
Rating:5/5
About the Author
Mike is now on his third young adult/teen fantasy series. For information on his new releases, book reviews, and other relevant info, please join him at www.MichaelSheltonBooks.com.
Mike was born in California and has lived in multiple states from the west coast to the east coast. He cannot remember a time when he wasn't reading a book. At school, home, on vacation, at work at lunch time, and yes even a few pages in the car (at times when he just couldn't put that great book down). Though he has read all sorts of genres he has always been drawn to fantasy. It is his way of escaping to a simpler time filled with magic, wonders and heroics of young men and women.
Other than reading, Mike has always enjoyed the outdoors. From the beaches in Southern California to the warm waters of North Carolina. From the waterfalls in the Northwest to the Rocky Mountains in Utah. Mike has appreciated the beauty that God provides for us. He also enjoys hiking, discovering nature, playing a little basketball or volleyball, and most recently disc golf. He has a lovely wife who has always supported him, and three beautiful children who have been the center of his life.
Mike began writing stories in elementary school and moved on to larger novels in his early adult years. He has worked in corporate finance for most of his career. That, along with spending time with his wonderful family and obligations at church has made it difficult to find the time to truly dedicate to writing. In the last few years as his children have become older he has returned to doing what he truly enjoys – writing!
Disclosure: I received a digital copy of this book in order to facilitate this review. All opinions expressed are my own.