TruthSpell Book Two in The TruthSeer Archives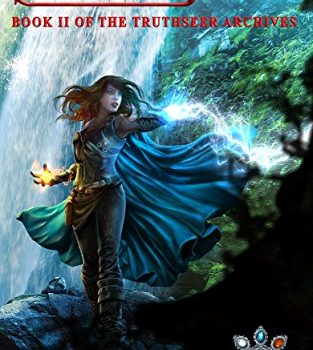 In TruthSpell, what if every lie you heard caused you pain?
About TruthSpell
Thrust into the role of saving the stones of power, Shaeleen is still learning how to manage the magical abilities she has been given. As the holder of a TruthStone, every lie she hears or tells causes her immense physical pain.
Sent to find Princess Diamonique to prevent a civil war, Shaeleen travels with her brother, Wizard Protector Cole, and her friend, Orin. But her journey veers off course when she discovers an evil shadow power threatening the magic of Wayland.
As Shaeleen gathers the other stones of power, she discovers a TruthSpell that can force others to tell the truth and do her bidding. Will this help her save Wayland's magic? Or will she become a monster worse than the one she is fighting against
My Thoughts
The exciting story of Shaeleen and the power of the stones continues in book two, Truth Spell.
In book one, Shaeleen was given what some might view as a special gift and others a curse, the Truth Stone – which gives her great powers to know the truth but also gives her physical pain when someone around her lies. For a young girl in her teens, this is at times almost too much responsibility but she carries it with grace, humour and sensitivity. In book two, we get to see much more of her personality and watch her grow in confidence, maturity and compassion. I love her character and Mike throws in great moments of humour with her love of sweets.
Shaeleen struggles a bit more with the powers she has been entrusted with. She found at times that they would take over her especially as she adds more power stones to the Truth stone. She has to learn not only how to control the stones but also how to control her own emotions and the way the stones can take over her with their power. She doesn't want to become one of the people that she is fighting against. We learn a lot more about the Shadow stones and the plot that was building in book one. Shaeleen must learn quick in order to fight back against the shadow.
This was an excellent second book in this exciting series. The plot really takes off in this installment leaving you craving for more in book three! I loved every moment and can't wait to read book three.
You can purchase a copy of this book on Amazon.
Rating: 5/5
About the Author
Mike was born in California and has lived in multiple states from the west coast to the east coast. He cannot remember a time when he wasn't reading a book. At school, home, on vacation, at work at lunch time, and yes even a few pages in the car (at times when he just couldn't put that great book down). Though he has read all sorts of genres he has always been drawn to fantasy. It is his way of escaping to a simpler time filled with magic, wonders and heroics of young men and women.
Other than reading, Mike has always enjoyed the outdoors. From the beaches in Southern California to the warm waters of North Carolina. From the waterfalls in the Northwest to the Rocky Mountains in Utah. Mike has appreciated the beauty that God provides for us. He also enjoys hiking, discovering nature, playing a little basketball or volleyball, and most recently disc golf. He has a lovely wife who has always supported him, and three beautiful children who have been the center of his life.
Mike began writing stories in elementary school and moved on to larger novels in his early adult years. He has worked in corporate finance for most of his career. That, along with spending time with his wonderful family and obligations at church has made it difficult to find the time to truly dedicate to writing. In the last few years as his children have become older he has returned to doing what he truly enjoys – writing!
Disclosure: I received a digital copy of this book in order to facilitate this review. All opinions expressed are my own.