TruthStone, The TruthSeer Archives Book One Review
In TruthStone, one little lie won't hurt, will it?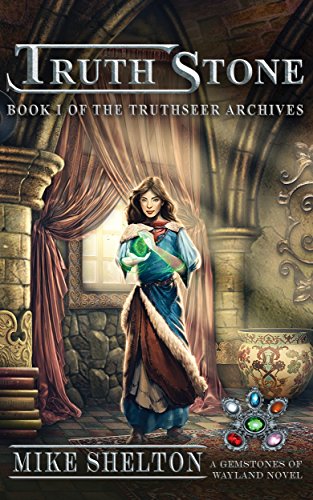 About TruthStone, The TruthSeer Archives Book One
When fifteen year old Shaeleen unexpectedly is given a TruthStone, every lie she hears or tells causes her immense physical pain. As she struggles to control her new power and curb the pain, she learns a powerful truth that could thrust an entire continent into civil war. She must choose: reveal the truth and stop the pain – or sacrifice her own well-being to protect her kingdom.
For two hundred years the five kingdoms of Wayland have been protected by the stones of power. Now those stones are failing and a darker power is trying to take control. With the help of her brother, Cole and a newfound friend, Orin, Shaeleen sets out to gather and restore the power of all the stones.
But will she succeed before the endless lies destroy her?
My Thoughts
Little lies, big lies – we are all guilty at some point of telling a lie. We lie for a variety of reasons, to hide mistakes and to hide the truth from someone who we worry it might hurt. Most of the time people have good intentions but other times, people lie to hurt and cause pain.
In TruthStone, Shaeleen, a young woman who is unique and confident young woman, is given a special gift by a strange woman. A TruthStone. This TruthStone, while giving her the ability to decipher the truth from the lies, also causes her great pain. She receives physical pain from lies – from weak pain to a high degree of excruciating pain. I loved how she was displayed as a normal down to earth character – she understands that lying is wrong but sometimes a necessary evil to do what is right. She is conflicted on the inside on what is right and wrong but uses her heart and common sense to make decisions.
With the TruthStone, she has been entrusted with a very important mission. We only find out the great extent to what she has been tasked to as she sets off on a crucial mission from the Prince with a huge plot development! Along her fantastic journey she meets key characters that will help her on her way as well as realizing her own strength and abilities.
This was a well written, exciting novel that I could not put down. Young adults and adults a like can enjoy the adventure and risk that Shaeleen takes on. This was an excellent start to a new series from Mike Shelton.
You can purchase a copy of this book on Amazon.
Rating: 5/5
About the Author
Mike is now on his third young adult/teen fantasy series. For information on his new releases, book reviews, and other relevant info, please join him at www.MichaelSheltonBooks.com.
Mike was born in California and has lived in multiple states from the west coast to the east coast. He cannot remember a time when he wasn't reading a book. At school, home, on vacation, at work at lunch time, and yes even a few pages in the car (at times when he just couldn't put that great book down). Though he has read all sorts of genres he has always been drawn to fantasy. It is his way of escaping to a simpler time filled with magic, wonders and heroics of young men and women.
Other than reading, Mike has always enjoyed the outdoors. From the beaches in Southern California to the warm waters of North Carolina. From the waterfalls in the Northwest to the Rocky Mountains in Utah. Mike has appreciated the beauty that God provides for us. He also enjoys hiking, discovering nature, playing a little basketball or volleyball, and most recently disc golf. He has a lovely wife who has always supported him, and three beautiful children who have been the center of his life.
Mike began writing stories in elementary school and moved on to larger novels in his early adult years. He has worked in corporate finance for most of his career. That, along with spending time with his wonderful family and obligations at church has made it difficult to find the time to truly dedicate to writing. In the last few years as his children have become older he has returned to doing what he truly enjoys – writing!
Disclosure: I received a digital copy of this book in order to facilitate this review. All opinions expressed are my own.