Veronica and the Volcano: STEM for Girls Book Giveaway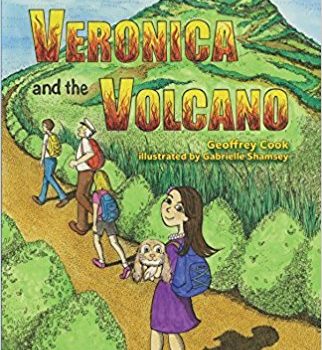 Girls + Science = WIN! Veronica and the Volcano  combines earth science with incredible action!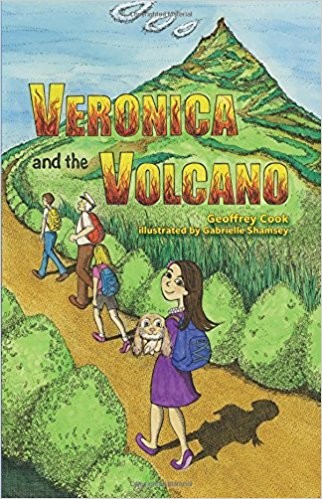 About Veronica and the Volcano
Veronica and the Volcano by Geoffrey Cook is an exciting adventure story for grades 3 – 5 about a brave, curious young girl named Veronica, who lives on the side of a volcano. Eruptions are a part of life, as she watches from the protective shields of her home or from her family's well-equipped Lava Car.
When Veronica leaves on a quest to find rare white volcano pearls on the far side of Mount Mystery, she leads her father, her best friend Maddy, and her friend's dad, the blustering Captain John, into a series of incredible adventures. But when the colossal volcano erupts, fears wins an election, and Veronica must square off against a fear-mongering villain: the Man-in-White.
Cook's story blends science with science fiction, straddling the world of the believable and fantastical and combining the latest earth science with incredible action. While writing, Cook extensively researched volcanoes, even visiting one. The most important volcanoes in the book are all based on real-world volcanoes like Krakatoa, Crater Lake, Mt. Pelee, and Tambora.
In Veronica and the Volcano kids will root for Veronica every step of the way, and while they are cheering her on, they'll learn as well. Complementing STEM (science, technology, engineering, math) curriculum, the book is filled with educational elements about volcanoes, geysers, caves, and the wonders of physics. A glossary in the back provides an at-a-glance list of the facts in the book.
Artist Gabrielle Shamsey lavishly illustrated the book with many dozens of wonder-filled and vivid images of volcanoes, caves, eruptions, and more.
My Thoughts
Veronica and the Volcano was an exciting adventure from start to finish.
The novel takes place in a very interesting world built upon volcanoes, where lava eruptions are a normal part of life and so are special homes designed to withstand the heat and special cars that can even drive in lava (for limited amount of time!). It is in this setting that we have our main character Veronica who is off on a quest to find pearls from Mount Mystery. She has a special connection through her Grandmother to pearls and wants to find some for her Mother. Veronica is a very special young woman, she is fully of curiosity, kindness and brave.
She decides to embark on this journey with her best friend but they are not allowed to go without their Fathers (who also happen to have very differing beliefs about their historical past and technology in general). This is when the excitement really begins! They face many obstacles and near death experiences but it is through their wit and amazing technology that they escape.
Near the middle to end of the book, death is mentioned as well as a prophet like figure who demands the sacrifice of all of the first-born daughters of the town. I did not find it frightening and also liked how Veronica thought outside of the box to come up with a solution to oust the lies of the prophet and save the young girls.
Veronica and the Volcano is a well written novel with excellent illustrations included. Young girls and boys alike will love the excitement and unique plot of this novel as it takes you on an amazing adventure unlike one they have ever heard of before.
You can purchase a copy of this book on Amazon.
Rating: 5/5

About the Author
Geoffrey is a serial entrepreneur and public company CEO. He is the CEO and co-founder of The Meet Group (NASDAQ: MEET) and previously founded EssayEdge and ResumeEdge from a Harvard dorm. He runs 5 mobile apps with 10 million monthly users, so he is always thinking of new ways to use technology to engage a global audience.
Geoffrey started telling Veronica and the Volcano stories to pass the time with his daughter Madeline on the twenty-five-minute drive to school every morning. She enjoyed his stories, and so he wrote them down.
Veronica and the Volcano is available on Amazon and at selected independent bookstores. Find out more at geoffreycook.com and connect with the author on: Facebook, Twitter, and Goodreads.
The Giveaway!
My US and Canadian readers, 18 years of age and older can now enter to win one copy of Veronica and the Volcano via the Rafflecopter form below – good luck!
Disclosure: I received a copy of this book in order to facilitate this review. All opinions expressed are my own.