Wild, Wild Rake Book Review
Wild, Wild Rake, the next sweeping, emotional, witty, and sharp romance in the Cavensham Heiresses series from beloved author Janna MacGregor.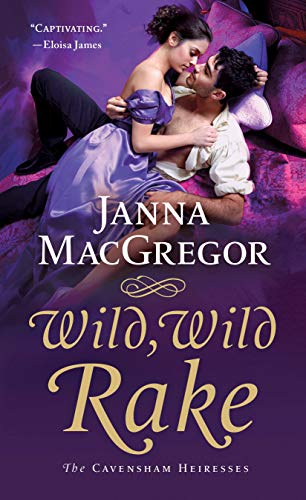 About Wild, Wild Rake
Lady Avalon Warwyk never did love her husband. Arrogant, selfish, and cruel, it's a blessing when she's widowed and left to raise her son all by herself. Finally, Avalon can live freely and do the work she loves: helping fallen women become businesswomen. She's lived these past ten years with no desire to remarry—that is, until Mr. Devan Farris comes to town.
Devan Farris—charming vicar, reputed rake, and the brother of Avalon's son's guardian—is reluctantly sent to town to keep tabs on Avalon and her son. Devan wishes he didn't have to meddle in her affairs; he's not one to trod on a woman's independent nature and keen sense of convictions. But she'll have nothing to do with a vicar with a wild reputation—even though he's never given his heart and body to another. If only he could find a way to show Avalon who he really is on the inside—a good, true soul looking for its other half. But how can prove that he wants to love and care for her. . .until death do they part?
My Thoughts
In this story, Avalon had a marriage that was a nightmare. Her husband was downright evil and hated her. He went out of his way to make her life miserable while at the same time he played the victim to any one that would listen. He made Avalon out to be a monster and most of society believed him (you have to love how society treated women!). Avalon was left with many emotional and physical scars from her marriage after he passed away. The only happiness that she had from the marriage was the birth of her son.
Devan was one of her husband's friends and also one who believed the lies. He even had a not so nice nickname for Avalon. When he becomes the vicar of the town she is now living in, they are both suspicious of each other. He was sent to spy on her and she knows this.
I loved Avalon's character – she had been through so much but was still a fighter. She never gave up nor backed down, even when the weight of what she was carrying was too much. But this strength was also at times her weakness – she did not want to allow others to help her, even when she needed it. I loved watching our two characters grow in maturity and understanding. There was a feeling of healing and hope throughout the novel. That despite all of the bad that had happened, maybe just maybe those wounds could be healed and they can move forward (although both individuals want to heal and move forward).
This is a beautiful story of healing, forgiveness and second chances.
You can purchase a copy of this book on Amazon.
Rating: 4.5/5
About the Author
Janna MacGregor was born and raised in the bootheel of Missouri. She is the author of the Cavensham Heiresses series, which begins with The Bad Luck Bride. Janna credits her darling mom for introducing her to the happily-ever-after world of romance novels. Janna writes stories where compelling and powerful heroines meet and fall in love with their equally matched heroes. She is the mother of triplets and lives in Kansas City with her very own dashing rogue, and two smug, but not surprisingly, perfect pugs.
Disclosure: I received a digital copy of this book in order to facilitate this review. All opinions expressed are my own.