Rabbit has never had a wish before; but one day he gets not just one, but three!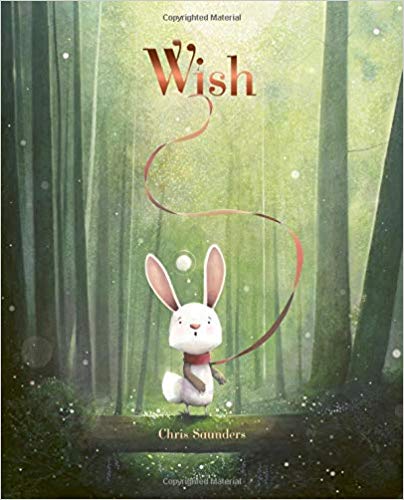 About Wish!
Rabbit has never had a wish before; but one day he gets not just one, but three! Wish is a touching story about the power of kindness and the magic of friendship, with beautiful and emotive illustrations from Chris Saunders.
Once every year wishes take flight,
filled with hope and twinkling light.
They dance in the air, with a swirl and a swish,
you have to be lucky to be chosen by a wish.
Rabbit cannot decide what to wish for, so he asks his friends Mouse, Fox, and Bear what they would do if they had a wish. Being selfless and kind, Rabbit grants all three wishes to his friends. They are so grateful for his kindness and generosity, they share their wishes with him.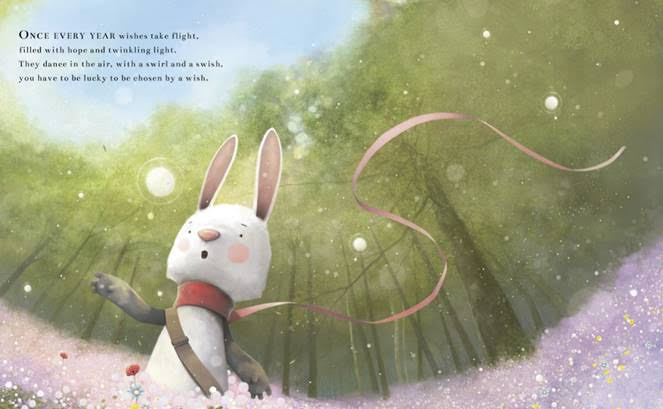 Our Thoughts
Wish is an adorable story of friendship, kindness and caring for others. A much needed book in times when we hear so much about bullying. Rabbit is a breath of fresh air. He has such a good heart – he is gifted with three wishes in our story but he is not quite sure what to do with the great gift he has been given.
Does Rabbit use the wishes for himself? What should he wish for? He decides to speak to his three closest friends to get a good idea of what a wish should be. Rabbit decides to grant his wishes to his friends and he is rewarded in return with a very special surprise. A great reminder that when we put good out in to the world we receive it back.
We loved the message of the story and the delivery. It was a great read to our youngest son and really helped us begin that conversation about kindness, helping others and friendships. It was easy to read out loud and to not only be serious but also add a little humour as we acted out the characters (I loved the Fox!).
The illustrations were just beautiful. They are whimsical and fit the story perfectly. They really helped to bring the story alive.
This is an excellent book for young children that teaches a very important lesson on friendship and kindness. A perfect addition to your home library!
You can purchase a copy of this book on Amazon.
About the Author
Chris Saunders is a freelance illustrator who received an Illustration BA Honours Degree (First Class) from the University of Northampton. He was awarded the 2010 e-Creative nomination for new talent in the field of illustration. Chris lives in Bishop Auckland, in the northeast.
Disclosure: I received a copy of this book. All opinions expressed are my own.