Yoga at the Zoo Book Review
Yoga at the Zoo gently imparts important lessons about friendship, dealing with new situations, and meeting new people.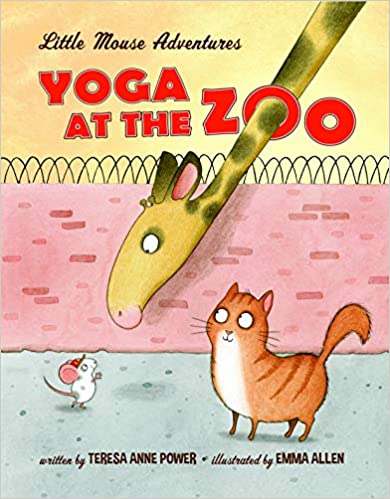 About Yoga at the Zoo
Little Mouse is here to help kids use yoga to solve problems and manage emotions in Yoga at the Zoo, the first book in the Little Mouse Adventures series from international bestselling author and Kids' Yoga Day creator, Teresa Power.
Little Mouse and his family live in a cozy burrow nestled in young Tammy McDoodle's backyard.
Tammy and her mother love to practice yoga together, and Little Mouse loves to follow along!
In this beautifully illustrated picture book, adorable Little Mouse and the wise and lovable lazy cat, Mr. Opus, follow Tammy on a field trip to the zoo and meet new animal friends, while learning simple yet meaningful yoga poses along the way.
Our Thoughts
This beautiful story features two very unlikely friends – Little Mouse (a young, sweet mouse) and Mr. Opus (a wise and friendly cat). The two make the most unlikely pair but are the greatest of friends. This is such an important message for children – that we are not what society defines us. The best friendships develop when and where we least expect it to. In this book, they go on quite the adventure together – to a zoo!
On a typical day, in the morning Little Mouse goes to school but the afternoons are spent with Mr. Opus. He learns the power of yoga not only from young Tammy but also all the animals at the zoo when they go on their adventure with her. He learns how to calm his mind through his favourite pose (child's pose), which is so important for children. Our youngest has been learning yoga and meditation at school, which we feel is so important for him. Children, like adults, have strong emotions but sometimes don't have the tools they need to deal with them and learn how to quiet the stress of their minds (to be honest there are some adults who struggle with this skill too!). Yoga gives them these skills and we see this in this book when Little Mouse encounters an initially perceived scary and stressful situation. As he uses child's pose, he is able to calm his mind and look at the situation differently. And the stressful situation that was perceived? Not so scary and stressful once we learned both sides.
This is a beautifully written and illustrated book for children that we enjoyed reading together. It was easy to read together, with characters that you couldn't help but love. Little Mouse is just a lovely and curious character with a good heart – such a positive example for children as they begin to explore their world. This is a wonderful addition to your home library.
You can purchase a copy of this book on Amazon.
About the Author
Teresa Power's books have sold over 250,000 copies worldwide. In her roles as award-winning author, renowned yoga expert, and keynote speaker, her mission is to share strategies and tips to help children, parents and educators enrich their lives and manage stress. Teresa has been featured by Good Morning America, Parenting, Reader's Digest, Fox11 LA, Telemundo, and more. She is also the founder of International Kids Yoga Day, which is celebrated globally on the first Friday in April, annually.
Disclosure: I received a copy of this book in order to facilitate this review. All opinions expressed are my own.