50 Maps of the World Book Review
Travel the world with fifty country maps that showcase the history, culture and personalities.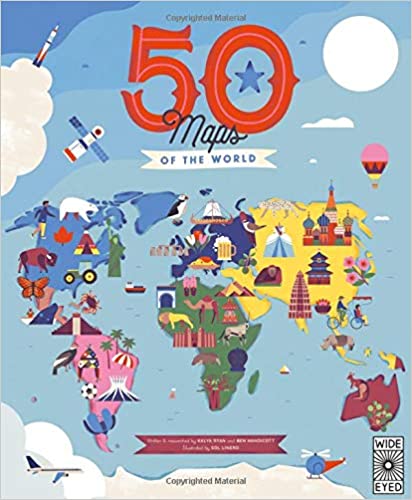 About 50 Maps of the World
Spanning from Spain to Singapore, Colombia to Canada, Turkey to Tanzania, discover all you need to know about some of the most amazing places in the world.
Geography, history and culture can be found in the treasure trove of travel knowledge. Each two page spread is dedicated to a different country, providing quick facts and the chance to delve deeper into what makes every nation unique. Natural wonders, bustling metropolises, storied pasts and cultural icons are presented in detail.
Our Thoughts
Do you have a budding traveler in your home? Or maybe a child who loves learning about new places, their history and cool facts? This is the book for them.
50 Maps of the World is an incredible, information packed journey around the world. When I first read maps of the world, I assumed a literal map but each two page spread dedicated to the country, features an outline of the country shape along with a smaller map showing where the country is located on a world map. The book instead focuses on special features, sites, people, animals and so much more. They also include key facts about the country and what makes the country unique, along with a timeline that contains important moments to remember specific to that country.
50 Maps of the World is a stunning book dedicated to showcasing some of the most beautiful countries in the world and their history and culture. It features many places, moments and people that you would never have known about (I never knew that Sabiha Gokcen, from Turkey, was the first woman in the world to fly as a fighter pilot at the age of 23!). We read the book a few pages at a time, sometimes jumping to countries that we wish we could be on a flight to right now. The pages are slightly busy but still easy to follow along with your child. I loved how we both learned so much from this book and were able to create our own bucket list. 50 Maps of the World will make a great gift for the little traveler or the child in your house who loves to learn and explore the world around them.
You can purchase a copy of this book on Amazon.
Disclosure: I received a copy of this book in order to facilitate this review. All opinions are my own.