The Amish Blacksmith #review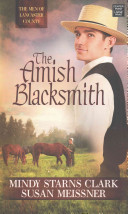 A new novel from bestselling authors, Mindy Starns Clark and Susan Meissner, The Amish Blacksmith is Book Two in The Men of Lancaster County Series.
About the Amish Blacksmith
Apprenticed blacksmith, Jake Miller, is skeptical of Priscilla Kinsinger's ability to soothe troubled horses, especially when he has his own ideas on how to settle them. Six years earlier, Priscilla's mother died in an awful accident in their home and Priscilla's grief over losing her mother was so intense that she was sent to live with relatives in Indiana. She has only just returned to Lancaster County. Her homecoming shouldn't matter to Jake who is interested in courting lighthearted, Amanda Shetler. But Jake's boss who is also Priscilla's uncle asks him to help reconnect Priscilla with community life and he has no choice but to do just that. He finds himself slowly drawn to the beautiful but emotionally wounded Priscilla.
Jake is determined to prove to her that it is not her fault that her mother died but what he discovers will challenge everything they both believe about the depth of love and the breadth of forgiveness.
My Thoughts
The Amish Blacksmith is a wonderfully written story about loss and finding hope again. Priscilla has lost so much in her life with the loss of her Mother. She feels so much guilt over this loss which makes no sense to her family. She has lost all interest in everything that she once loved especially horses. She used to have such a deep connection with horses but her guilt has overwhelmed her and she can not allow herself to feel happiness.
Jake knew her as a young child and at first feels obligated to integrate Priscilla back into their community. He begins to realize that there is so much more behind her pain and wants to help her find peace and forgiveness. They begin to forge a friendship and Priscilla finally opens up to Jake and this was quite the twist in the story for me! I was not expecting the reason that was revealed about her guilt. It was then up to Jake and Priscilla to learn how to apply their beliefs and religion in order to forgive themselves for the past in order to move into the future.
I loved this book and have re-read it again because it was so good.
Rating: 5/5
Disclosure: I received a digital copy of this book. All opinions expressed are my own.