In Circumvent, life is perfect – until all memory is erased.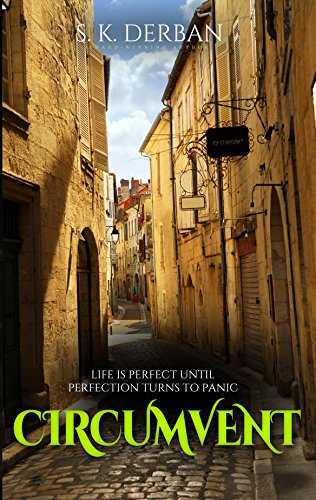 About Circumvent
Life is too perfect.
Imagine living in a quaint, beach front cottage on the Hawaiian island of Maui. You have an amazing job, combined with the pleasure of working from home. Lunch breaks become a daily picnic on the sand. Dessert is always included because of your marriage to a famous pastry chef. Life could not be any better. Or so it seems.
The writer falls in love with the baker.
When French-born, Nikki Sabine Moueix travels to Hawaii for a special work assignment, her job of writing an article about a famous Swiss pastry chef generates more than a magazine piece. They fall in love, get married, and Nikki Moueix becomes Mrs. Ruggiero Delémont.
The perfection turns to panic.
When another assignment calls for Nikki to spend three weeks in France, Ruggiero's schedule prevents him from joining her. She travels alone, advancing straight into danger. After a threatening confrontation, Nikki wakes up in a French hospital with no knowledge of her past. When she fails to check in, Ruggiero panics and pushes for an immediate investigation. But as he closes in, Nikki's new-found friend moves her to another city. It becomes a game of hide and seek with Nikki as the prize.
My Thoughts
Nikki has the perfect life – she is married to a man who adores her and whom she loves with all of her heart. She has the job we all dream of and even better she is able to fulfill her work duties from the beaches of Hawaii! She receives a dream assignment to head back to her beloved France for several weeks but unfortunately her husband can not join her.
Despite her husband's nervousness (he loathes using technology!), Nikki plans her assignment back to France right down to a shuttle to the airport. It was this off-chance decision to take the shuttle to the airport that alters her future. She is targeted by a ring of criminals (due to her lone female flying status) to transport something that we assume is of great value and illegal into France. This is only the beginning of the nightmare that Nikki and Ruggiero must endure.
When Nikki doesn't respond to multiple calls and texts, Ruggiero pictures the worst possible situation and his suspicions are confirmed when all traces of Nikki have been wiped clean – no record of her on the flight out of the US, no passport usage and no arrival in France. She has literally been erased. I can't even begin to imagine the fear Ruggiero faced – no only was he in a different country all together, no one could explain how his wife could just "disappear" from flight records when it was clear that she went on the plane. He turns to his friend in local authorities and the pressure to find Nikki ramps up.
While Ruggiero is desperately trying to discover what happened to his wife, Nikki finds herself in a hospital with no memory of who she was or how she even got there. She turns to her physician and rescuer – the only person she does have a memory of. But not everything is quite what it seems. Our rescuer may not be the knight in shining armour we are originally led to believe he is and may have some ulterior motives up his sleeves.
This was a novel that I could not put down – I had to see what happened to Nikki (does she remember, do the criminals hurt her further) and Ruggiero (can he discover what happened to Nikki and where she is, and if he does find her – can he adjust to her loss of memory). It was an intense story full of surprise, hope and love – I loved every moment of their story!
You can purchase a copy of this book on Amazon.
Rating: 5/5
About the Author
Born in the United States, S.K. Derban moved to London within the first three months, and remained in England until the age of five. Her mother was involved with the London Royal Ballet Company, and a great fan of the arts. Even after returning to the United States, S.K. Derban's life was filled with a love of the theatre and a passion for British murder mysteries. Her personal travel and missionary adventures also help to transport readers virtually across the globe. S.K. Derban has smuggled Bibles into China, and has been to Israel on seven missionary trips. When writing, she relies on all aspects of her life, from a strong faith in the Lord, to her unique combination of professional experience. The many personal adventures of S.K. Derban are readily apparent as they shine through into her characters. Circumvent is the third mystery novel for writer S.K. Derban.
Disclosure: I received a copy of this book. All opinions expressed are my own.