Hope at Christmas Book Review
Nancy Naigle delivers a heartwarming Christmas story in Hope at Christmas that proves you can always go home again.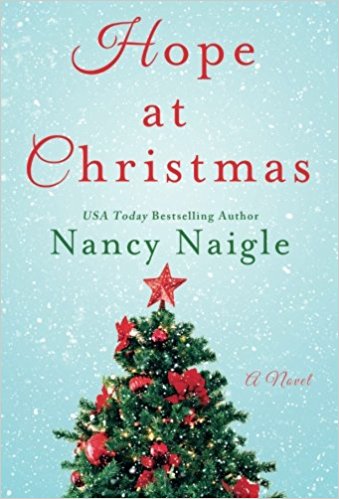 About Hope at Christmas
Sydney Ragsdale is looking for a fresh start far away from her controlling ex-husband and the self-doubt that has plagued her since the divorce. Returning to her childhood home in Hopewell, North Carolina is just what her soul needs. Praying some Christmas magic will follow her she moves with her daughter to a farmhouse that once belonged to her grandparents. While there Sydney finds solace working at The Book Bea, her favorite bookstore.
Single dad Kevin MacAlea, Mac to his friends, is the local high school history teacher and baseball coach. He is also the towns best kept secret―he has been playing Santa since his son was born twelve years ago. Mac loves the enchantment of the season and wants his son to share in his joy.
When a catastrophe forces The Book Bea to close before the end of the year, everyone in the small town is feeling the loss. While Sydney is already off-balance by the bad news, her ex-husband breaks a promise to their daughter that sends her running away and threatens the relationship that she has begun with Mac.
As Sydney and Mac try to figure out what their next steps are together they will soon discover that there's always hope at Christmas.
My Thoughts
While Christmas can be a special time of faith, love and happiness, for others it can be a reminder of loss, hurt and pain. It can remind us of loved ones who have passed, relationships and marriages that have failed and may even darken depression.
In this story, Sydney is just recovering from her ex-husband's unfaithfulness and their divorce. While he is off building a new life with his new wife, she is trying to pick up the pieces and help not only her daughter heal but herself as well. No easy task right? She does this with such grace and strength, I am actually quite proud of her. You do see her struggle at times but she is one amazing woman who tries to hold it together not only for herself but her daughter as well.
In this moment walks in Mac, the town's Santa (but that  is under cover!) and most eligible bachelor who also comes with a child package. His wife left him and their son when he was quite little and he has had to pick up the pieces and be both Mom and Dad. He does an amazing job at this and you can see the love and hope he has for the future. He falls for Sydney and wants to take that leap of faith with her but can understand and respect how hurt she still is. He has such a kind and good soul.
This was a beautiful story of hope, learning to trust again, recovering from a painful situation and moving into the future. All of this can be difficult but when you find a person who helps you want to be better, appreciates you for you and wants you to continue to grow is an important thing. I couldn't put this book down!
You can purchase a copy of this book on Amazon and SMP Romance.
Rating: 5/5
About the Author
USA Today bestselling author NANCY NAIGLE whips up small-town love stories with a dash of suspense and a whole lot of heart. Now happily retired, she devotes her time to writing, antiquing,
and the occasional spa day with friends. A native of Virginia Beach, she currently calls North Carolina home. Nancy is the author of Christmas Joy.
Disclosure: I received a digital copy of this book in order to facilitate this review. All opinions expressed are my own.