My Kindergarten in 100 Words Review
Preparing for kindergarten is an exciting and scary time in your child's life (as well as yours!), introduce them to common words and values that they will be exposed to as they start their educational journey.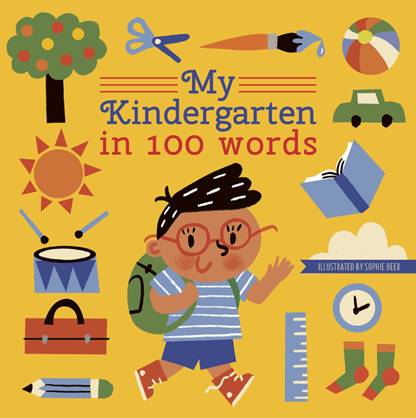 About My Kindergarten in 100 Words
My Kindergarten in 100 words introduces a range of different scenes and objects, such as getting dressed and eating breakfast with the family to different activities at kindergarten—including playtime, circle time, and arts and crafts—and then home time. Interspersed with labels for practical objects are more abstract terms like happy, kindness, and family, teaching children about emotions and mindfulness as well as educational vocabulary.
What is the My World in 100 series? My World in 100 Words series of board books helps children ages one to three boost their vocabulary, engage with the world around them, and become familiar with specific subjects.
With bright, playful illustrations from Sophie Beer, each book explores a different theme, including starting kindergarten, the garden, and the seaside. The books contain ten words per page and variation between full scenes and visual lists, there's plenty for children to look at and enjoy.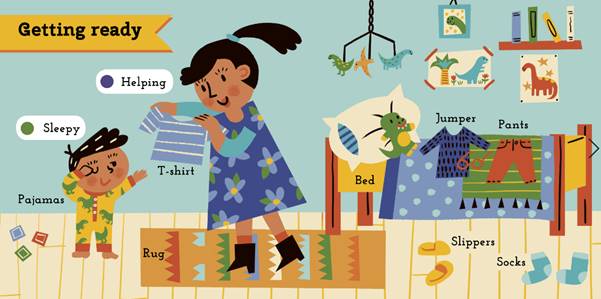 My Thoughts
The months before your child heads off to kindergarten can be an exciting yet scary time. There are new words to learn, new rules and new people. It can be both a happy and frightening time for your child, especially if they are not used to being outside the home. It can also be really tough on a parent to teach and talk to them about this time in their life – where do we start? What do we focus on?
This beautifully illustrated book introduces them to key words and objects that they will experience in kindergarten. From learning about the walk to school, to lunch time to going home and everything in between, this book allows you to get the conversation started on school, your own experiences and perhaps even a sibling's experience.
I love how key emotions and action words are added to each page throughout the book. On the page of going to kindergarten, we see friends but we are also introduced to emotions and feelings like laughing and happiness. As a parent, you can describe your own feelings of going to school for the first time and meeting new and old friends and how happy this made you. You may also want to talk about being nervous and how you got over those feelings.
This is a beautiful book geared to young children that will allow you to have those great talks about going to school for the first time but in a way that they can understand and relate to. They can learn about what they will experience in kindergarten and ask questions about play time and lunch time. They can also talk about the many emotions and feelings that they may be going through. A definite must have for young children as they start off on their journey in school.
You can purchase a copy of this book on Amazon and Indigo.
About QED
Working with acclaimed authors and consultants, QED Publishing's mission is simple – to create fresh, informative, high-quality books that will appeal to children, parents and teachers alike.
Ever since QED's inception in 2003, each book has been specifically designed to make learning exciting, stimulating and fun for children. QED's diverse range of titles covers everything from entertaining, innovative facts for the classroom to beautifully illustrated fiction that kids will want to take home. Get inspired and get learning – the fun starts here!
Disclosure: I received a copy of this book in order to facilitate this review. All opinions expressed are my own.