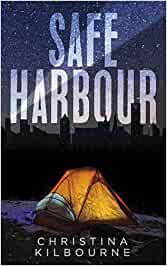 In Safe Harbour, as far-fetched as her father's plan sounds, sticking to it is easy for Harbour — until it isn't.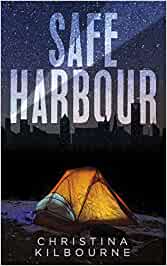 About Safe Harbour
Fourteen-year-old Harbour is living in a tent in a Toronto ravine with her dog, a two-month supply of canned tuna, and an unconventional reading list. She's not homeless, she tells herself. She's merely waiting for her home — a thirty-six-foot sailboat — to arrive with her father at the helm. Why should she worry when the clouds give her signs that assure her that she's safe and protected?
When her credit card gets declined, phone contact from her father stops, and summer slips into a frosty fall, Harbour is forced to face reality and accept the help of a homeless teen named Lise to survive on the streets. Lise shows Harbour how to panhandle and navigate the shelter system while trying to unravel Harbour's mysterious past. But if Harbour tells her anything, the consequences could be catastrophic.
My Thoughts
Safe Harbour is a powerful book that touches on several important topics including homelessness, child welfare system and mental illness told with compassion, understanding and sensitivity.
Fourteen year old Harbour has found herself living in a Toronto ravine in a tent with her dog Tuff Stuff while she waits for her Dad to join her on his sailboat. As we learn, this is not unusual – Harbour has had a very interesting childhood. She has been homeschooled in an untraditional manner – learning more about real life application about topics close to her Father's heart. Harbour is kind, thoughtful and independent. She is used to being on her own and making do, this time getting by on cans of tuna and crackers. But this time, something is not quite right as the days turn in to weeks waiting for her Father. She develops a friendship with a young woman named Lise, who helps show her how to survive on the streets of Toronto especially as fall is closing in quickly and the weather is changing quite quickly. She also helps her to realize and support her when it appears something bad has happened to her Father and he may not be coming.
This was a beautifully written book that many times had me in tears over the kindness and compassion that Harbour finds in Lise. Being witness to their struggles on the streets of Toronto hurts, hearing the stories of the youth, their struggles with the system breaks your heart because you know that these stories hold true for so many of our youth. Lise approaches life with caution but with humour, getting by by trusting her instincts and the people who have been there for her judgement free. Both young women are trying to get through each day looking for food for themselves and Tuff Stuff, to keep warm and clean, and to find a way to move forward while facing extreme weather, mistrust of the system and being judged by society. While the ending may not be an ending that all youth will experience, it warmed my heart and helped bring the story full circle.
Safe Harbour was an incredible read from start to finish that I could not put down. It is perfect for all age groups and covers some very important topics with compassion. Safe Harbour is a definite must read novel this summer!
You can purchase a copy of this book on Amazon.
Rating: 5/5
About the Author
Christina Kilbourne is the author of Safe Harbour, Detached and the award-winning Dear Jo. Her writing has been translated into Spanish, Portuguese, Slovenian, and Ukrainian. She lives in Bracebridge, Ontario.
Disclosure: I received a copy of this book in order to facilitate this review. All opinions expressed are my own.