Speed of Life Book Review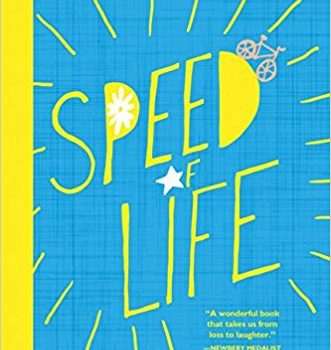 Speed of Life is the heartbreaking yet heartwarming story of a girl who thinks her life is over when really it's just beginning. It's a novel about love, family, grief, and growing up.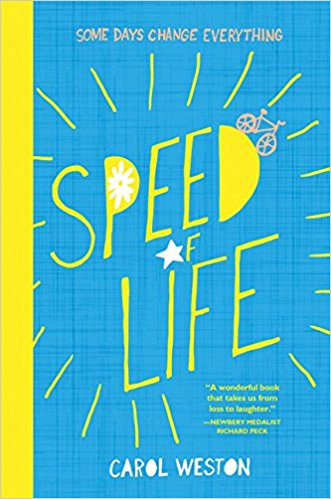 About Speed of Life
Sofia lost her mother eight months ago, and her friends were 100% there for her. Now it's a new year and they're ready for Sofia to move on.
Problem is, Sofia can't bounce back, can't recharge like a cellphone. She decides to write Dear Kate, an advice columnist for Fifteen Magazine, and is surprised to receive a fast reply. Soon the two are exchanging emails, and Sofia opens up and spills all, including a few worries that are totally embarrassing. Turns out even advice columnists don't have all the answers, and one day Sofia learns a secret that flips her world upside down.
My Thoughts
We can be travelling along in life, with not a thought to the future and never really appreciating and living in each moment. In an instant that life we were living can be changed drastically. It could be a car accident, a broken bone, an old secret coming to light and even a death in the family. All of a sudden, the direction we were taking is completely altered and we are expected to somehow move on because no matter what life keeps going regardless of how we feel.
Sofia is a young girl (teenager) who suddenly loses her Mother and unfortunately was the person to find her Mother dead. In that one moment, life as she knew it was over. She was lost, stuck in her grief with no idea on how to get out of it. The little things that used to be so important weren't so important anymore. Everything reminded her of her Mother which instead of filling her with joy filled her with pain. I think we can all relate to this, it took me almost two years to be able to look at my Grandfather's room without crying. You constantly expect that person to be there, to make a joke or to jump up and say hello.
We follow Sofia as she struggles through her grief and navigating important milestones in school – including boys. She has no one to go to talk to this anymore – she most definitely could not talk to her Dad. But then to make it worse, her Dad begins to change and has somehow managed to smile again. Sofia turns to her best friend's columnist for help but ends up getting more than she bargained for again.
Speed of Life is beautifully written, I could not put this book down and finished it in one night. I wanted to reach out and hold Sofia and let her know it does get better. Pain never disappears but it becomes easier to carry. That we need to look for our loved ones in the small moments (maybe a rainbow, a butterfly, their favourite song and so on). It is a story of hope, faith and recovery of a young girl. It is a perfect book for both young adults and adults alike that stands as a reminder that life doesn't wait for anyone. No matter how broken, hurt and in pain we are – life keeps moving on. It is how we decide to move with it that makes or breaks us.
You can purchase a copy of this book on Amazon.
Rating: 5/5
About the Author
Carol Weston has been the Dear Carol advice columnist at Girls' Life since 1994. Her sixteen books include Ava and Pip, which the New York Times called "a love letter to language," and Girltalk, which came out in a dozen languages. Speed of Life received starred reviews from Kirkus, PW, SLJ, and Booklist. Carol studied literature at Yale, graduating summa cum laude, and has an MA in Spanish from Middlebury. She lives in Manhattan. Visit her at www.carolweston.com.
Disclosure: I received a digital copy of this book in order to facilitate this review. All opinions expressed are my own.