The Golden Scepter Book Two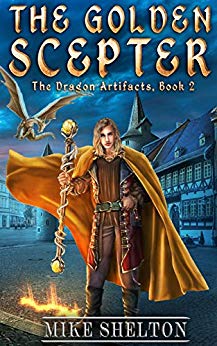 In the second book of The Dragon Artifacts, The Golden Scepter, magic and chaos rule the land.  For lovers of wizards, magic, mighty kingdoms, elves, and dragons, don't miss this series.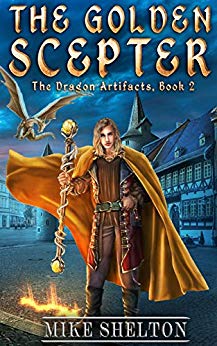 About The Golden Scepter
The Western continent is in turmoil. The Dragon King, Bakari, and his riders have lost their dragons to an evil queen bent on conquering the land. High Wizard Roland Tyre has other ideas about how to save the people.  Driven by the pounding call of his scepter to unify the land, he sets out to bring one nation after another to his banner
Will the power of the scepter drive Roland to madness or glory?  Will The Dragon King get the power of the dragons back?  Or will darkness cover the land under the reign of an evil queen?
My Thoughts
Book Two in this series is a fast paced, action packed adventure that you will not want to put down.
Their world seems to have been plunged into a magical darkness and without the power of their dragons, all seems almost hopeless. Bakari has such a good heart and does what is right but has this led him to his downfall? Did his kind heart and compassion cause him to lose the dragons to a ruthless new leader? My heart went out to him in this book, he lost such a big part of him when he lost his dragon which forced him to question his decisions. I loved how he still stayed true to his nature and his morals regardless of what happened. He still wants to save the world, get the dragons back and save his friend but he would do it in a way that he could live with.
Alli's plight made my heart so sore! She has been my favourite from the day that I picked up his series of books and to see her in such a state. She still remains her fierce and strong self but she has lost that independence and her own history and true strength.
Roland is truly something else in this story – he is usually carefree and driven for power and fame but it takes on a different tone in this book. His desire for power and admiration has grown to the point where it almost seems to consume him. When he uses the Golden Scepter it brings out a new side to him (or a side from the Scepter itself?) which seems to want him to do good (unite the people under one banner, one vision) but all of that power in one person doesn't just sit right for his friends and colleagues.
This is another excellent addition to this series – I couldn't put the story down. You become so invested in these characters (they become your friends!) and you had to see if Roland could help Alli, if Roland makes a mistake with the Scepter and if Bakari can rescue the dragons. A definite must read for young adults and adults alike.
You can purchase a copy of this book on Amazon.
Rating: 5/5
About the Author
Mike is now on his fourth YA fantasy series. For information on his new releases, book reviews, and other relevant info, please join him at www.MichaelSheltonBooks.com.
Mike was born in California and has lived in multiple states from the west coast to the east coast. He cannot remember a time when he wasn't reading a book. At school, home, on vacation, at work at lunch time, and yes even a few pages in the car (at times when he just couldn't put that great book down).
Other than reading, Mike enjoys the outdoors, disc golf, and spending time with his family. He has worked in corporate finance for most of his career, publishing his first books in 2016. He has now published 15 YA fantasy books full of adventure, magic, and wizards!
Disclosure: I received a digital copy of this book in order to facilitate this review. All opinions expressed are my own.