The Halloween Spooky Story Round Up with Raincoast Books

Halloween is by far the best holiday of the year (in my humble opinion). I love decorating our home, work and making themed crafts and treats with my kids. Not to mention all of the scary stories we read together! I love every day of this month.
If you are looking for new spooky stories to read, Raincoast Books has a fantastic line up that covers all age groups, from young children to tweens to teens. Each book has the perfect amount of scare value for every age.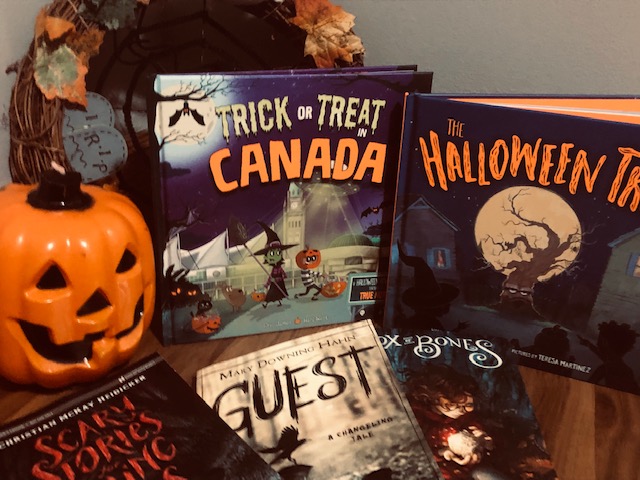 So what is on the top five reading list for this spooktacular holiday? Read on to find out!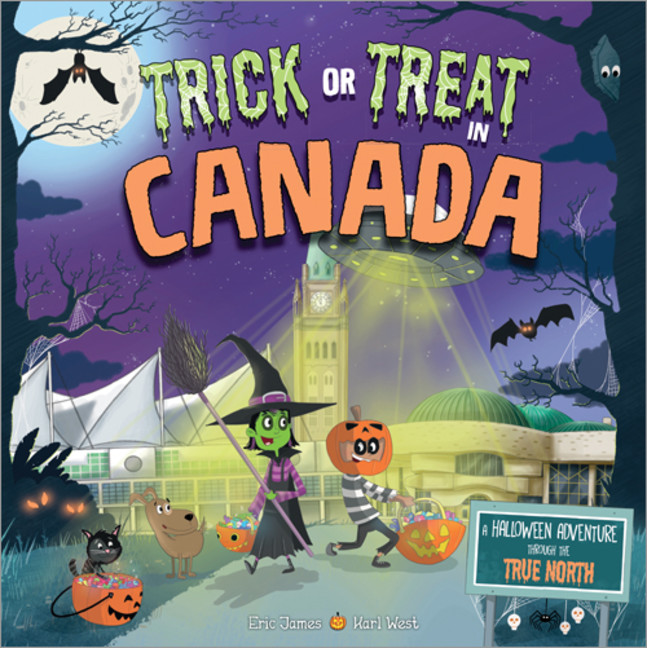 Trick or Treat in Canada
In Trick or Treat in Canada an unexpected visitor arrives in town! But who is he? What is he? Where did he come from? Readers will learn the answers to all these questions as they watch the mysterious visitor travel through places they know and love in Canada. Come along and celebrate an unforgettable Halloween night!
Canada receives the cutest little surprise visitor (I know he is supposed to be scary but I found him adorable!) and in true Canadian fashion, he is welcomed throughout our beautiful country. He visits famous landmarks (how many can you recognize and have been to?) and learns all about Halloween. He even gets caught up in all the Halloween fun – although at first he may have been a bit scared. This is a lovely children's book that has a great story of acceptance, a bit of scary fun but also has beautiful illustrations and highlights what makes Canada such a great country to live in.
You can purchase a copy of this book on Amazon and Chapters.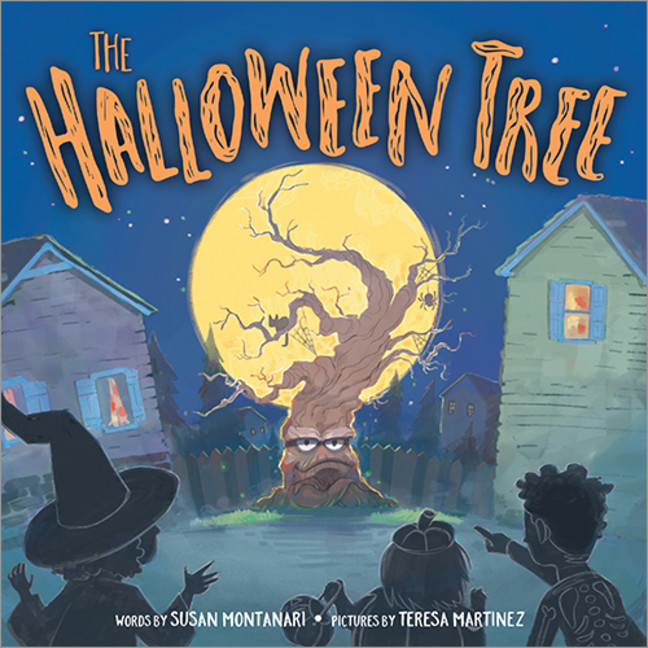 The Halloween Tree
A charming, funny, and warm-hearted picture book that will help to start a new tradition. Everyone knows most young saplings dream of becoming Christmas trees. But one grumpy, old tree who doesn't like lights, decorations, or people is determined to be different. Get ready to meet The Halloween Tree!
I fell in love with this adorable grumpy little tree. From day one, he is not like the other trees. He doesn't like decorations, lights or even people! His dislike for everything cheery makes his branches turn crooked and ensures no leaves grow on his branches. When he becomes the only tree left and houses start to be built around him, he begins to grow even more grumpy. That is until the children began to play with him – he goes on adventures and his heart begins to warm up little by little (much to his denial and surprise). The children come up with a very special idea for him and decorate him for Halloween! He soon discovers he likes lights, decorations and even people. This is a beautiful story with lovely illustrations that we couldn't help but fall in love with. We even decided that we may just be decorating our front tree this Halloween (she looks a bit lonely too come fall!).
You can purchase a copy of this book on Amazon and Chapters.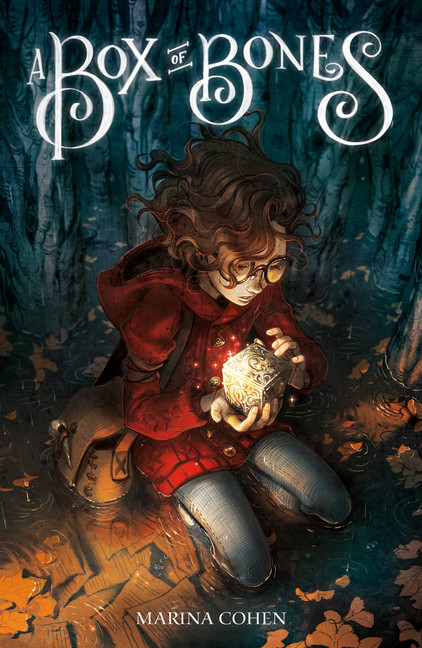 A Box of Bones
In A Box of Bones twelve-year-old Kallie despises nonsense. She believes there's a rational explanation for everything, despite the good-natured prodding of her Grandpa Jess, who takes her to frivolous wastes of time like their town's local Festival of Fools.
There, Kallie meets a faceless man (must be some kind of mask) who gives her a strange wooden puzzle box (must be some kind of gimmick). Intrigued despite herself, Kallie sets to work on unlocking its secrets and lets something out. From here Kallie's life begins to entangle with another world, a world where Liah, a young bone carver, journeys with her master to sell wares to a wicked Queen.
The sights, sounds, smells, and spells of Liah's world are beginning to leak into Kallie's, and if Kallie can't decipher the meaning of her own story, the end might be far from happy.
Kallie is very much like her Father – rational and thoughtful. She doesn't believe in the supernatural or the unexplained. Everything has a purpose and an explanation. Her Grandpa is funny, warm and a breath of fresh air. He takes her to the Festival of Fools where she meets a faceless man who gives her a box. This isn't some ordinary box, Kallie must work to open it. Once she uncovers the pattern, something really weird happens and Kallie is worried that something may have escaped the box. We begin to dive into the world of Liah and Kallie and watch how they intertwine. Kallie's once ordered life is thrown off balance and she must face these challenges head on in order to protect those she loves. This novel I felt is a bit of a cross between mystery and horror and great for young readers. The plot flowed nicely and developed at a good speed for young readers.
You can purchase a copy of this book on Amazon and Chapters.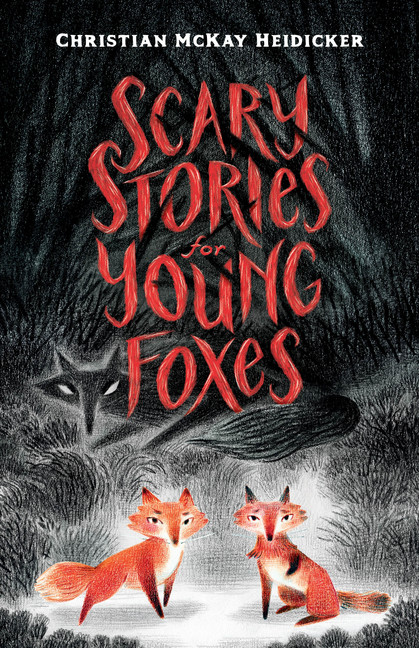 Scary Stories for Young Foxes
Christian McKay Heidicker draws inspiration from Bram Stoker, H. P. Lovecraft and Edgar Allen Poe for his debut middle-grade novel, a thrilling portrait of survival and an unforgettable tale of friendship.
The haunted season has arrived in the Antler Wood. No fox kit is safe.
When Mia and Uly are separated from their litters, they discover a dangerous world full of monsters. In order to find a den to call home, they must venture through field and forest, facing unspeakable things that dwell in the darkness: a zombie who hungers for their flesh, a witch who tries to steal their skins, a ghost who hunts them through the snow . . . and other things too scary to mention.
Featuring eight interconnected stories and sixteen hauntingly beautiful illustrations, Scary Stories for Young Foxes contains the kinds of adventures and thrills you love to listen to beside a campfire in the dark of night. Fans of Neil Gaiman, Jonathan Auxier, and R. L. Stine have found their next favorite book
This was an excellent novel for those young readers just starting to read chapter books. We have eight short stories intertwined with seven foxes who are on the hunt for scary stories. They find their way to the story teller who gathers them around for some frightening stories, each one a bit scarier then the last. I loved how we had the break in between each story to hear more from these brave little kits (can they be brave throughout each story? Or will they return home?). I loved the personality given to each kit and the teachings behind each story. Each story relates to the animal kingdom (death, hunting, illness, etc..) but also to the real world – kindness, compassion, love and fear. While it can be a bit scary, many children will be familiar with some of the concepts from watching animal shows. It is well written (full of personality) and a great read for young readers from start to finish.
You can purchase a copy of this book on Amazon and Chapters.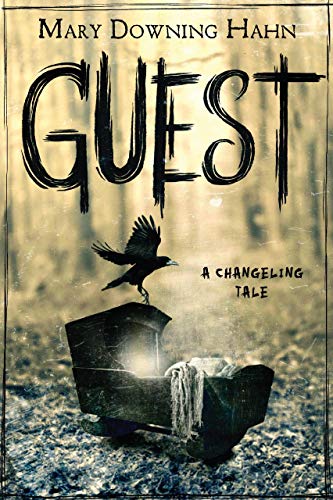 Guest
When her adorable baby brother is replaced by an ugly, ill-tempered changeling, Mollie is determined to find the so-called Kinde Folke who took baby Thomas, return the changeling she calls Guest, and make them give Thomas back. Natural and magical obstacles and her own reckless temperament make her journey arduous and full of dangers, and a plot rich in surprises and twists makes this book a must-read for Mary Downing Hahn's fans.
I really enjoyed this book and couldn't put it down. I love learning about history and this book gives readers a look at some of the folk stories that people believed in so many years ago. In this case, this story surrounds a changeling child. One family loses their beautiful baby boy and in his place they are given a changeling – a sickly, mean child that does nothing but scream and make life miserable. We learn that children believed to be a changeling are left at a crossroad to die due to fear from the fairy folk (this makes my heart sore to think of this actually happening) but in this story Thomas' Mother cares for the changeling child in the hopes that her real son will be returned to her. Mollie feels that this is all her fault (and rightfully so due to her jealousy and reacting versus thinking her thoughts through) and will do whatever it takes to get her brother back and save her family that was torn apart by this event. She embarks on a dangerous journey and will stop at nothing to save her brother Thomas. I did not expect all of the twists that this novel takes but it is an incredible read. It is full of excitement, challenges, forgiveness and a bit of karma. This is a definite must read for tweens, teens and adults that love all books (just like me).
You can purchase a copy of this book on Amazon and Chapters.
How do you and your children celebrate the Halloween season? Do you have a favourite story that you like to read each year?
Disclosure: I received the above mentioned books in order to facilitate this review. All opinions expressed are my own.