How Languages Saved Me: A Polish Story of Survival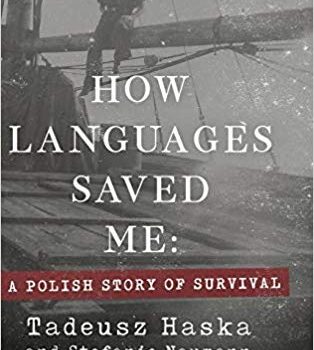 "When I was arrested my whole world crumbled. I knew that leaders of political parties had been arrested, and never heard from again. My only chance at survival was to find a way to escape from the jail." – Tadeusz Haska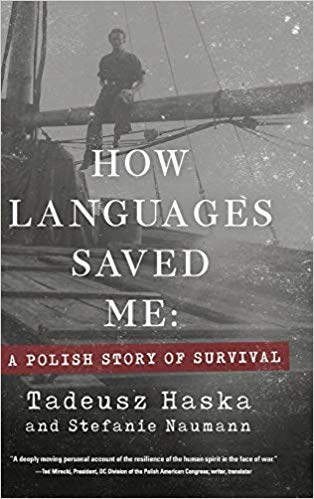 About How Languages Saved Me
Orphaned in Poland at the age of thirteen, Tadeusz "Tad" Haska survived World War II on the run, narrowly evading the Nazis every step of the way. After the war, he daringly escaped jail by the Soviet Secret Police, fled to Sweden and launched an elaborate plan to smuggle his wife in a coffin on an all-male naval ship. Discover how Tad's knowledge of nine languages helped him survive in the face of unspeakable adversity.
My Thoughts
This powerful story pulled me right in and I could not put this book down. The story that Tadeusz tells (through his Granddaughter) is powerful, heart breaking (but full of promise and hope) and leaves you feeling humbled.
The story is told in such a way that you feel like you are sitting beside him and reliving each moment. Tadeusz had seen things as a child and a youth that no one should ever have to – a lesson to those today about what can happen when people resort to fear and hate. The atrocities that were done in this period are hard to imagine and too often we can forget, which we cannot let happen.
When he lost his parents at a young age, his brother and Tadeusz raised themselves – going to school and supporting themselves financially through tutoring, my heart broke. I can't even imagine a youth trying to accomplish all of this but these were the values and morals that their parents had instilled in them before their passing. They honoured their parents and kept pushing forward when it may have been easier to give up. Education is one of the most important things in life and sometimes sacrifices must be made, his parents did this for him and his brother when they sold their dairy business to move to another town that had better schooling for them and they never gave up.
When World War II starts, chaos erupts in Tadeusz life. The way the Polish people were treated was heartbreaking – community members murdered for being in the wrong place at the wrong time, for being educated, for just being Polish and the list goes on and on. Their homes were taken away and some were forced to live in their own basements while the top was taken over by the Nazis. This began his journey of survival, a story that is hard to even comprehend and that at times left me in tears. Through determination, gut instinct and courage – he makes it through some of the worst years in our history and even immigrates to the USA with his wife to rebuild all that he has lost.
Some of the moments throughout the book, brought back memories of my own Grandfather. It made me think of what he must have gone through in World War II living in Northern Italy, what he had seen and what he did to survive before immigrating to Canada. He never spoke about those times (neither of my Grandparents did) but I can only imagine the pain this leaves (something we saw in the book, when his wife refused to return to Poland).
This is a powerful and important story. It is so important to learn and understand what individuals went through and the impact this had on their lives. It is so important to honour all of the lives lost during this moment in time. I loved how something as simple as a gift and love for languages protected and guided him (it was almost as though his parents teachings on education protected him later in life when they were not there). This is a definite must read.
You can purchase a copy of this book on Amazon.
Rating: 5/5
About the Author
Tadeusz Haska was born in 1919 in Mikolajki, Poland and died in 2012. Orphaned at the age of 13, he used his knowledge of nine languages to survive World War II. He immigrated to the U.S. in 1949, where he earned his Ph.D. at University of California, Berkeley in Linguistics in his ninth language-English. He taught, and served as chairman, in the Polish Department at the Defense Language Institute in Monterey, CA for 35 years. His work was featured on the TV program The Big Picture.
Stefanie Naumann, Tadeusz's granddaughter, is a Professor of Management in the Eberhardt School of Business at University of the Pacific, where she has taught for 20 years. She earned her Ph.D. from Louisiana State University, and has published over 30 journal articles. She is a 20+ year member of the Academy of Management, a lifetime member of the Polish American Genealogical Society of America, and has earned awards for her research, teaching, and service. StefanieNaumann.com
Disclosure: I received a copy of this book in order to facilitate this review. All opinions expressed are my own.