Sesame Street – Elmo's World: Elmo Explores! DVD Giveaway
Return to Elmo's World with an all new two-hour DVD full of your favourite character hitting stores on October 2nd, 2018.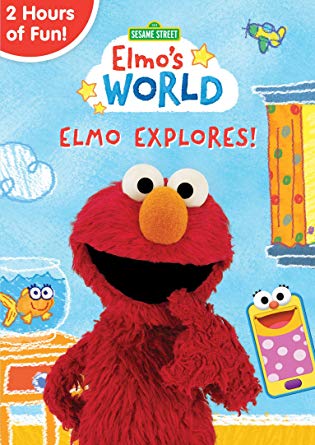 About Sesame Street Elmo's World: Elmo Explores!
Explore the everyday world with everybody's favorite furry red monster, Elmo, in the new DVD release of Sesame Street – Elmo's World: Elmo Explores!, on October 2, 2018 from Shout! Factory  and Sesame Workshop.
Elmo Explores! is a two hour collection of Elmo's World episodes, appearing for the first time on DVD. Using the power of his imagination, Sesame Street's little red monster explores kid-friendly topics such as painting, cooking, and habitats from a child's point of view. Joined by the hilarious Mr. Noodle, Smartie the Smartphone, and his pet goldfish Dorothy, Elmo asks questions that lead to fun discoveries. An age-appropriate launch pad for imagination and learning, Elmo's World: Elmo Explores! indulges children's natural sense of curiosity about the world around them.
Each engaging installment of this newly reimagined Sesame Street segment presents young viewers with lessons to help them grow smarter, stronger, and kinder. Bonus features include two episodes of the uproariously silly Sesame Street spin-off The Furchester Hotel and three classic segments of the original Elmo's World.
About the Bonus Episodes: The Furchester Hotel
The Furchester Hotel episodes The Count's Vacation and Space Alien Party are presented here on DVD for the first time in North America as bonus features. The Furchester Hotel is an "almost" world-class establishment run by a tight-knit family of cheerfully incompetent monsters. The proprietors are welcoming owner Funella Furchester, her dear and beleaguered husband Furgus Fuzz, their daughter, the unflappable Phoebe Furchester-Fuzz, and Isabel, the furriest front desk bell in the business. Cousin Elmo is on an extended visit and fascinated by all the hotel has to offer. Cookie Monster has landed his dream job as a room service and dining room waiter. The family bends over backwards, forwards, and sideways (occasionally tipping over) to be sure the needs of every guest are met because a Furchester never gives up! Animal, vegetable, and mineral alike flock to this hub of hospitality, where problem solving is part of the service.
DVD Trailer
Our Thoughts
How can you not love Elmo and his crew? These shows are in its forty eight season and that shows just how much generations of children and adults love the sense of adventure, humour and curiosity presented in the shows. There is something for all age groups – I couldn't stop watching them and I love that I can share this part of my own childhood with my own kids.
Get into the Sesame Street fun with this printable colouring page and bookmark brought to you from Shout Factory.
You can purchase a copy of this amazing, fun-filled DVD on Amazon.
The Giveaway
Want to win your DVD? Enter to win one of two DVD copies now via the Rafflecopter form below – GOOD LUCK!
Disclosure: I received the above mentioned DVD in order to facilitate this post, all opinions expressed are my own.