Awaken the Love of Reading with LEGO Star Wars The Force Awakens

What happens when two major family favourites come together? You get hours of reading fun in LEGO Star Wars The Force Awakens!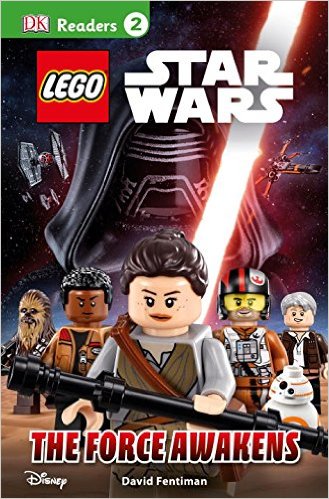 About LEGO Star Wars: The Force Awakens
A dark power is rising, and the galaxy is in danger in DK Readers L2: LEGO® Star Wars: The Force Awakens™!
Meet the brave new heroes who must battle to protect the galaxy. Join them in their fight against evil. Can they stop the First Order's sinister plans?
About the DK Reader Levels
As children begin to grow in their confidence to read new words, Level 2 DK Readers become a great choice for them. The books are divided into manageable chapters for one reading session. Literacy experts encourage reading a little every day to an adult. Action-packed photographs bring to life the simple narrative, leading the reader to the text. To learn more about the DK readers and find out how to support your child's reading, check out this great article.
Why We Love It
We are HUGE Star Wars fans in our house and couldn't wait until The Force Awakens came out so we could enjoy it at home (Star Wars Marathon time woohoo). This book came at the perfect time for us and quickly became a bedtime story favourite.
I am a HUGE fan of the DK reader levels, they are geared to your child's skill level and really helps to boost their confidence in their reading skills (so important). Reading can be frustrating for a child that is struggling and these reader levels help to eliminate that stress. This level two book has new words for your child but still includes an awesome story line and even better photographs to help bring the story to life. While we had to help him on some of the words, he had a great time reading the story to us and having his brother read the story to him (again and again – he can read this book several times a day literally!).
A fantastic, age appropriate Star Wars and LEGO themed book that your little reader will fall in love with. This book gives us hours of reading fun and is a reading confidence builder for our little man. A win win in our books! You can purchase this book on Amazon and Chapters.
Rating: 5+/5
Disclosure: I received a copy of this book in order to facilitate this review. All opinions expressed are my own.