Bring Star Wars to Life with Star Wars Maker Lab

Ever wanted to move things without touching them like a Jedi can? Or grow your own kyber crystal? Now you can (and maybe just maybe you can share with your child!).
About Star Wars Maker Lab
With 20 amazing projects, Star Wars™ Maker Lab teaches your child how to become a Master of science, in both the real world and the Star Wars galaxy. Using clear step-by-step instructions, the book guides scientists and makers through each experiment – from making Jabba's gooey slime or a hovering landspeeder, to an Ewok catapult and a glowing Gungan Globe of Peace. Each experiment has fact-filled panels to explain the real-world science as well as the Star Wars science fiction from the movies.
With projects that are out of this world, this Star Wars book can keep children entertained for hours, making use of many household items such as cardboard tubes, baking soda, cornstarch, straws, balloons, and food coloring. There is also plenty to keep adventurous scientists engaged, with instructions on how to make your own bristlebot mouse droid, lightsaber duel, and Mustafar volcano. Star Wars Maker Lab supports STREAM topics and helps children to learn the basics of science by traveling through the Star Wars galaxy.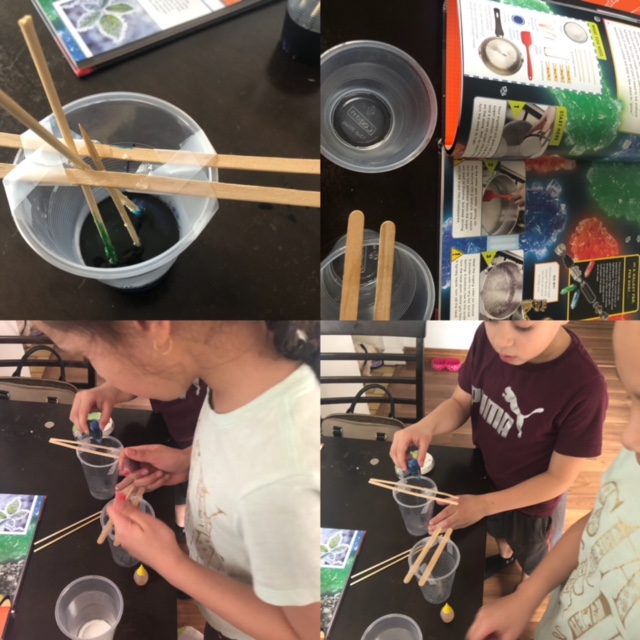 My Thoughts
This beautiful hard cover book is a child (and adults) dream come true. We are huge Star Wars fans although we do argue over if the newer or older movies are better (I still love the oldies!). This bold, vibrant book is full of ideas that help make the popular series come to life.
I have to be honest, some of the experiments would require you to have to go out and make a special purchase as you may not have them lying around the house. Which is perfectly okay – you just would have to plan out the projects to ensure you had every item (I don't own a hamster ball but that project looked like so much fun).
We decided to tackle making Kyber crystals this weekend. I had most of the items needed except for clothespins but we improvised and it still worked. The kids loved the craft but were a bit impatient with wanting to eat the crystals as soon as possible. I loved how the book explained the process of creating the cyrstals and how it worked while incorporating a Star Wars theme. I was also a bit impatient and kept pulling the skewers out of the solution to check on the state of the crystal formation, this was fascinating to watch even as an adult!
This is an excellent craft book for any Star Wars fan. You will want to plan ahead to ensure you have everything you need to create the crafts but you will not be disappointed (our next item to tackle is creating our own light sabres – awesome right?). The instructions are easy to follow, a lot of illustrations to help you along the way and helpful hints (like watch the hot sugar boiling but this Mom still managed to splash herself!). Enjoy hours of Star Wars themed fun with this book – you will never have a dull PA or snow day again!
You can learn more about this book on the DK Canada website and purchase a copy on Amazon.
Disclosure: I received a copy of this book in order to facilitate this review. All opinions expressed are my own.