I love to draw and paint. As a child and into my teen years, it was a way to calm the storm and refocus. I could spend hours hunched over a water colour making sure each colour was perfect and the right amount of shading. I strongly believe that each child should be encouraged from a young age to paint, make a mess with markers and paints – it does so much for them!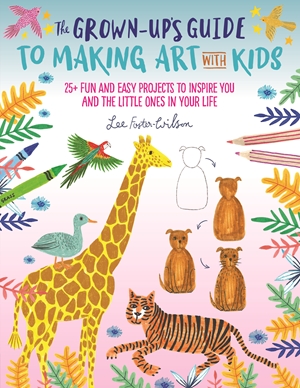 About The Grown-Up's Guide to Making Art with Kids
Make art and memories with the special kids in your life! Packed with how-to drawing and painting projects, creative prompts, and original crafting activities, The Grown-Up's Guide to Making Art with Kids will inspire hours of creative fun together. 
This book includes drawing and painting projects featuring popular, kid-friendly subjects—like dinosaurs, pets, flowers, and robots—that adults and kids can create together. Guided practice pages invite interactivity and allow children and adults to draw and paint the same subjects, side by side. The book's artwork is colorful, approachable, and done using ordinary, easily available art tools, including markers, crayons, colored pencils, and acrylic paint.
In addition to drawing lessons, The Grown-Up's Guide to Making Art with Kids also includes projects and ideas for using artwork created from the prompts in the book to make crafts, including a map, pop-up art, and paper dolls.
The Grown-Up's Guide to Making Art with Kids teaches valuable drawing, painting, and crafting skills to both kids and adults; inspires creativity; and encourages family togetherness. What better way to avoid screen time than by drawing, painting, and creating together with your kids?
Our Thoughts
This fun book is a great resource for those who want to teach and create art with their child but just not quite where to start. I know for myself, I love to paint and draw but if you had to sit me down to teach my kids, I wouldn't know where to start. I would just give them the pencils or paint!
The book starts off with a great introduction into the art world with a great reminder that you are learning to create with confidence and in a way that is fun and appealing to younger children. You will learn the basics of the art supplies that you should keep stocked (there is nothing worse then planning a craft and not to have everything on hand). You learn the basics of the colour wheel and how to make secondary, tertiary colours as well as mixing and tones.
The book follows the format of a tutorial, followed by a step by step project. The tutorials are incredibly easy to follow and really get you back to the basics. I had completely forgotten all of my initial drawing lessons when I was fourteen and you broken down figures and animals into basic shapes. A person would become a series of circles and ovals with lines. You would then move on to add detail and change these shapes but it is these initials shapes that help you create the overall picture. It is these basics that are a must for developing art skills later on in life. The follow up projects are very fun and Lee provides you with a wide variety of crafts that you can complete to keep your child entertained and having fun. The instructions are easy to follow and for the most part, you will have the majority of the supplies at home.
The book itself is large, with easy to follow instructions and child friendly font. While it is fun to work with your child on the activities, if they are adventurous and want to work on their own, they will have no problem (if they are a bit older) following the instructions. The book also has pages where you can practice what you are learning right there.
The Grown-Ups Guide to Making Art with Kids is an excellent tool for parents looking to help their child explore their creative side and encourage confidence in their artistic skills. A great addition to your family home craft library, especially during the summer months when kids can be spending too much time in front of the electronics.
You can purchase this book on Amazon and Indigo.
About the Author
Lee Foster-Wilson is an artist and a designer in Cornwall, England. She worked as a graphic designer before becoming a full-time artist with her own business called Bonbi Forest. Lee's artworks and prints have been featured on Design Sponge and in Vogue, Good Housekeeping, Marie Claire, NYLON, and The Guardian. She is the author of Creative Marker Art and Beyond and The Grown-Up's Guide to Making Art with Kids, both from Walter Foster Publishing. Learn more about Lee at www.bonbiforest.com.
Disclosure: I received a copy of this book in order to facilitate this review. All opinions expressed are my own.