Navigating the Sea of Bras to Find Your Perfect Fit with Wacoal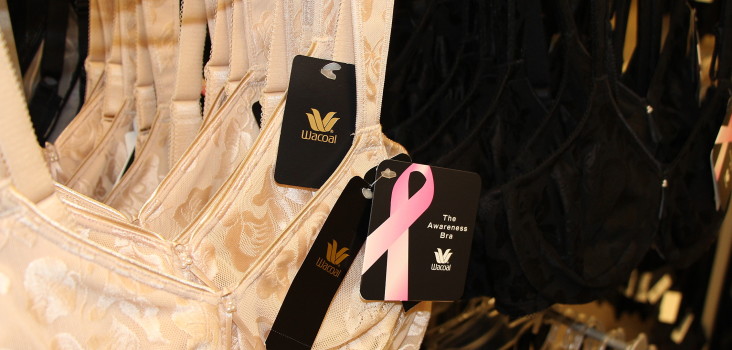 Do you ever feel as though your bra was purposely designed to torture you and make you despise it?
I know that I personally feel this way on a daily basis. My bra is the first thing that I put on in the morning and it is the first thing that I can't wait to rip off when I get home from work. My bra leaves me feeling sore, uncomfortable and longing for freedom. These are the feelings that I had been accustomed to and naturally assumed were normal, that all bras were like this but I was completely surprised to find out this is wrong! You should be able to comfortably wear your bra for twenty-four hours minimum. I don't think I have ever worn mine for more than the eight hours I am in the office (and that is only because I am required to).
So what makes the perfect bra and how do you find one?
Firstly, you need to understand that all breasts are different sizes, shapes and weights. I know that this sounds like common sense but I did not realize that this would affect my bra design choices so greatly. Pregnancy and breast-feeding have altered the shape of my breasts and my cup size, so much so that the bra that I was wearing was actually emphasizing their irregular shape instead of smoothing and giving them the natural push up that I desired.
This is the most important part here, have a proper bra fitting. Over the last two years, I have had several bra fittings and have been told two different cup sizes (one of the fittings told me that I could get away with a C or D whichever I prefer!) which only led to greater confusion for me – how could I possibly fit into two cup sizes?
My first real fitting experience happened at Hudson's Bay this past weekend. I met with a lovely consultant named Brenda, whom not only sized me (which by the way was a cup bigger then I was wearing and went from a 38 bust to a 44!) but explained the differences in bras designs and figured out in under five minutes what type of bra design would better enhance my breasts. The wealth of knowledge she shared with me was jaw dropping. I always purchased my bras by running in a store, quickly finding my assumed size, paid for it and ran out. No wonder I was always suffering with discomfort, escaping underwire and pinch marks on my skin. If there is one thing you can do when you go to purchase your next bra, take the time to meet with a consultant to be properly measured and shown the best bras for your breast shape and weight.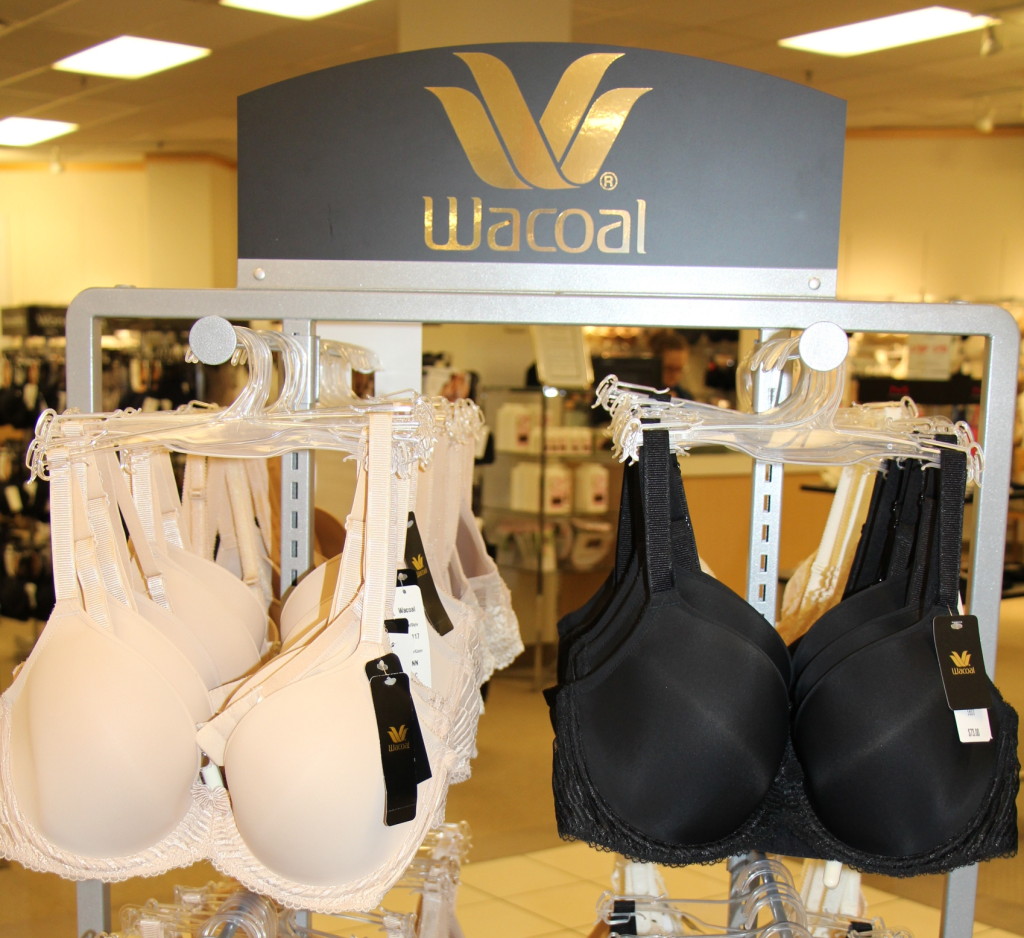 All bras are not created equal and each design has a unique job to fill. Your bra is more than just frilly lace designed to make you feel pretty. Brenda took me through the section of Wacoal bras in their intimates department. The Wacoal brand is relatively new to Canada, hitting Hudson's Bay stores roughly five years ago. Wacoal has designed a bra that fits every shape and weight of breast imaginable.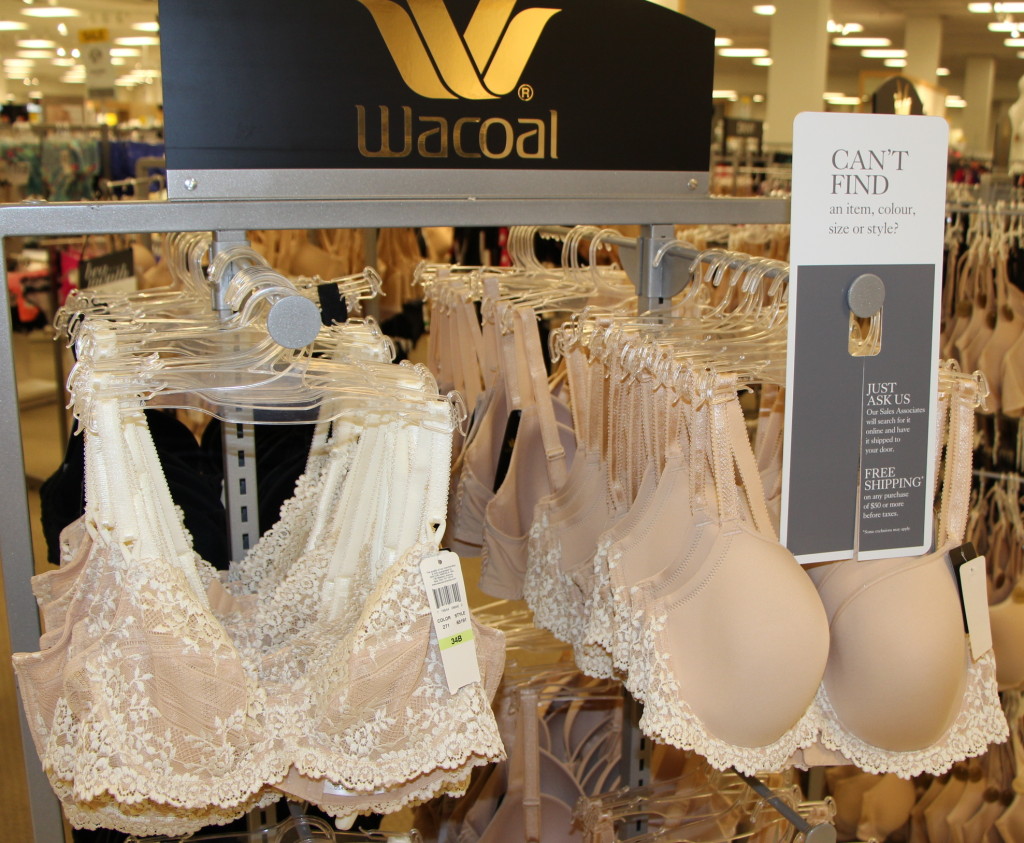 So what are the different types of bra designs?
A woman with a larger cup size and heavier breast weight is our first example. She would need the proper bra support to keep her breasts elevated and preventing shoulder strain, in order to do so the bra needs to have a thicker shoulder strap like found in the Wacoal Awareness bra. These thicker straps help elevate the breasts while minimizing the shoulder strain that comes with a heavier weighted breast.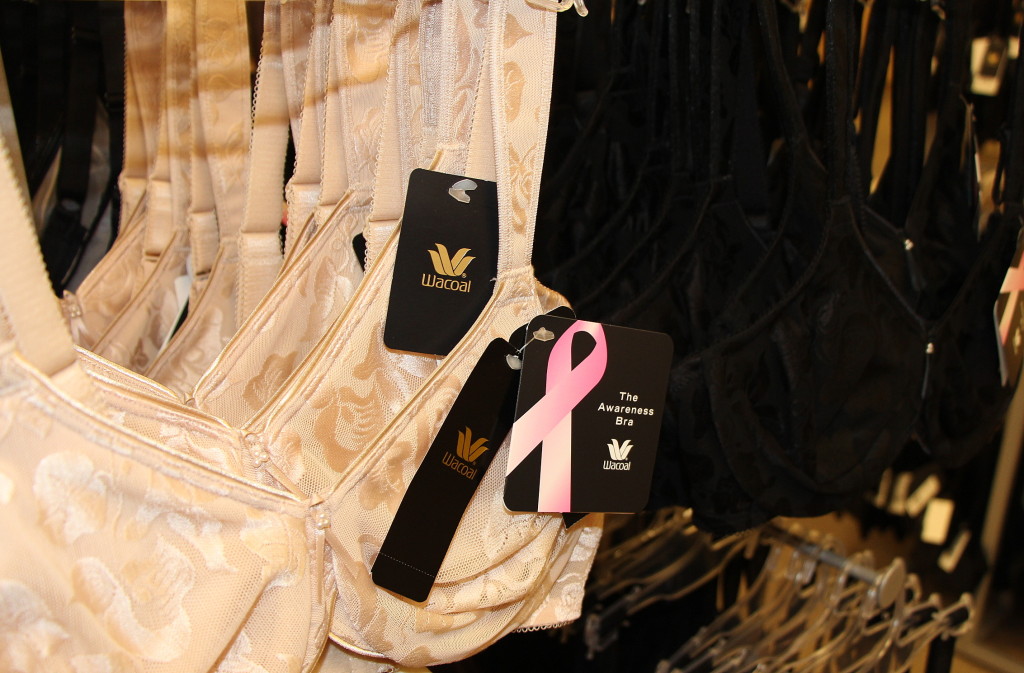 The t-shirt bra is a must-have fashion item for every woman. This is the bra that you will wear everyday and you want to make sure it is comfortable. The angled straps on the Wacoal t-shirt bra hides the straps from being visible if you are wearing a tank top, provides seamless support and gives a comfortable push up for your breasts. I actually left the store with two of these bras in hand (actually one on and one in my purse!!) because they are that comfortable.
The bralette is a cute alternative for smaller cup sizes and young ladies who are just starting to wear bras. They are lightweight, stretchy and resemble a sports bra (just cuter). If you have a daughter, bring her in store to try one of these out. This will not only expose her to the bra selection and buying process but help her with her comfort level of talking about her breasts and being measured.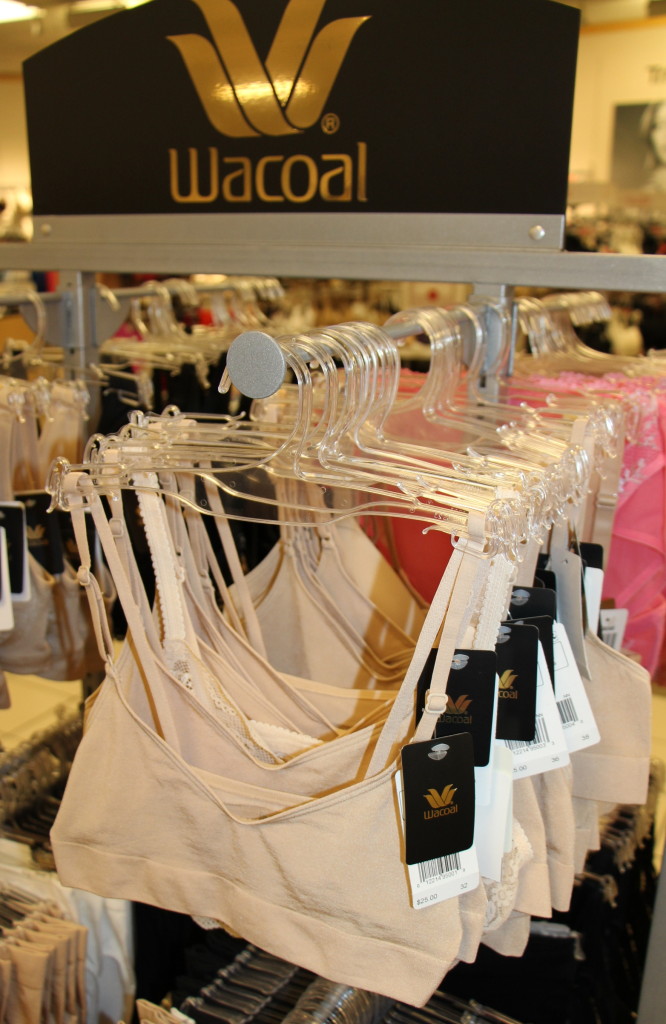 Sometimes, we all just want to feel pretty and our bras help us feel this way. The intricate design and European fabrics of this Wacoal bra screams gorgeousness and helps you feel your best.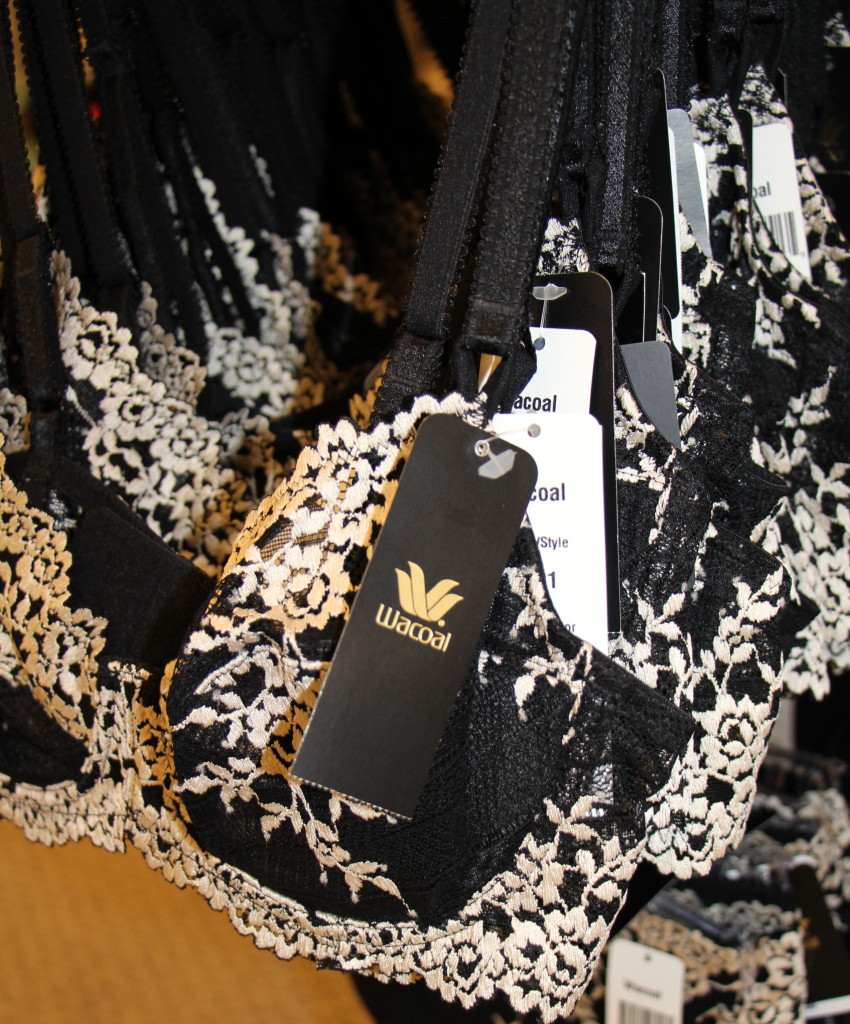 The process of purchasing a bra can be overwhelming (this is coming from a dash in and dash out bra shopper!) but you can simplify the shopping experience by having a bra fitting with a consultant. Your bra fitting will change the way you look at and purchase a bra. Have your consultant show you the best brand for your shape and breast size, for me this was the Wacoal brand.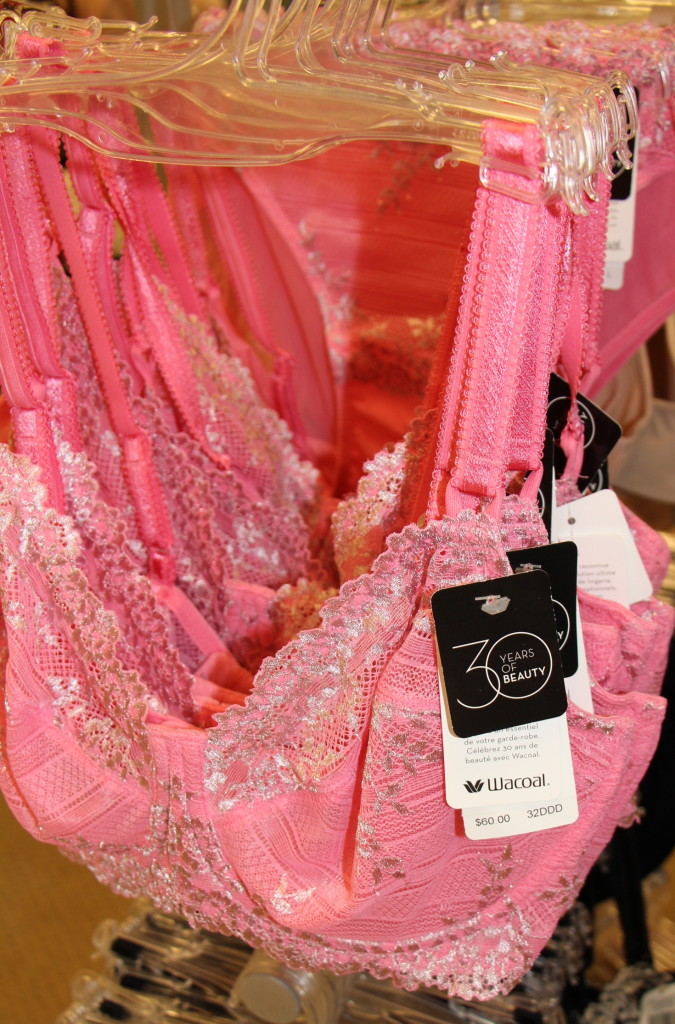 Tell me your bra stories! Were you like me and completely in the dark about the different bra designs?
This post has been brought to you by Hudson's Bay, but the images and opinions are my own. For more information, please visit thebay.com.