Two Hearts by James Eric Richey
Will doubts of being true to her ruin her marriage in Two Hearts?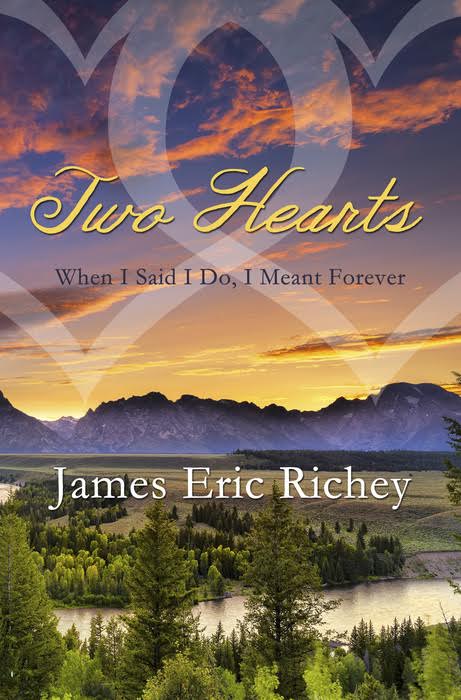 About Two Hearts
Jaxon Tagget is a cattle-rancher's son, born and raised on the Double T, just outside of Dillon, Montana. He is in love with his high-school sweetheart, Annie, so much so that Jaxon proposes on graduation night. He presents her with a wedding ring made from gold he had mined himself. Annie accepts immediately, to the horror of her bitter, man-hating mother.
Jaxon is a wonderful husband, but the warnings of Annie's mother linger in the young bride's ears. And it doesn't help that women continue to fall all over the markedly handsome Jaxon.
Unaware of his wife's persistent doubts, Jaxon is struggling with his own troubles when he finds out his Dad is in need of money to save the ranch. But hope glimmers gold when he rediscovers the old mine on the Double T.
While Jaxon travels to verify the mine's productivity, Annie grows increasingly suspicious. Is Jaxon's absence what it seems, or does he have another, less faithful reason for his travels? When Annie sees a picture of the beautiful laboratory owner whom Jaxon is visiting, she's sure the only gold he's interested in is long, blond hair. Is Annie right, or will it be her doubts that forever sever their Two Hearts?
My Thoughts
Our past experiences shape our current actions and thought patterns. It is hard to 'unlearn' everything that has shaped us throughout our childhood. This is the same for Annie in Two Hearts. She loves Jaxon with all her heart but because of her childhood she is quick to not trust him and find fault. This is a typical thought pattern so many of us get into and is even that much harder to break. It is the 'safer' road for us, just as this is the safe road for Annie.
Jaxon loves Annie with all her heart but the constant accusations and lack of trust is eating away at his heart. He wants and needs her to see how much he loves her. That when he said 'I Do' he meant it and always will mean it.
Two Hearts is not only an honest, romantic novel but touching and provides readers with a good lesson. Trust is the basis of any relationship and without it a marriage can fail easily.
You can purchase a copy of the book on Amazon.
Rating: 4/5
About the Author
James Eric Richey was born and raised in California. He attended Brigham Young University, studying English with an emphasis in Literature. After graduating from BYU he returned home to California to further his education by attending law school. After passing the bar, James practiced in California for several years, but he quickly learned that he did not have a passion for the law.
In 1998 James obtained his real estate appraiser license, which has given him a flexible work schedule and allowed him to pursue his true passion, writing books. Besides his writing, he also enjoys reading, running, and sailing. James currently lives in Cheyenne, Wyoming, with his wife, Heather, and their two daughters.

You can connect with him online, Twitter and Facebook.
The Giveaway!
Disclosure: I received a digital copy of this book in order to facilitate this review. All opinions expressed are my own.