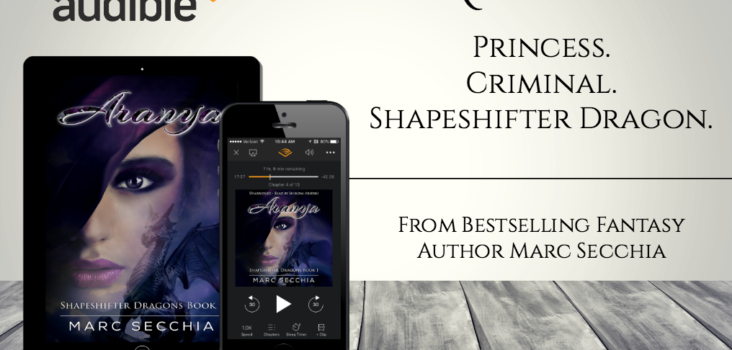 Evil has a new enemy. Aranya, Princess of Immadia. Dragon Shapeshifter.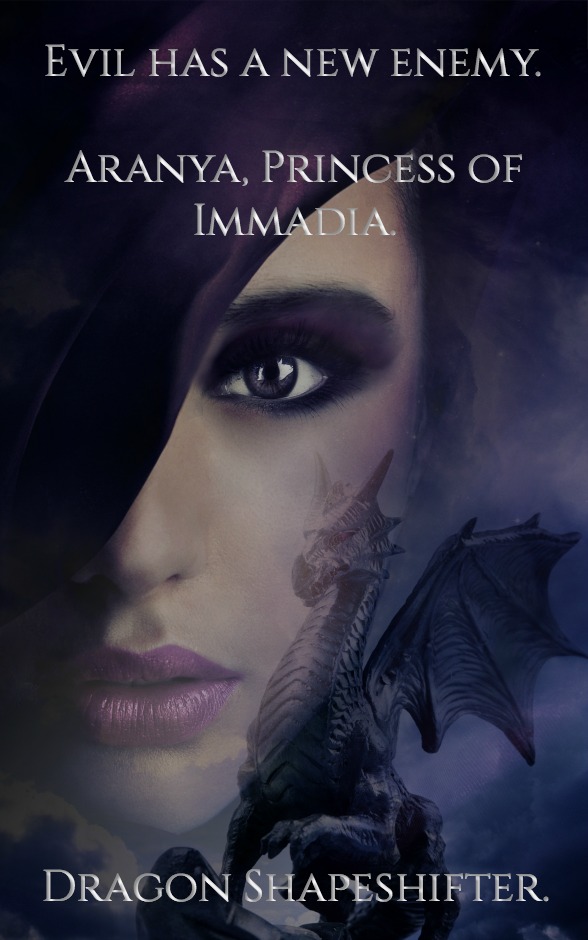 About Aranya
Chained to a rock and tossed off a cliff by her boyfriend, Aranya is executed for high treason against the Sylakian Empire. Falling a league into the deadly Cloudlands is not a fate she ever envisaged. But what if she did not die? What if she could spread her wings and fly?
Long ago, Dragons ruled the Island-World above the Cloudlands. But their Human slaves cast off the chains of Dragonish tyranny. Humans spread across the Islands in their flying Dragonships, colonising, building and warring. Now, the all-conquering Sylakians have defeated the last bastion of freedom–the Island-Kingdom of Immadia.
Evil has a new enemy. Aranya, Princess of Immadia. Dragon Shapeshifter.
My Thoughts
Dragons, shapeshifters, an evil empire and a strong female heroine – all of this can be found and more in Aranya!
I fell in love with the plot line of this audiobook, we have Aranya who is the Princess of Immadia. She was taken by her Father's soon to be enemy. On the way there, they are faced with attacks and Aranya falls in love with the enemy. She wants to see the good in him and at times she can but the ultimate betrayal comes when he is forced to execute her. While everyone fears her dead, the most amazing thing happened – she shifts into a dragon!
Shapeshifting was a talent long thought lost to her people. Dragons were just a memory from long ago and an image that no one could imagine. This starts an incredible journey for Aranya as she learns her true inner strength, courage and skills. She is just a young princess but she is carrying quite the burden on her shoulders. When she meets her Dragon Rider, we embark on a journey of self-discovery, battles and the bond between the two of them. The Dragon and Dragon Rider have an incredible bond, full of humour, respect and love. It was amazing to watch the two grow – especially her Dragon Rider!
The final battle is full of surprises! I was so shocked and could not stop listening at that point. We had enemies that turned friend, new friends that were long thought gone and an impossible battle to fight! Aranya and her Dragon Rider were in the thick of it all.
The story is very well narrated, I liked how it felt that at the beginning Aranya sounded more timid and agreeable but by the end her voice was full of power and strength. It follows how the plot developed and Aranya grows in her own physical, mental and emotional strength.
Aranya is an excellent story from start to finish – it is a little long but well worth every moment!
You can purchase a copy of this book on Amazon, Audible and iTunes.
Rating: 5/5
About the Author
Marc is a South African-born dragon masquerading as an author, who loves writing about dragons and Africa, preferably both at the same time. He lives and works in Ethiopia with his wife and 4 children, 2 dogs and a variable number of marabou storks that roost on the acacia trees out back. On a good night there are also hyenas patrolling the back fence.
He's the author of 21 fantasy books in 3 languages (2 more languages coming this year – watch this space!), including 8 rip-roaring dragon fantasy bestsellers. Dragonfriend won a Gold Award for Fantasy in the 2016 IPPY Book Awards. Look out for Whisper Alive, his latest release. The 4th tale in the Dragonfriend series, Dragonstar, is coming soon!
When he's not writing about Africa or dragons Marc can be found travelling to remote locations. He thinks there's nothing better than standing on a mountaintop wondering what lies over the next horizon.
About the Narrator
A native of London, England, Shiromi Arserio is a stage actor, voice talent and audiobook narrator. She holds a B.A. in Theatre from Rose Bruford College of Theatre and Performance. In addition to narrating dozens of audiobooks, her voice can be heard in documentaries, e-learning projects and video games such as Nancy Drew: The Shattered Medallion. Shiromi currently resides in the Seattle area with her husband and her two furbabies.
Audio Excerpt
The Giveaway!