Belief: Ricepaper Magazine Books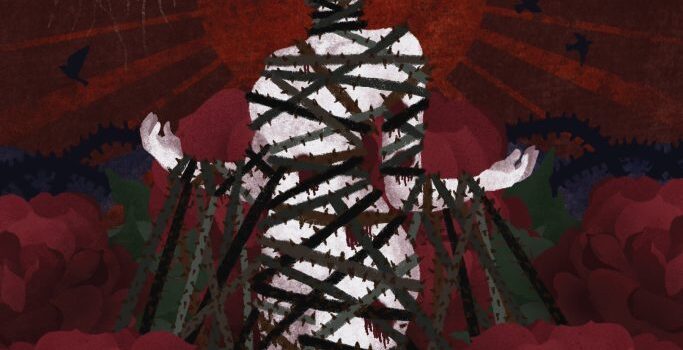 "I would not know where to begin healing
were it not for my ancestors
in whose great shadows
that reached across
oceans and islands
I took solace, when the scars stung under the sun.
We have inherited our parents' scars, still hurting but – " Karen-Luz Sison, "To Heal, To Be Healing"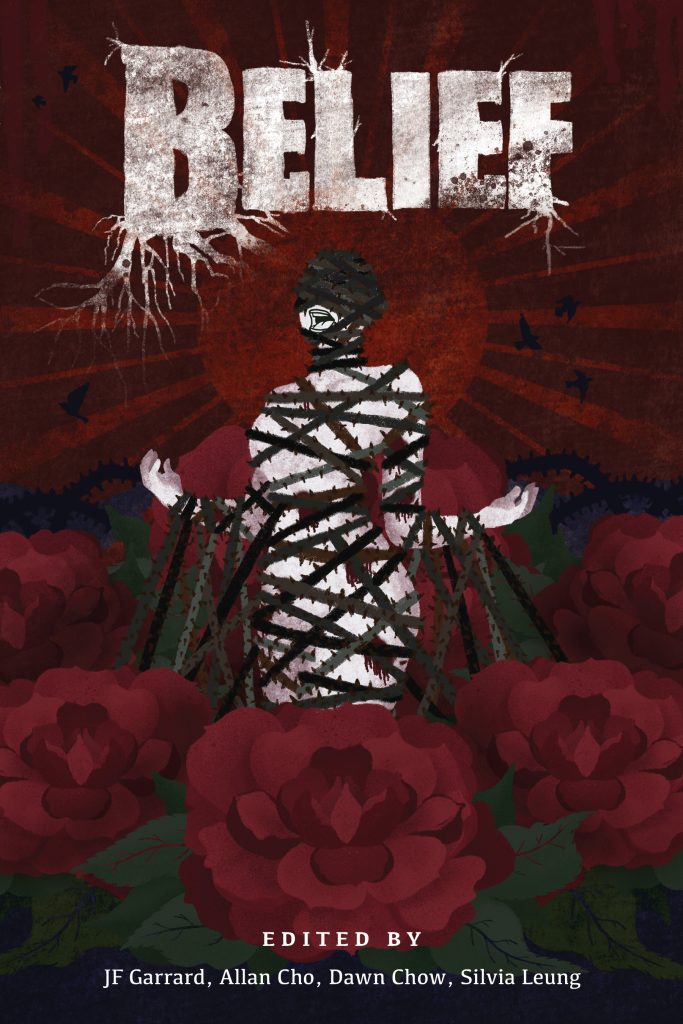 About Belief: Ricepaper Magazine Books
A new anthology from Canada's renowned Ricepaper Magazine, this third collection in the Ricepaper Magazine series includes a wide range of short stories, poetry, and nonfiction by writers of Asian descent from across the world. The theme which binds the collection is "belief," a notion personal to each individual sharing a piece of themselves in their works.
"This book is a platform for both established and new writers to share their voices in a publishing landscape that is often difficult for racialized writers to navigate," co-editor Allan Cho comments. Co-editor JF Garrard adds, "In light of anti-Asian hate which has been occurring throughout the years and is only newsworthy now; we hope that this book allows people to better understand and feel empathy with the Asian community and to make a connection, since we all want to transform our society to be a better place."
Within the Belief anthology, the honorable Joy Kogawa shares her lifelong lessons scribbled in her diary, Carmen Chan shares the trauma experienced by the women in her family in the new world, Felix Wong shares a strange serendipitous experience of witnessing a wedding of strangers, and Garry Engkent describes how introducing the egg roll at his family's restaurant causes a heated controversy in Thibeault Falls. The late Jim Wong-Chu reflects on what the first railway workers would have thought about the ritual of Christmas.
Each author contributing to this new collection shares a conviction of truth shaping the reality of life in the Asian diaspora.
Contributors to Belief include:
Nastasha Alli – Moni Brar – Carmen Chan – Taeyin Cho-Glueck – Steven Chua – Ingrid Cui – Erica Dionara – Garry Engkent – Ken Lem, translated by Lei Jin – Daisy Kioko Moriyama – Joy Kogawa – Janika Oza – Kathy Pham – Cindy Phan – Emi Sasagawa – Karen-Luz Sison – Bianca Weeko Martin – Kevin Wong – Felix Wong – Jim Wong-Chu – Christine Wu – Kailin Yang – Peter KS Yu – Michelle Zhang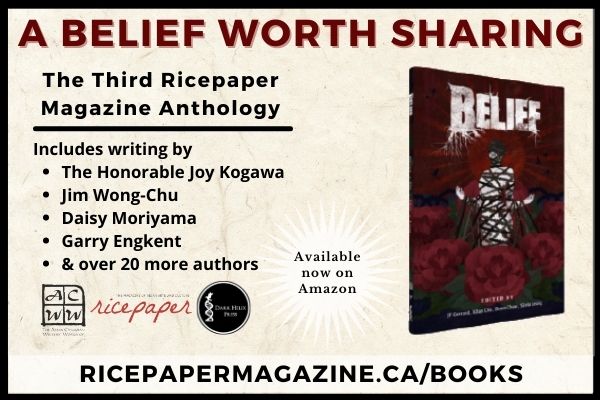 My Thoughts
Wow, that was my first thought reading through these powerful writings. I found myself reading it from start to finish, started over again and then read through it a third time. I cannot even pick one favourite, as they all touched my heart in different ways.
In the editor's introduction, we are told that "a story is a piece of a writer's heart, written to inspire, change and challenge the thoughts of their friends, peers, children and the world". That really stuck with me as I read through each story, poem and nonfiction. We are given a very real, raw, honest look into each author's life, moment in time, feelings and family history. Some of these moments made me pause and reflect and other times, you could feel their pain (and the hurt that they hid) from their words.
From those who feel isolated and lost after immigrating to North America, feeling a need for their home and those who came as skilled workers but cannot actually use those skills. From family divides to the power of your name. Each page carries an important story and lesson not only for those of Asian descent but individuals of all backgrounds. These collections will hit home to those of Asian descent and I am sure will remind them of their family members or even moments in their own life, making each story very relatable and possibly bring understanding. My husband found a connection to the story around immigrants who have come to North America but cannot use the skills and degrees that they achieved overseas. He immigrated from Zimbabwe and faced many barriers with his education being recognized and really struggled in the first five years of being in Canada.
It is so important to listen, to learn and to be mindful of our own words and the impact that they can have on others. So many times individuals from another culture cannot understand nor appreciate the sacrifices and the history of a family and this is why it is important to speak those words and to write them down. I found the afterword just as important as it contained information about health as it pertains to Asians titled, 'Save a Life, Stop Being Asian" and given the context of the pandemic that we are in this is so important. Especially as we see the same themes of stoicism, politeness and the family hierarchy. JF Garrard gives a very personal and real approach to handling health crisis' in the family, especially with parents.
This is a very special anthology that has had a great impact on me. It was honest, it was raw and it was full of feeling and wisdom – a definite must read.
You can purchase a copy of Belief on Amazon.
Rating: 5/5
About Ricepaper Magazine
Ricepaper Magazine is a Vancouver-based Canadian literary magazine which has showcased Asian Canadian literature, culture, and the arts since 1994.
Ricepaper Magazine publishes new poetry, fiction, drama, graphic novels, translation, as well as cultural reviews of books, theatre, and film. Ricepaper Magazine also publishes original art and photography.
Ricepaper first began in 1994 as a newsletter for the Asian Canadian Writers' Workshop (ACWW) – eight pages which were photocopied back-to-back and stapled together. Ricepaper was a way for ACWW members to communicate amongst each other as well as celebrate each other's successes. ACWW, a non-profit organization, continues to publish Ricepaper today. From these humble beginnings, Ricepaper became a quarterly magazine that was distributed coast-to-coast, publishing the new voices coming out of the Asian Canadian arts and literary community. With advancements in technology, Ricepaper has moved online affording writers a much wider audience and far richer medium to deliver ideas. Ricepaper Magazine continues to be the longest running literary magazine of its kind with an Asian Canadian perspective.
Disclosure: I received a copy of Belief in order to facilitate this review. All opinions expressed are my own.