Easy Keto Meal Prep Book Review

A cookbook that takes the guesswork out of keto meal prep planning, with over 60 low-carb recipes and 8 easy-to-follow weekly meal plans.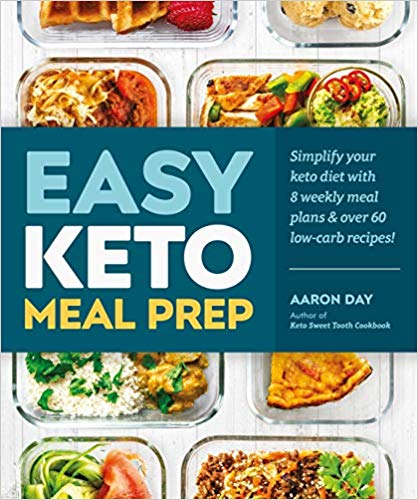 About Easy Keto Meal Prep
Eating keto can be challenging, and cooking keto recipes that are satisfying can be even more challenging! You need to make sure you're eating enough fat to stay in ketosis, while still eating food that is satisfying. Weekly meal prep can help ensure that you stay in ketosis while still enjoying fresh, delicious, keto-friendly recipes that aren't the same every week. With Easy Keto Meal Prep, planning and preparing your weekly keto meals has never been easier!
Each recipe in Easy Keto Meal Prep includes specific macro ratios and detailed nutrition information to ensure you're always eating the right ratios to stay in ketosis. With over 60 delicious recipes, you'll enjoy a large variety of recipes and never grow tired of eating the same recipes again and again. Eight weekly meal plans offer a broad range of recipe combinations to ensure you'll never have to eat the same week of meals twice, and each prep plan includes detailed shopping lists, step-by-step prep day instructions, and handy equipment lists to help you prepare a week of meals in just a few hours. Also included is helpful guidance for eating keto and sticking with the diet, meal prepping like a pro, and safely storing your prepped meals.
My Thoughts
Roughly four years ago, I made massive changes in my life to lose over a hundred pounds. I changed the way I looked at my diet, what I ate and how active I was. I was (and still am) very proud of how far I came and how I struggled but succeeded.
What I couldn't be prepared for was the mental battle that came afterwards and how hard it is to maintain that type of weight loss. In the last six months, I have regained fifteen pounds due to poor food choices and lack of exercise. I have no excuses – I have been lazy and lax in my ways, making up excuses that my regain isn't that bad.
Over the holidays, I did some research on how to kick start back into my weight loss and getting physically fit again. I lost a lot of my weight following a high protein, low carb diet – so keto isn't new to me. What I struggle with is variety, so that I don't get bored and don't return to an unbalanced diet or struggle with meal planning.
This book cotains over sixty recipes along with weekly meal plans. He includes all of the macro breakdowns, shopping lists, equipment lists and even how to start your prep day plan. The prep day plan has to be my favourite feature – prepping for a week can be daunting. To have someone tell you what order you should start each item, set them aside and so on is a lifesaver!
The recipes themselves are very easy to follow – ingredients are listed to the left and instructions on the right. The instructions are very easy to follow, direct and to the point. You can usually complete the recipe in five to six steps. He also includes tips for almost every recipe, which is super helpful for those who are not huge fans of cooking and meal prepping. Aaron breaks down the nutrition content for you, and I can't stress how important it is to track your meals and every bite you take. It is amazing how quickly calories and carbs add up!
This is an excellent resource and cookbook for those new to keto and those who are returning to the lifestyle. There are recipes that all individuals will enjoy (my husband and eldest enjoyed the spicy pork taco bowls, we just adjusted the recipe for our son) and are easy to make. You don't have to go out and buy ingredients that you will never use again as so many items you will either already have or purchase weekly. Aaron makes the keto diet easy to understand, prepare and follow. A definite must have for those who want to start keto or those who need new ideas.
You can purchase a copy of this book on Amazon.
About the Author
Aaron Day is the author of Keto Sweet Tooth Cookbook and an accredited nutritional therapist and advanced sports exercise nutritional advisor. He has a passion for health and nutrition, and as an advocate for the ketogenic diet and keto lifestyle he's the recipe developer, food photographer, and videographer behind the popular FatForWeightLoss website where he creates and shares delicious ketogenic recipes that are comforting, quick, and simple to make.
Disclosure: I received a copy of this book in order to facilitate this review. All opinions expressed are my own.