Explore the World of Science in How Science Works from DK Canada

I love science, it was by far my favourite subjects in high school especially chemistry. I loved learning how things worked and all about the world around us. My kids have picked up interest in this area and we love doing experiments and learning the how/why behind how things happen. Books are a great way to enrich the real life experiences your child has with science and How Science Works from DK Canada has everything you want to know and more.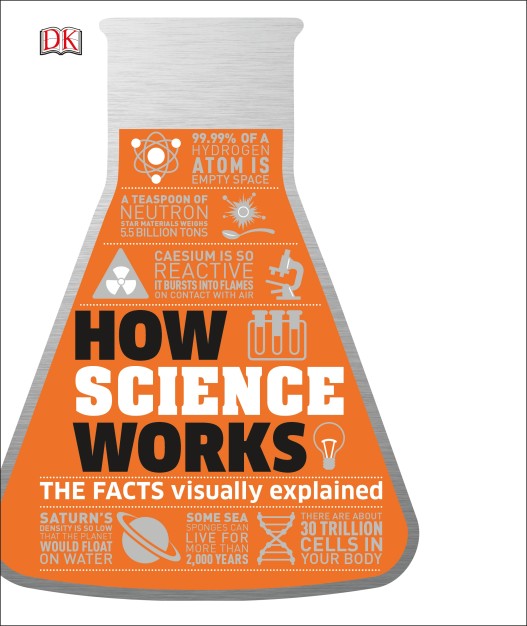 About How Science Works
Explore answers to questions on 70 topics in the areas of matter, physics, energy, chemistry, life science, earth science, technology, and the universe.
How Science Works uses clear, easy-to-understand graphics to answer common questions and explain difficult concepts-not only the core science topics that eluded us at school, but also the cutting-edge science reported in the news.
Have you ever wondered how airplanes stay in the air, how holograms are made, or how ants lift things many times their size? You'll find answers to these enigmas as well as learn about more complex developments, including the discovery of the Higgs boson, gravitational waves, and the mysteries of dark matter. Topic spreads include Q&A features, short-story sections, and simple graphics to answer all your questions about scientific principles, from familiar conundrums to mysteries that evade even the brightest minds.
You can purchase a copy of this book on DK Canada.
My Thoughts
This hard covered book contains roughly 250 pages of everything science related you can think of. The book covers matter, energy, life, space and earth – giving you a little bit of everything in the science field. Each section is colour coded at the top right allowing your child to pick what section they want to discover more about.
Each section is further broken down into a variety of popular topics, for example matter covers elements, atoms and reactions, while life covers viruses, cells, carbon cycle and so on. Each topic has an easy to read introduction before diving into more depth about the subject. The information is given in an easy to follow and understand format, which is great for older children and pre-teens (I even learned some new information!). It was also easy to read aloud to our youngest and started some great conversations at home.
Each topic also contains extremely helpful visual guides and illustrations. I am a visual learner so for me, this makes the learning process much easier for me. Many children also love visuals so this was a great addition to this book.The illustrations were bright and add excitement to each page, while driving home key points on each subject.
How Science Works is a beautifully designed book jam-packed with information on a wide variety of topics that will impress all young budding scientists and a must have addition to your learning library.
Disclosure: I received a copy of this book in order to facilitate this review. All opinions expressed are my own.