First Kiss of Spring Book Review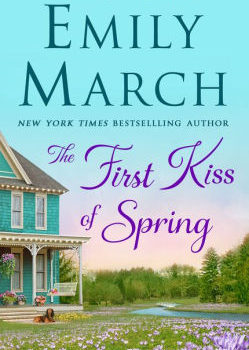 Spring has come to Eternity Springs in The First Kiss of Spring, the newest installment in this New York Times bestselling series by Emily March.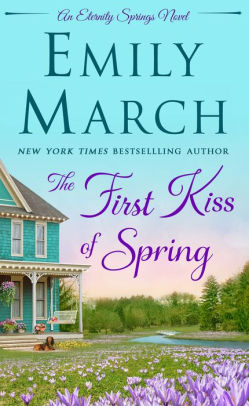 About The First Kiss of Spring
Life could be a dream.
Goal-oriented and gorgeous, Caitlin Timberlake's dreams took her to the top of the corporate ladder in New York City. Now years later, her goals have changed. She wants to come home to Eternity Springs and build a business and a family of her own—with the new man in town. So what if sexy mechanic Josh Tarkington wants nothing more than a fling? Caitlin is a patient woman who knows how to work hard and strategize to win what she desires. She desires Josh. Unfortunately, he has other plans.
If only things were different.
Josh craves Caitlin and all she has to offer. However, he is a man with secrets. He has worked hard to overcome his tragic past, but he's afraid to risk having a future because he knows trouble is never very far away. When a selfless act brings that trouble to his door, he stands to lose everything he cares about—including Caitlin. Will her love and the healing magic of Eternity Springs be enough to save him?
My Thoughts
This is a beautiful story of never letting our past define our future and that we all deserve our own happy ever after.
Josh is a broken young man, the extend of which we don't learn until half way through the novel. He is vulnerable, thoughtful and kind. I fell in love with his character! But deep down inside because of his past, he felt he doesn't deserve happiness or love. He seems to have even given up on love. But Caitlin is determined to worm her way into his heart and show him just how good of a person he is.
Their romance is up and down – Josh is too scared to reveal his past to Caitlin and this has many negative consequences to their relationship. Caitlin doesn't know how to give him the space that he needs and pushes him in directions that he isn't quite ready for. Josh has to find it in himself to push past his fears and insecurities, especially if he wants to keep Caitlin in his life.
The First Kiss of Spring is a beautiful story of hope, never letting our past define our future and finding our happiness. The plot was unique and well-played out – I could not put this novel down. I had to know what would happen next for this couple – would they be able to make it work or not.
You can purchase a copy of this book Amazon, Barnes & Noble and IndieBound.
Rating: 5/5
About the Author
Emily March is the New York Times, Publishers Weekly, and USA Today bestselling author of over thirty novels, including the critically acclaimed Eternity Springs series. Publishers Weekly calls March a "master of delightful banter," and her heartwarming, emotionally charged stories have been named to Best of the Year lists by Publishers Weekly, Library Journal, and Romance Writers of America. A graduate of Texas A&M University, Emily is an avid fan of Aggie sports and her recipe for jalapeño relish has made her a tailgating legend.
Disclosure: I received a digital copy of this book in order to facilitate this review. All opinions expressed are my own.