Get Summer Ready Skin with Ureadin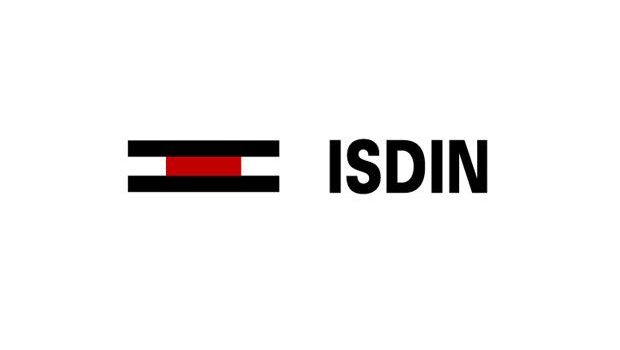 Dry, cracked and itchy skin. Maybe feet that sound like sand paper rubbing against the floor when you rub your foot against a surface.  Does any of this sound familiar to you?
Our entire family suffers with dry and itchy skin, myself being the worst. Over the years we have dealt with eczema, psoriasis on the arms and general dry, scaly skin on our legs from swimming. For myself, if it is not dry, red and blistering skin on my arms then it is cracked, rough feet (my family teases me saying that my feet literally sound like sand paper polishing the floor – brutal right?). I am extremely hard on my feet, I am on them all day at work and I love walking around barefoot especially during the summer months and this really shows in my feet. The dryness can quickly get out of hand as you can see below: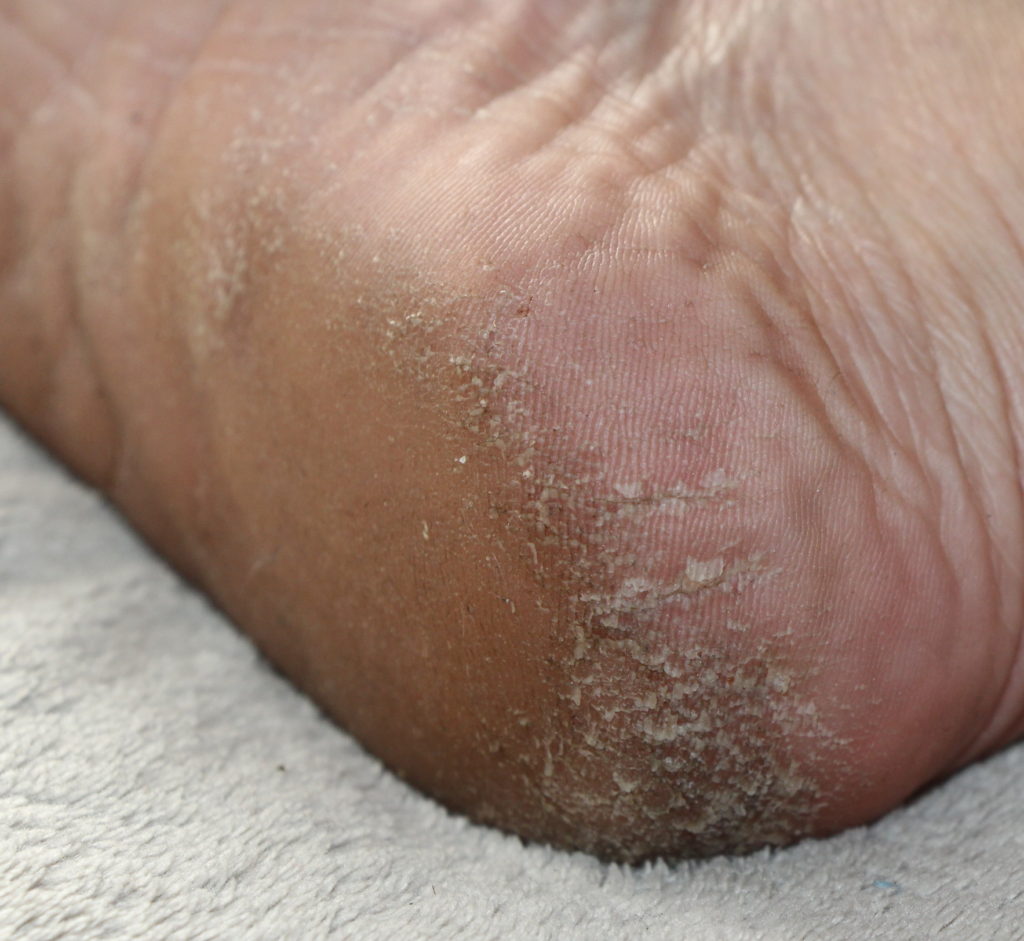 Disgusting right? A part of me cringes when looking at this picture and an even greater part of me can't believe I showed this to you! Honestly the dry, scaly and flakes happen so quickly it is unbelievable. I have to keep a strict foot care routine in place in order to stop and prevent this from happening.
So how do I reverse my feet (and stop this from happening) from looking like this and prevent the all over dry skin in the summer?
Read on to get summer ready, fresh skin and feet. You can follow these simple steps to get ready for summer:
Skip the hot showers! Instead shower every other day in a cool to warm shower as the hot water will actually strip your skin of oils and make it drier. Baths tend to have the same effect as hot showers, so try to avoid them when your skin is very dry. Before I hop in the shower, I also like to gently dry brush my skin with a loofah, it helps to wake up my skin and remove any dry, loose skin before I hop in. I like to work in circular motions from distal regions to closer to the centre of my body (so hands to shoulders, feet to tops of thighs).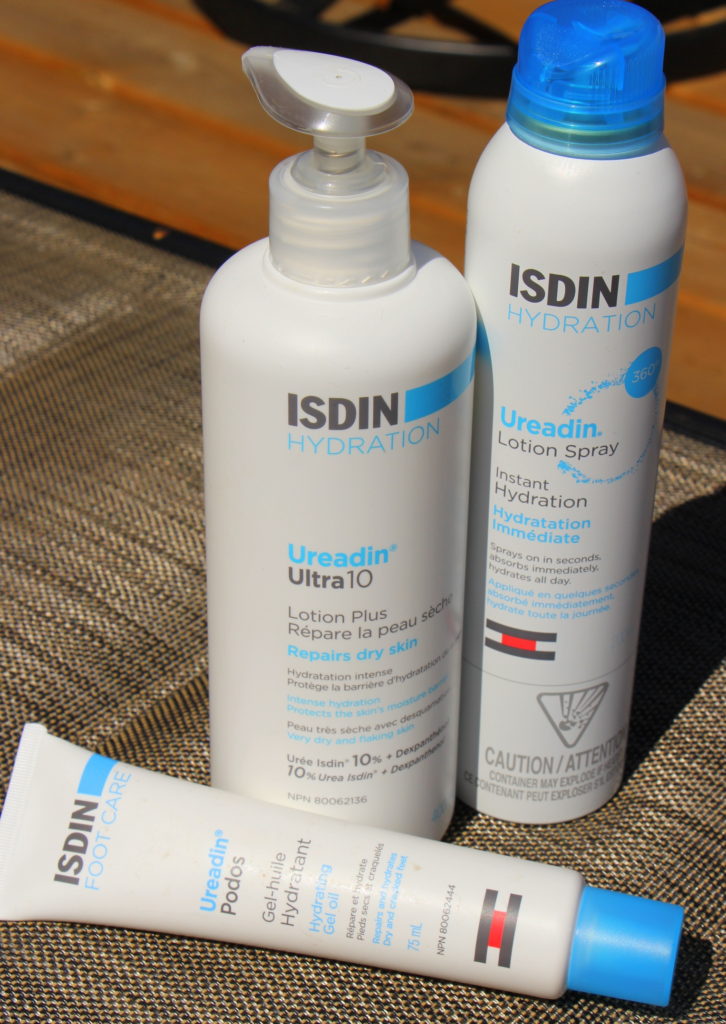 After you hop out of the shower, pat dry your skin (never scrub dry) and while it is still moist you should use your moisturizer to help lock in the moisture. You need to be careful when choosing a moisturizer because not all are made the same and some can actually make your skin drier. For us, using the Ureadin Lotion 10 was an obvious choice. The lotion contains Urea Isdin and Dexpanthenol, both of which work together to retain moisture in your skin. Even my husband noticed the huge difference in his own skin. He loved how soft his feet were feeling from using the lotion. You can definitely use this lotion all over you body where your skin is dry, tight and itchy without irritation.
Soak those tender feet! If you have extremely dry feet like me, take some time daily to soak them in the tub in warm water. Not only will this give them some relief to sore achy feet, it also helps to exfoliate the dry skin away. It is important to follow this up with a quick exfoliation with a pumice stone and a moisturizer designed for dry feet, like Ureadin Podos. This specially designed formula uses lactic acid to exfoliate and then emollients like Shea butter to re-hydrate the skin. You can actually expect to begin to see results in three days!
I have been using Ureadin Podos on my feet for the last three weeks and I love the difference it has made in my heels, toes and the balls of my feet. It instantly soothes the dry, sore skin on my feet while improving the look and feel of my feet. This is the difference in my feet over the last three weeks: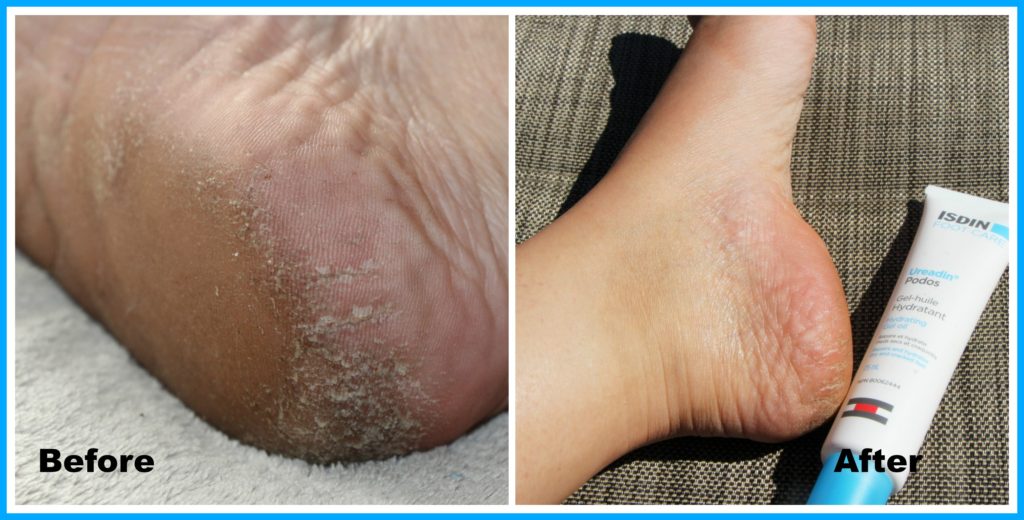 My skin is brighter, the cracks have healed and they are definitely not as rough. They are much smoother to the touch and I am not embarrassed to wear sandals.
If you are heading out swimming, pack the moisturizer. Swimming can really dry out your skin with all of the chemicals, so make sure you are applying both sunscreen and moisturizer. The Ureadin spray on moisturizer was a blessing for us. It was easy to pack and even easier to apply. You literally spray on and it dries on its own within seconds (which when you are struggling to get moisturizer on a child this is definitely a win-win for any parent). It has a light scent (almost reminded me of baby powder) and is suitable for all skin types. So no more worrying about carrying different creams for different skin types.
Keep hydrated! This is so important – you really need to ensure you are in taking an adequate amount of water throughout the day especially if you are sweating.
Preventive care is so important to prevent painful, dry and cracked skin – especially now that we have almost reached summer. How do you help prevent and soothe dry and cracked skin?
If you would like more information or would like to purchase the Ureadin Hydration line of products, head over to their website now to get more information and purchasing details.
Disclosure: I am part of the Intega Influencer Campaign and I receive special perks as part of my affiliation with this group. The opinions on this blog are my own.