A story about inclusion, diversity, and the power of math to help one boy with autism thrive among his peers.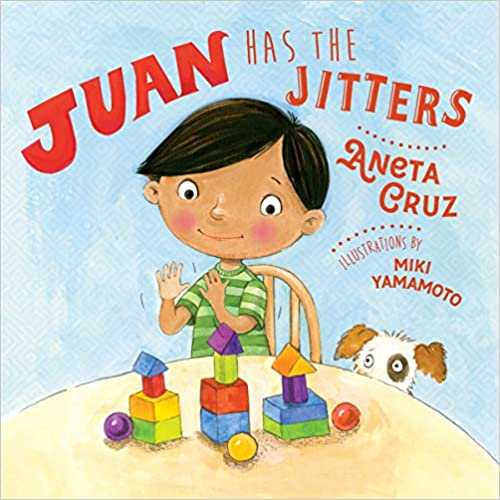 About Juan Has the Jitters
Juan claps his hands to get his Jitters out. They make his tummy swoosh and swirl. His Jitters happen when there are too many people, too much noise, or too many changes to his day. Juan doesn't like surprises.
Tomorrow there is an athletic event planned at school, which makes Juan very nervous. But his teacher has the perfect solution: math–Juan's favorite subject! Counting, sorting, and matching help Juan calm his Jitters. By making math part of the day's athletic games, and by appointing Juan the official judge, his teacher can make sure that Juan will have fun and feel included. The class is calling it the Mathletic Games!
Our Thoughts
Juan Has the Jitters is a very special, important book for young readers, a book that they may find themselves relating to personally.
Juan is a bright young boy with autism. He loves math but some of the other subjects can make him nervous. One of these things that was making him nervous was an athletic event planned at school. Juan marked it on his calendar but it was causing him such stress in the days leading up to the event. He was experiencing jitters – the jitters affect his stomach and causes buzzing in his ears. Juan uses clapping to help him cope with this stress, which I can relate to – when I get nervous or feel overwhelmed I tap my fingers on tables and my toes on the ground as I find it helps to soothe me. His receptive teacher and kind classmates help him through the day by creating the Mathletic Games! Sorting, matching and racing events were played to ensure that Juan felt included and not overwhelmed at any time.
Juan Has the Jitters is a beautiful book that shows the power of inclusion and compassion. This made a huge impact on Juan and while he started the day clapping because of a few jitters by the end he was clapping in fun. He felt that he belongs, which every child should feel. Juan is a bright young boy who has so much to offer his classmates and this was highlighted in his judging skills and attention to detail throughout the event.
Juan Has the Jitters is a great resource for young children to explain the importance of inclusion, kindness and compassion. We all have differences and these should be celebrated. The illustrations are beautiful and match the theme of inclusiveness. This is a such an important topic for young children and this books open up conversations for you to have with your child.
You can purchase a copy of this book on Amazon.
About the Author
ANETA CRUZ is a pre-K teacher and children's book author. She holds a credential in early childhood special education, a BA in English literature, and an MFA in creative writing. When she's not reading, writing, or eating Nutella by the spoonful, she teaches her class of preschoolers how to love books (and other things) as much as she does. She divides her time between the Czech Republic and Southern California, where she lives with her husband, two children, and Poe, the cutest ugly dog in the world.
MIKI YAMAMOTO has been drawing since a very early age, Most of her childhood was spent in her room sketching, coloring, and painting to entertain herself. She studied illustration at Cal State University, Long Beach and has worked for Hallmark Cards, Disney, and Amscan Party. Miki has won numerous awards as a children's book illustrator. She resides in Southern California with her wigglebutt Aussie, Bella.
Disclosure: I received a copy of this book in order to facilitate this review. All opinions expressed are my own.