There's a dark cloud lingering over the Wabash Valley—It won't be long before it erupts into a raging storm.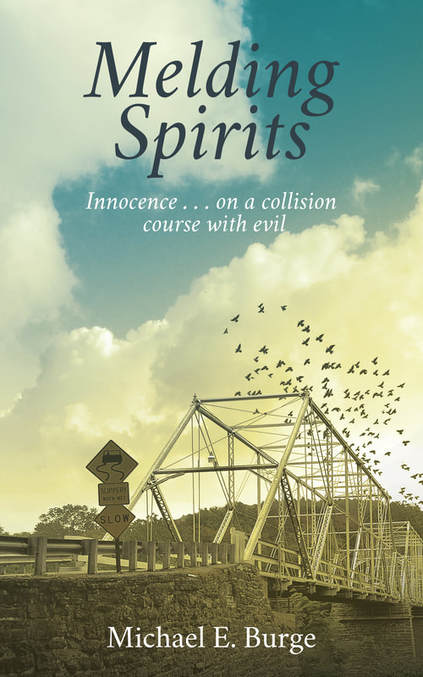 About Melding Spirits
Twelve-year-old Evan Mason's life has been turned upside down by the sudden death of his father. His mother isn't home much, the insurance office during the day, waiting tables at night. Evan is spending a great deal of time alone.
Now he finds himself on a Greyhound bus headed for a small town on the Wabash River where he'll spend the summer of 1958 with his loving grandmother.
Evan soon meets his new neighbor, Katie Dobbins. She's a feisty blue-eyed girl with a ponytail, the type of girl Buddy Holly might sing about on American Bandstand. Evan is instantly enamored with her.
It seems the perfect summer is underway—but strange things are happening in the woods surrounding the Ghost Hill Indian Mound.
My Thoughts
Melding Spirits is an excellent, well written, captivating novel from the start. It has an excellent plot, well developed characters that you just can't help hold close to your heart and suspense that makes you never want to put the novel down.
We are introduced to Evan, a young man who is wise and mature beyond his age. His mother is trying everything to make ends meet as a single Mother, which forces Evan to be both a child and caregiver himself. When he finds the chance to spend the summer with his beloved Grandmother, there could be no turning back. Could you really blame him? He deserves a bit of his childhood back.
This is the summer that would change Evan. He meets and forms a bond with a young girl that would forever change his life, Katie. We follow their magical summer with the pair and Evan's friends – it is refreshing to see their innocence and love of life. But under this are tones of something not being quite right in their small, beautiful town. Is something evil brewing or is it just normal teen angst?
You are left on the edge of your seat, unwilling to put the book down to the last second as you have to know what happens to Evan, Katie and the characters in this town. I loved every moment of this well written novel, a definite must read for young adults and adults alike.
You can purchase a copy of this book on Amazon, Barnes & Noble and Indigo.
Rating: 5/5
About the Author
Michael E. Burge grew up in the Chicago suburbs and a small town on the Wabash River in Southern Illinois.
In the late sixties, he left college to serve on a U.S. Navy destroyer out of Norfolk, Virginia. Upon leaving the service, he transitioned to a career in the burgeoning computer industry, positions in product management and marketing.
He is now pursuing his lifelong interest in writing, publishing his debut novel, Bryant's Gap, in 2015 and his second, Melding Spirits, in 2017.
Michael also plays piano, paints, and is an avid golfer. He and his family currently live in Illinois.
The Giveaway!
Enter to win a copy of Melding Spirits and a $20 Amazon Gift Card by entering here. Good luck!

Disclosure: I received a digital copy of this book in order to facilitate this review. All opinions expressed are my own.