Miraculous: Tales of Ladybug and Cat Noir: Be Miraculous!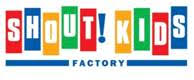 Straight from the heart of Paris, a third volume of the action adventure, comedy of Ladybug and Cat Noir is coming your way! This DVD will have you laughing and ready to Be Miraculous! The DVD will be available on January 10th, 2017.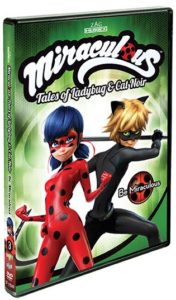 The time is now and the city is Paris. And two amazing heroes, Ladybug and Cat Noir, stand to protect its citizens against evildoers. But can this uncanny duo continue to keep their city safe from these dastardly ne'er-do-well and get their homework in on time?! That's right. The superheroes known as Ladybug and Cat Noir are actually Marinette and Adrien, two young students with super-secret lives filled with super-awesome excitement!
Episodes
Ladybug & Cat Noir (Origins, Part 1)
Stone Heart (Origins, Part 2)
Animan
Simon Says
Pixelator
Guitar Villain
Kung Food
Our Thoughts
Our favourite two superheroes are back: Ladybug and Cat Noir! These two characters are funny, brave and always positive. They are the perfect superhero characters for your children in the positive messages that they send to children – not to mention their great humour! The characters are real, with everyday problems (even though they super powers) and are characters that your child can relate to. The animations are fantastic and one of the best cartoon animations that I have seen in a long time. This DVD is better suited for children 5-12 to truly appreciate the humour, lessons and plots. Be Miraculous is not only great for afterschool but will be a great addition to family movie time.
The Giveaway!
My Canadian and American readers can now enter to win their own Be Miraculous DVD and get ready to be fabulous with Ladybug and Cat Noir! Enter via the Rafflecopter form below – Good Luck!
Disclosure: I received a copy of this DVD in order to facilitate this review. All opinions expressed are my own.