Nature's Light Spectacular Book Review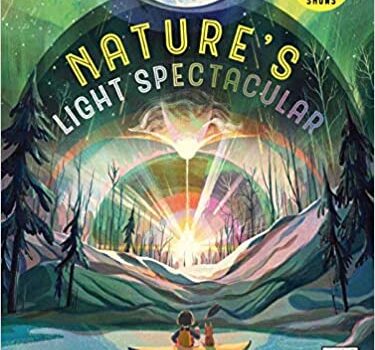 Lightning, rainbows, auroras! Discover Earth's most amazing natural phenomena in this adventure around the globe, including a glow-in-the-dark poster.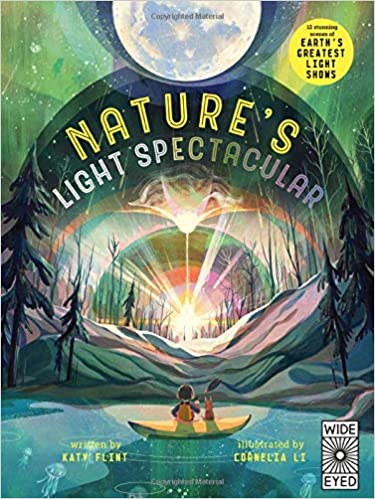 About Nature's Light Spectacular
Follow two intrepid explorers as they witness the Northern Lights, marvel in wonder at glow worm caves, go hunting for double rainbows, and dodge volcanic lightning. A perfect book for young explorers. Turn off the light to see a tear-out poster, featuring the stages of a solar eclipse.
Each spread features an enchanting illustration of a different natural phenomenon, animated by a description of the science behind it, told in exciting prose.
You will explore:
volcanic lightning
meteor showers
double rainbows
sun dogs
glowworm caves
super blood moon
light pillars
auroras
Our Thoughts
I love books that engage children on educational topics and encourage further learning. This book is perfect for young children who love science and are eager learners (not to mention for parents – I learned so many new things!). We have been trying to come with complementary educational activities for our kids during COVID-19 since we have been home, and this book was perfect for helping me as a parent come up with new topics to cover that my son will actually enjoy learning about.
In this book, we learn about twelve natural phenomena that happen around us. Some of the events you may have already heard of (solar eclipses, meteor showers) but some may be new like volcanic lightning, firefall and light pillars. Each topic has two pages dedicated to it with the illustrations spanning both pages. We learn about what happens during the event, the science behind the event, where they can be viewed, cool facts and even some historical beliefs (and since I love history – this was pretty neat to learn how cultures interpreted these events). While some of the events you may be familiar with, you may learn some new facts about them. Did you know that light pillars, while they look beautiful, are actually a sign of light pollution? Or that the Vikings thought that the auroras were caused by the shining weapons of immortal warriors? Neat, right?!
The book is stunning – with beautiful illustrations, fantastic facts and even includes a glow in the dark poster that you can remove that shows a solar eclipse. This is a great learning resource for parents to use to get their children interested and wanting to learn more about these topics (perhaps create your research project for your child – they can do a Power Point presentation on one of these events).
You can purchase a copy of this book on Amazon.
About the Author
Katy Flint is an author, editor, and musician, based in London. She studied violin at the University of Southampton, before moving into children's books. She is the author of the best-selling sound book The Story Orchestra: The Nutcracker, and has worked on many other non-fiction titles—from human bodies to dinosaurs. 
About the Illustrator
Cornelia Li is a Chinese born illustrator currently based in Toronto, Canada. Her clients include: New York Times, Chicago Readers, PBS Newshour, Reader's Digest Canada. 
Disclosure: I received a copy of this book in order to facilitate this review. All opinions expressed are my own.