One Dog's Faith: How My Dog Helped Me Trust in God and Overcome Chronic Worrying
For millions of pet owners, the unconditional love and companionship of dogs offers an escape from daily worries. This is what One Dog's Faith explores.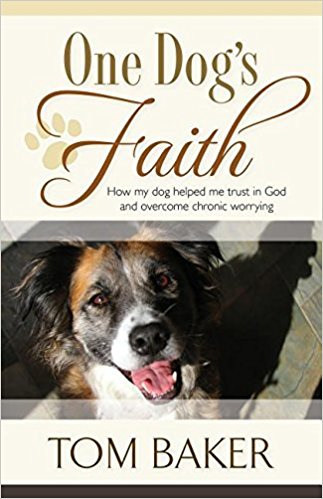 About One Dog's Faith: How My Dog Helped Me Trust in God and Overcome Chronic Worrying
The world is a stressful place. For millions of pet owners, the unconditional love and companionship of dogs offers an escape from daily worries. In the uplifting and inspirational book, One Dog's Faith: How my dog helped me trust in God and overcome chronic worrying, author Tom Baker explores life and faith from a dog's perspective. By looking at the world through his dog's eyes, Baker reveals just how much humans can learn from dogs: how to love, how to live in the moment, and how to discover the glory and grace of God.
Baker's six-year-old spaniel mix, Mango, is a typical dog – she enjoy sticking her head out of the car window, stealing socks, playing fetch and of course butt sniffing. When he found himself experiencing chronic worry because of his television production company was facing financial doom, Baker began to withdraw from his family and was experiencing symptoms of a deep depression. He shares an intimate look at how Mango helped him understand that his chronic worry was taking a huge toll on his health and family life.
My Thoughts
My first dog came into my life at the age of fourteen. Prior to that I had been a bit scared of dogs after being chased in a park and being bitten by three German Shepards. When I was fourteen my parents decided we were ready to own a dog and we brought home a beautiful, fluffy white bichon and named her Sparky. She was truly incredible – she wanted to cuddle and love you all the time. Since then I have had a total of seven dogs in my life and each one was special in its own unique way.
Dogs have this amazing ability to sense things that we can not, they know when we are hurting, are stressed and feeling unwell. It always makes my day after a rough day when my little Yorkie comes running up to me with her tail wagging and being her silly self. When my stomach ulcers are acting up, she just knows and will curl into me on the couch, giving me the love and support that I need in that moment. Just having her there beside me is all I need in those moments of quiet.
This book touches on all of this and more. This book is told through the eyes of Mango, Baker's dog, with end notes in each chapter by Tom. We get a whole new perspective on life all coming from Mango and his dog life. We learn about the importance of letting go, trusting God, following instead of leading, unconditional love and patience and the power of the relationship between dog and human. Mango is quite the dog! He leaves you laughing (probably even recognizing your own dog in him) and with a lot of food for thought (no pun intended and once you learn more ab out Mango you will get it!).
I truly believe that dogs are special gifts and I wouldn't be surprised if they are a gift from God! They offer up such amazing unconditional love and forgive just as easily. They are here for us in our moments of need and despair – sometimes before we even know we need that support. I loved how this book focuses on that special relationship and how much good comes out of it. There is so much that we can learn from dogs and the way they approach their lives. This is a truly special book that all dog lovers will love and appreciate.
You can purchase a copy of this book on Amazon and Tom Baker's website.
Rating: 5/5

About the Author
Tom Baker has worked in entertainment, radio and television for over 35 years. He graduated with a degree in Marketing from the University of Tennessee and has been a TV and radio writer & producer since 1987. His personal work history includes ad agency writer/ producer, a radio & television commercial writer/producer/editor, senior video editor for a various production companies, producing music soundtracks and choreographing fireworks shows, cable series producer/editor – working on shows for A&E, Discovery, Discovery, HGTV, Food Network, Travel Channel, DIY, GAC and the Cooking Channel. He is an Executive Producer/Owner of a TV production company (Cobblestone Entertainment, LLC) in Knoxville, TN.
Tom has been a musician since age 5, first playing piano and then switching to drums at age 8. He is also a published author and public speaker. He is very active in his church, where he plays drums in the contemporary worship band, teaches Sunday School to 8th and 9th graders and produces videos for the worship services and website. Tom and his wife, Michelle, of 19 years and four children (Carolyn, Sophie, Chloe and Cristian) love animals. They have 4 rescue dogs (including Mango), a rescue cat and a fish.
Book Trailer
One dog's faith promoNOW from Tom Baker on Vimeo.
Disclosure: I received a copy of this book in order to facilitate this review. All opinions expressed are my own.